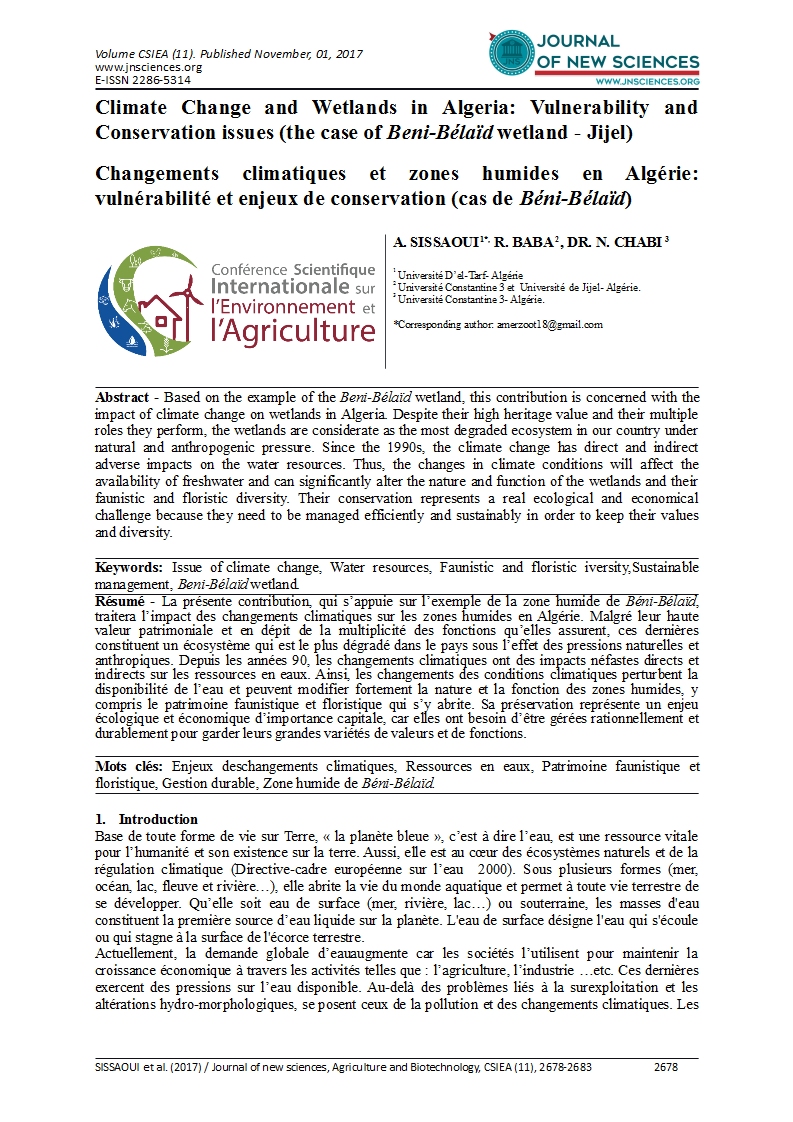 Changements climatiques et zones humides en Algérie: vulnérabilité et enjeux de conservation (cas de Béni-Bélaïd)
A. SISSAOUI1*, R. BABA 2, DR. N. CHABI 3

 

1 Université D'el-Tarf- Algérie

2 Université Constantine 3 et Université de Jijel- Algérie.

3 Université Constantine 3- Algérie.

 
Abstract - Based on the example of the Beni-Bélaïd wetland, this contribution is concerned with the impact of climate change on wetlands in Algeria. Despite their high heritage value and their multiple roles they perform, the wetlands are considerate as the most degraded ecosystem in our country under natural and anthropogenic pressure. Since the 1990s, the climate change has direct and indirect adverse impacts on the water resources. Thus, the changes in climate conditions will affect the availability of freshwater and can significantly alter the nature and function of the wetlands and their faunistic and floristic diversity. Their conservation represents a real ecological and economical challenge because they need to be managed efficiently and sustainably in order to keep their values and diversity.
Keywords: Issue of climate change, Water resources, Faunistic and floristic iversity, Sustainable management, Beni-Bélaïd wetland.
Résumé - La présente contribution, qui s'appuie sur l'exemple de la zone humide de Béni-Bélaïd, traitera l'impact des changements climatiques sur les zones humides en Algérie. Malgré leur haute valeur patrimoniale et en dépit de la multiplicité des fonctions qu'elles assurent, ces dernières constituent un écosystème qui est le plus dégradé dans le pays sous l'effet des pressions naturelles et anthropiques. Depuis les années 90, les changements climatiques ont des impacts néfastes directs et indirects sur les ressources en eaux. Ainsi, les changements des conditions climatiques perturbent la disponibilité de l'eau et peuvent modifier fortement la nature et la fonction des zones humides, y compris le patrimoine faunistique et floristique qui s'y abrite. Sa préservation représente un enjeu écologique et économique d'importance capitale, car elles ont besoin d'être gérées rationnellement et durablement pour garder leurs grandes variétés de valeurs et de fonctions.
Mots clés: Enjeux deschangements climatiques, Ressources en eaux, Patrimoine faunistique et floristique, Gestion durable, Zone humide de Béni-Bélaïd.