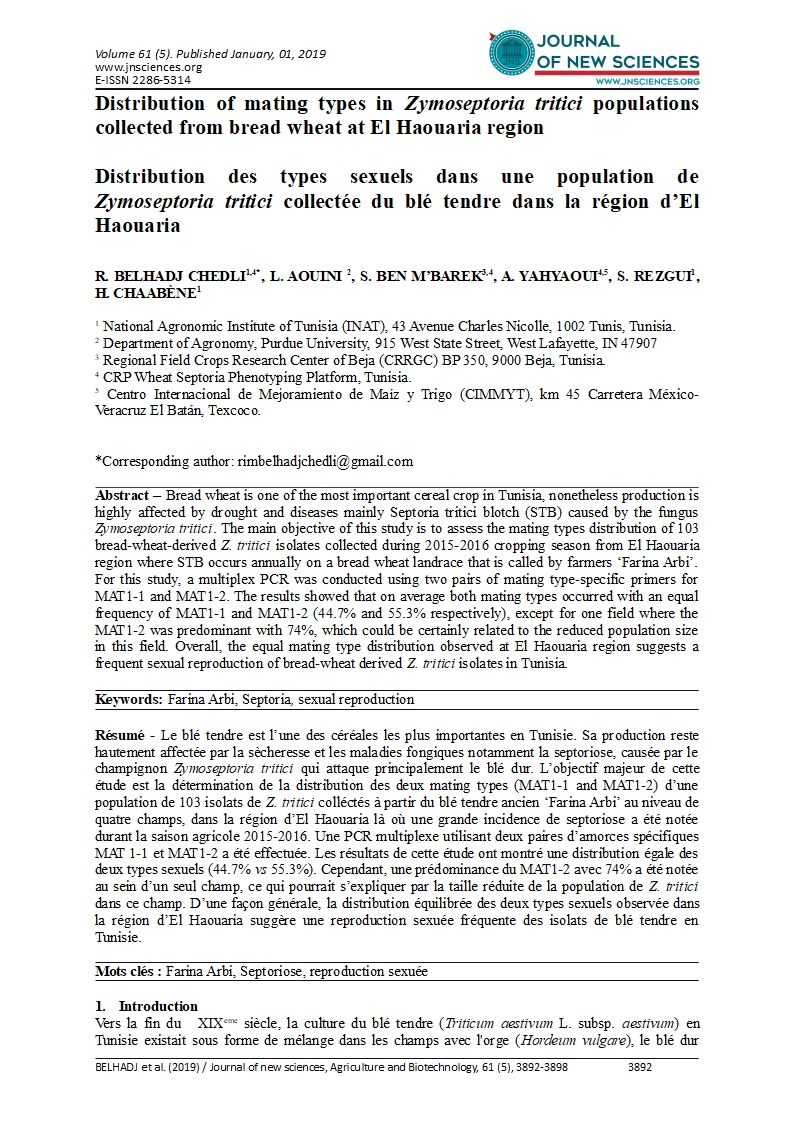 Distribution des types sexuels dans une population de Zymoseptoria tritici collectée du blé tendre dans la région d'El Haouaria
R. BELHADJ CHEDLI1,4
L. AOUINI 2
S. BEN M'BAREK3,4
A. YAHYAOUI4,5
S. REZGUI1
H. CHAABÈNE1
1 National Agronomic Institute of Tunisia (INAT), 43 Avenue Charles Nicolle, 1002 Tunis, Tunisia.
2 Department of Agronomy, Purdue University, 915 West State Street, West Lafayette, IN 47907
3 Regional Field Crops Research Center of Beja (CRRGC) BP 350, 9000 Beja, Tunisia.
4 CRP Wheat Septoria Phenotyping Platform, Tunisia.
5 Centro Internacional de Mejoramiento de Maíz y Trigo (CIMMYT), km 45 Carretera México-Veracruz El Batán, Texcoco.
Abstract – Bread wheat is one of the most important cereal crop in Tunisia, nonetheless production is highly affected by drought and diseases mainly Septoria tritici blotch (STB) caused by the fungus Zymoseptoria tritici. The main objective of this study is to assess the mating types distribution of 103 bread-wheat-derived Z. tritici isolates collected during 2015-2016 cropping season from El Haouaria region where STB occurs annually on a bread wheat landrace that is called by farmers 'Farina Arbi'. For this study, a multiplex PCR was conducted using two pairs of mating type-specific primers for MAT1-1 and MAT1-2. The results showed that on average both mating types occurred with an equal frequency of MAT1-1 and MAT1-2 (44.7% and 55.3% respectively), except for one field where the MAT1-2 was predominant with 74%, which could be certainly related to the reduced population size in this field. Overall, the equal mating type distribution observed at El Haouaria region suggests a frequent sexual reproduction of bread-wheat derived Z. tritici isolates in Tunisia.
Keywords: Farina Arbi, Septoria, sexual reproduction