Journal of New Sciences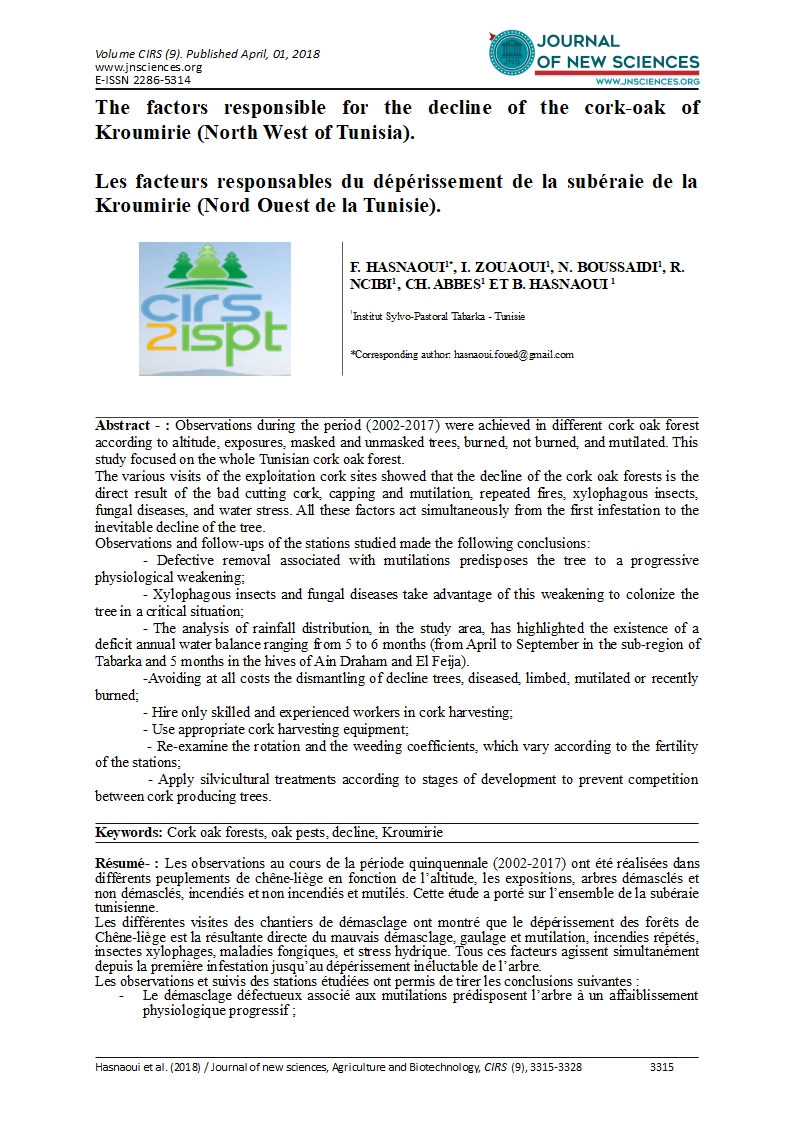 The factors responsible for the decline of the cork-oak of Kroumirie (North West of Tunisia).
Les facteurs responsables du dépérissement de la subéraie de la Kroumirie (Nord Ouest de la Tunisie).
 

F. HASNAOUI1*

I. ZOUAOUI1

N. BOUSSAIDI1

R. NCIBI1

CH. ABBES1

B. HASNAOUI 1

 

1Institut Sylvo-Pastoral Tabarka - Tunisie

 
 
Abstract -  Observations during the period (2002-2017) were achieved in different cork oak forest according to altitude, exposures, masked and unmasked trees, burned, not burned, and mutilated. This study focused on the whole Tunisian cork oak forest. The various visits of the exploitation cork sites showed that the decline of the cork oak forests is the direct result of the bad cutting cork, capping and mutilation, repeated fires, xylophagous insects, fungal diseases, and water stress. All these factors act simultaneously from the first infestation to the inevitable decline of the tree. Observations and follow-ups of the stations studied made the following conclusions: 
- Defective removal associated with mutilations predisposes the tree to a progressive physiological weakening;
- Xylophagous insects and fungal diseases take advantage of this weakening to colonize the tree in a critical situation;
- The analysis of rainfall distribution, in the study area, has highlighted the existence of a deficit annual water balance ranging from 5 to 6 months (from April to September in the sub-region of Tabarka and 5 months in the hives of Ain Draham and El Feija).
-Avoiding at all costs the dismantling of decline trees, diseased, limbed, mutilated or recently burned;
- Hire only skilled and experienced workers in cork harvesting;
- Use appropriate cork harvesting equipment;
- Re-examine the rotation and the weeding coefficients, which vary according to the fertility of the stations;
- Apply silvicultural treatments according to stages of development to prevent competition between cork producing trees.
Keywords: Cork oak forests, oak pests, decline, Kroumirie
Résumé-  Les observations au cours de la période quinquennale (2002-2017) ont été réalisées dans différents peuplements de chêne-liège en fonction de l'altitude, les expositions, arbres démasclés et non démasclés, incendiés et non incendiés et mutilés. Cette étude a porté sur l'ensemble de la subéraie tunisienne.
Les différentes visites des chantiers de démasclage ont montré que le dépérissement des forêts de Chêne-liège est la résultante directe du mauvais démasclage, gaulage et mutilation, incendies répétés, insectes xylophages, maladies fongiques, et stress hydrique. Tous ces facteurs agissent simultanément depuis la première infestation jusqu'au dépérissement inéluctable de l'arbre.
Les observations et suivis des stations étudiées ont permis de tirer les conclusions suivantes :
Le démasclage défectueux associé aux mutilations prédisposent l'arbre à un affaiblissement physiologique progressif ;

Les insectes xylophages et les maladies fongiques profitent de cet affaiblissement pour coloniser l'arbre en situation critique ;

L'analyse de la répartition pluviométrique, dans la région d'étude, a mis en évidence l'existence d'un bilan hydrique annuel déficitaire allant de 5 à 6 mois (du mois d'Avril au mois de Septembre dans la subéraie de Tabarka et de 5 mois dans les subéraies d'Ain Draham et El Feija).
Pour limiter les vagues de dépérissement de la subéraie tunisienne, il est souhaitable de prendre les précautions nécessaires suivantes :
Eviter à tout prix de démascler les arbres dépéris, malades, ébranchés, mutilés ou récemment incendiés ;

N'embaucher que des ouvriers qualifiés et expérimentés en matière de récolte de liège ;

Utiliser un matériel de récolte de liège approprié ;

Réétudier la rotation et les coefficients de démasclage qui varient étroitement en fonction de la fertilité des stations ;

Appliquer les traitements sylvicoles suivant les stades de développement afin d'empêcher les concurrences entre les arbres producteurs de liège.
Mots clés : subéraie, ravageurs de chênes, xylophages, dépérissement, Kroumirie.