Journal of New Sciences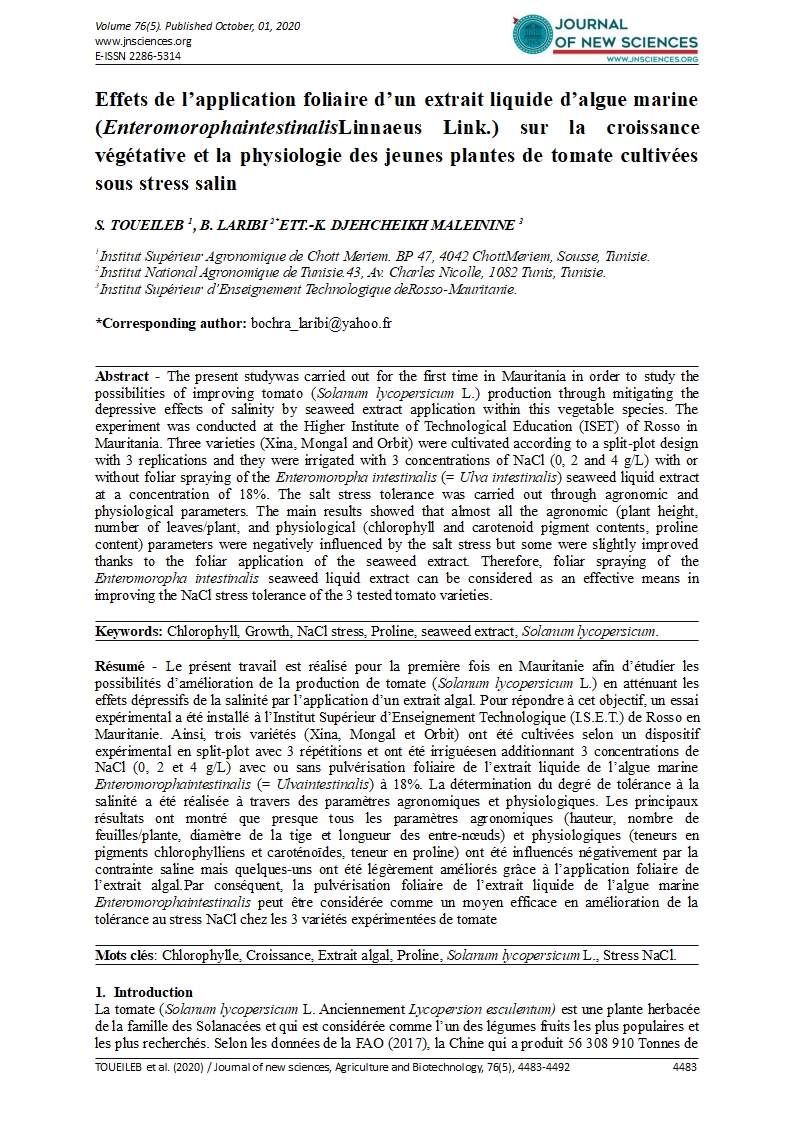 Effets de l'application foliaire d'un extrait liquide d'algue marine (EnteromorophaintestinalisLinnaeus Link.) sur la croissance végétative et la physiologie des jeunes plantes de tomate cultivées sous stress salin
Effets de l'application foliaire d'un extrait liquide d'algue marine (EnteromorophaintestinalisLinnaeus Link.) sur la croissance végétative et la physiologie des jeunes plantes de tomate cultivées sous stress salin
S. TOUEILEB 1
B. LARIBI 2
-K. DJEHCHEIKH MALEININE 3
1Institut Supérieur Agronomique de Chott Meriem. BP 47, 4042 ChottMeriem, Sousse, Tunisie.
2Institut National Agronomique de Tunisie.43, Av. Charles Nicolle, 1082 Tunis, Tunisie.
3Institut Supérieur d'Enseignement Technologique deRosso-Mauritanie.
Abstract - The present studywas carried out for the first time in Mauritania in order to study the possibilities of improving tomato (Solanum lycopersicum L.) production through mitigating the depressive effects of salinity by seaweed extract application within this vegetable species. The experiment was conducted at the Higher Institute of Technological Education (ISET) of Rosso in Mauritania. Three varieties (Xina, Mongal and Orbit) were cultivated according to a split-plot design with 3 replications and they were irrigated with 3 concentrations of NaCl (0, 2 and 4 g/L) with or without foliar spraying of the Enteromoropha intestinalis (= Ulva intestinalis) seaweed liquid extract at a concentration of 18%. The salt stress tolerance was carried out through agronomic and physiological parameters. The main results showed that almost all the agronomic (plant height, number of leaves/plant, and physiological (chlorophyll and carotenoid pigment contents, proline content) parameters were negatively influenced by the salt stress but some were slightly improved thanks to the foliar application of the seaweed extract. Therefore, foliar spraying of the Enteromoropha intestinalis seaweed liquid extract can be considered as an effective means in improving the NaCl stress tolerance of the 3 tested tomato varieties.
Keywords: Chlorophyll, Growth, NaCl stress, Proline, seaweed extract, Solanum lycopersicum.
Résumé - Le présent travail est réalisé pour la première fois en Mauritanie afin d'étudier les possibilités d'amélioration de la production de tomate (Solanum lycopersicum L.) en atténuant les effets dépressifs de la salinité par l'application d'un extrait algal. Pour répondre à cet objectif, un essai expérimental a été installé à l'Institut Supérieur d'Enseignement Technologique (I.S.E.T.) de Rosso en Mauritanie. Ainsi, trois variétés (Xina, Mongal et Orbit) ont été cultivées selon un dispositif expérimental en split-plot avec 3 répétitions et ont été irriguéesen additionnant 3 concentrations de NaCl (0, 2 et 4 g/L) avec ou sans pulvérisation foliaire de l'extrait liquide de l'algue marine Enteromorophaintestinalis (= Ulvaintestinalis) à 18%. La détermination du degré de tolérance à la salinité a été réalisée à travers des paramètres agronomiques et physiologiques. Les principaux résultats ont montré que presque tous les paramètres agronomiques (hauteur, nombre de feuilles/plante, diamètre de la tige et longueur des entre-nœuds) et physiologiques (teneurs en pigments chlorophylliens et caroténoïdes, teneur en proline) ont été influencés négativement par la contrainte saline mais quelques-uns ont été légèrement améliorés grâce à l'application foliaire de l'extrait algal.Par conséquent, la pulvérisation foliaire de l'extrait liquide de l'algue marine Enteromorophaintestinalis peut être considérée comme un moyen efficace en amélioration de la tolérance au stress NaCl chez les 3 variétés expérimentées de tomate
Mots clés: Chlorophylle, Croissance, Extrait algal, Proline, Solanum lycopersicum L., Stress NaCl.