Journal of New Sciences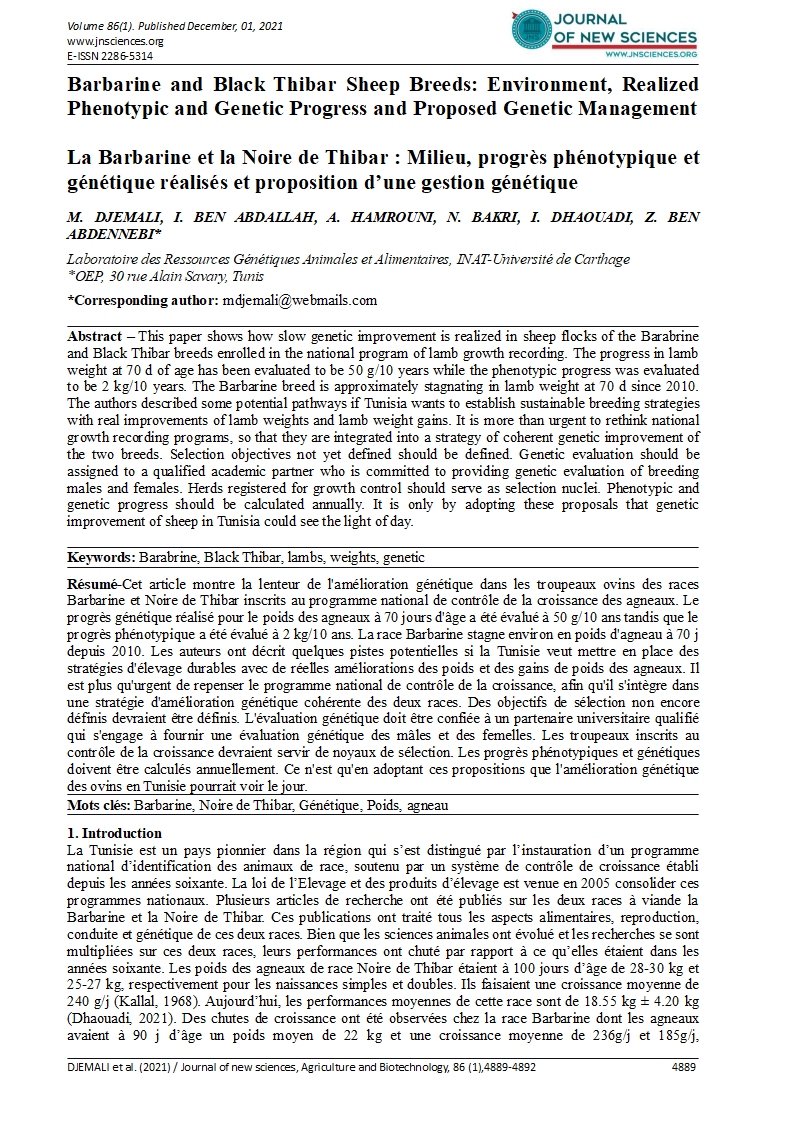 Barbarine and Black Thibar Sheep Breeds: Environment, Realized Phenotypic and Genetic Progress and Proposed Genetic Management
La Barbarine et la Noire de Thibar : Milieu, progrès phénotypique et génétique réalisés et proposition d'une gestion génétique
M. DJEMALI
I. BEN ABDALLAH
A. HAMROUNI
N. BAKRI
I. DHAOUADI
Z. BEN ABDENNEBI*
Laboratoire des Ressources Génétiques Animales et Alimentaires, INAT-Université de Carthage
*OEP, 30 rue Alain Savary, Tunis
Abstract – This paper shows how slow genetic improvement is realized in sheep flocks of the Barabrine and Black Thibar breeds enrolled in the national program of lamb growth recording. The progress in lamb weight at 70 d of age has been evaluated to be 50 g/10 years while the phenotypic progress was evaluated to be 2 kg/10 years. The Barbarine breed is approximately stagnating in lamb weight at 70 d since 2010. The authors described some potential pathways if Tunisia wants to establish sustainable breeding strategies with real improvements of lamb weights and lamb weight gains. It is more than urgent to rethink national growth recording programs, so that they are integrated into a strategy of coherent genetic improvement of the two breeds. Selection objectives not yet defined should be defined. Genetic evaluation should be assigned to a qualified academic partner who is committed to providing genetic evaluation of breeding males and females. Herds registered for growth control should serve as selection nuclei. Phenotypic and genetic progress should be calculated annually. It is only by adopting these proposals that genetic improvement of sheep in Tunisia could see the light of day.
Keywords: Barabrine, Black Thibar, lambs, weights, genetic
Résumé-Cet article montre la lenteur de l'amélioration génétique dans les troupeaux ovins des races Barbarine et Noire de Thibar inscrits au programme national de contrôle de la croissance des agneaux. Le progrès génétique réalisé pour le poids des agneaux à 70 jours d'âge a été évalué à 50 g/10 ans tandis que le progrès phénotypique a été évalué à 2 kg/10 ans. La race Barbarine stagne environ en poids d'agneau à 70 j depuis 2010. Les auteurs ont décrit quelques pistes potentielles si la Tunisie veut mettre en place des stratégies d'élevage durables avec de réelles améliorations des poids et des gains de poids des agneaux. Il est plus qu'urgent de repenser le programme national de contrôle de la croissance, afin qu'il s'intègre dans une stratégie d'amélioration génétique cohérente des deux races. Des objectifs de sélection non encore définis devraient être définis. L'évaluation génétique doit être confiée à un partenaire universitaire qualifié qui s'engage à fournir une évaluation génétique des mâles et des femelles. Les troupeaux inscrits au contrôle de la croissance devraient servir de noyaux de sélection. Les progrès phénotypiques et génétiques doivent être calculés annuellement. Ce n'est qu'en adoptant ces propositions que l'amélioration génétique des ovins en Tunisie pourrait voir le jour.
Mots clés: Barbarine, Noire de Thibar, Génétique, Poids, agneau