Journal of New Sciences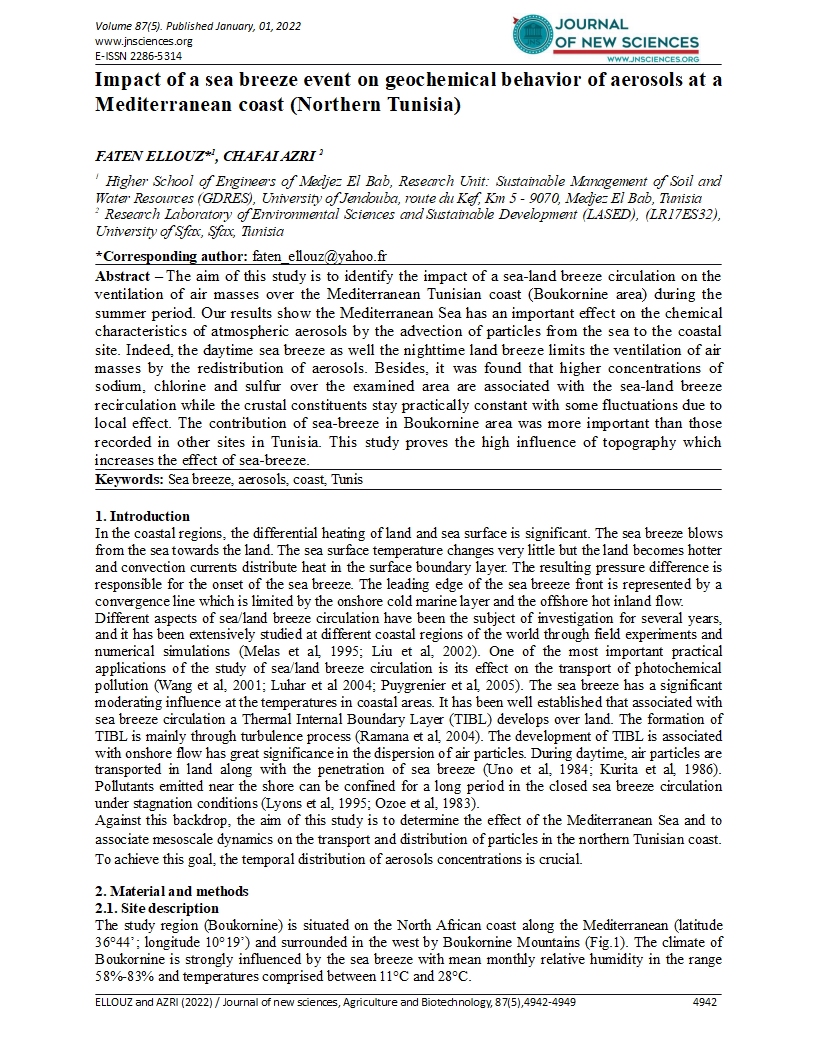 Preliminary analysis on volatile composition of Chrysopogon zizanioides (L.) Roberty cultivated in Tunisia
ALI BEN ROMDHANE1
ADNEN SANAA1
IMTINENE HAMDENI2
SANA DHANE1
SLIM SLIM1
CHAHINE KARMOUS3
1 Research Unit of Biodiversity and Valorization of Resources in Mountainous Areas, School of Higher Education in Agriculture of Mateur, University of Carthage, Tunisia
2 Laboratory of Natural Substances, National Institute of Research and Physico-chemical Analyses, Biotechpole of Sidi Thabet, Ariana, 2020, Tunisia.
3 Laboratory of Genetics and Cereal Breeding, National Institute of Agronomy of Tunisia, University of Carthage, LR14 AGR01, 1082 Tunis, Tunisia.
DOI: https://doi.org/10.55416/sunb.jns01.2201.08706
Abstract – The roots of Chrysopogon zizanioides (L.) Roberty, belonging to the Poaceae family, are the main source of volatile that has substantial value in perfume, cosmetics, pharmaceutical and food industries. The study of C. zizanioides volatiles, obtained from plant roots cultivated in Tunisia, using GC and GC/MS revealed that more than 50 compounds were detected of which 14 constituents were identified representing 33.87% of the total. Oleic acid (17.09%) and (E) -3-Eicosene (7.77%) were the major components at the species level. However, 10,13 methyl ester octadecadienoic acid (0.01%), (Z) - 9,17-octadecadienal (0.01%), (Dimethylethyl-1,1) Bis-2,6 Methyl- 4 Phenol (0.04%), methyl pentadecanoic acid, 13-methyl-, methyl ester (0.05%), (Z) -13-octadecenal (0.06%) and linoleic acid ethyl ester (0 , 06%) are the constituents which have the lowest contents.
Keywords: Vetiver, Volatile, Perrenial crop, Tunisia