Journal of New Sciences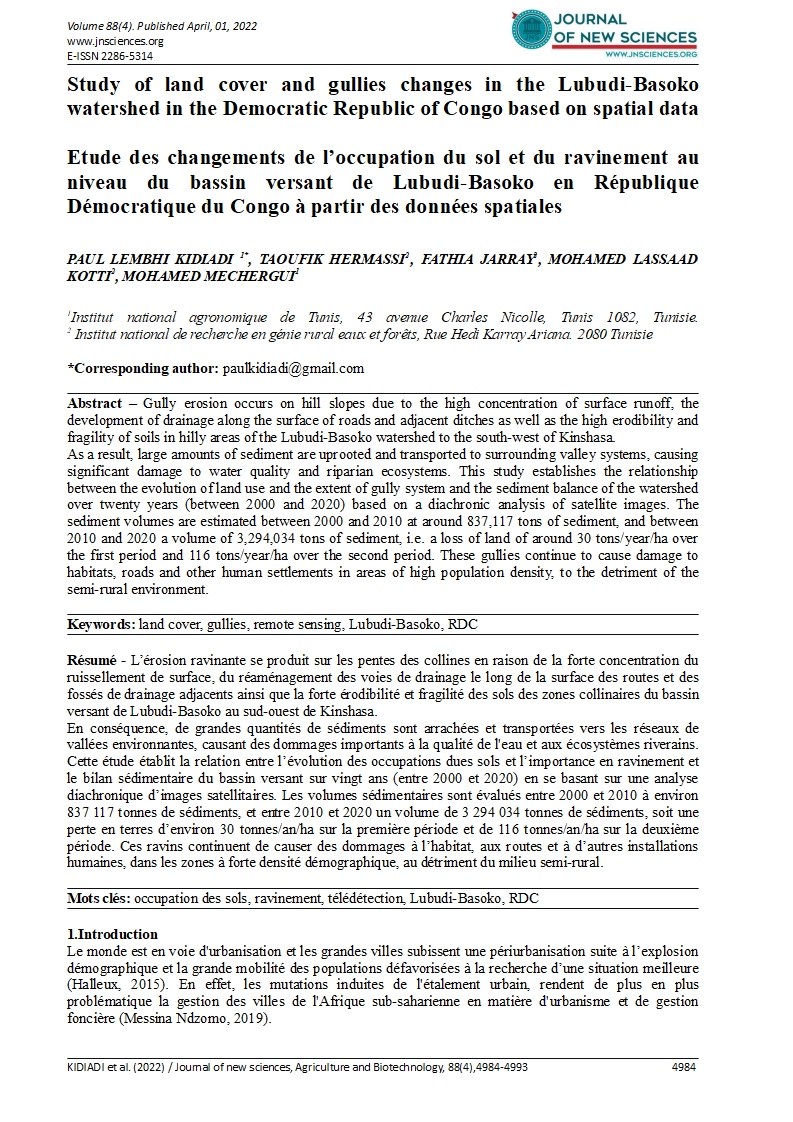 Study of land cover and gullies changes in the Lubudi-Basoko watershed in the Democratic Republic of Congo based on spatial data
Etude des changements de l'occupation du sol et du ravinement au niveau du bassin versant de Lubudi-Basoko en République Démocratique du Congo à partir des données spatiales
PAUL LEMBHI KIDIADI 1
TAOUFIK HERMASSI2
FATHIA JARRAY2
MOHAMED LASSAAD KOTTI2
MOHAMED MECHERGUI1
1Institut national agronomique de Tunis, 43 avenue Charles Nicolle, Tunis 1082, Tunisie.
2 Institut national de recherche en génie rural eaux et forêts, Rue Hedi Karray Ariana. 2080 Tunisie
DOI: https://doi.org/10.55416/sunb.jns01.2204.08804
Abstract – Gully erosion occurs on hill slopes due to the high concentration of surface runoff, the development of drainage along the surface of roads and adjacent ditches as well as the high erodibility and fragility of soils in hilly areas of the Lubudi-Basoko watershed to the south-west of Kinshasa.As a result, large amounts of sediment are uprooted and transported to surrounding valley systems, causing significant damage to water quality and riparian ecosystems. This study establishes the relationship between the evolution of land use and the extent of gully system and the sediment balance of the watershed over twenty years (between 2000 and 2020) based on a diachronic analysis of satellite images. The sediment volumes are estimated between 2000 and 2010 at around 837,117 tons of sediment, and between 2010 and 2020 a volume of 3,294,034 tons of sediment, i.e. a loss of land of around 30 tons/year/ha over the first period and 116 tons/year/ha over the second period. These gullies continue to cause damage to habitats, roads and other human settlements in areas of high population density, to the detriment of the semi-rural environment.
Keywords: land cover, gullies, remote sensing, Lubudi-Basoko, RDC
Résumé - L'érosion ravinante se produit sur les pentes des collines en raison de la forte concentration du ruissellement de surface, du réaménagement des voies de drainage le long de la surface des routes et des fossés de drainage adjacents ainsi que la forte érodibilité et fragilité des sols des zones collinaires du bassin versant de Lubudi-Basoko au sud-ouest de Kinshasa.
En conséquence, de grandes quantités de sédiments sont arrachées et transportées vers les réseaux de vallées environnantes, causant des dommages importants à la qualité de l'eau et aux écosystèmes riverains. Cette étude établit la relation entre l'évolution des occupations dues sols et l'importance en ravinement et le bilan sédimentaire du bassin versant sur vingt ans (entre 2000 et 2020) en se basant sur une analyse diachronique d'images satellitaires. Les volumes sédimentaires sont évalués entre 2000 et 2010 à environ 837 117 tonnes de sédiments, et entre 2010 et 2020 un volume de 3 294 034 tonnes de sédiments, soit une perte en terres d'environ 30 tonnes/an/ha sur la première période et de 116 tonnes/an/ha sur la deuxième période. Ces ravins continuent de causer des dommages à l'habitat, aux routes et à d'autres installations humaines, dans les zones à forte densité démographique, au détriment du milieu semi-rural.
Mots clés: occupation des sols, ravinement, télédétection, Lubudi-Basoko, RDC