Journal of New Sciences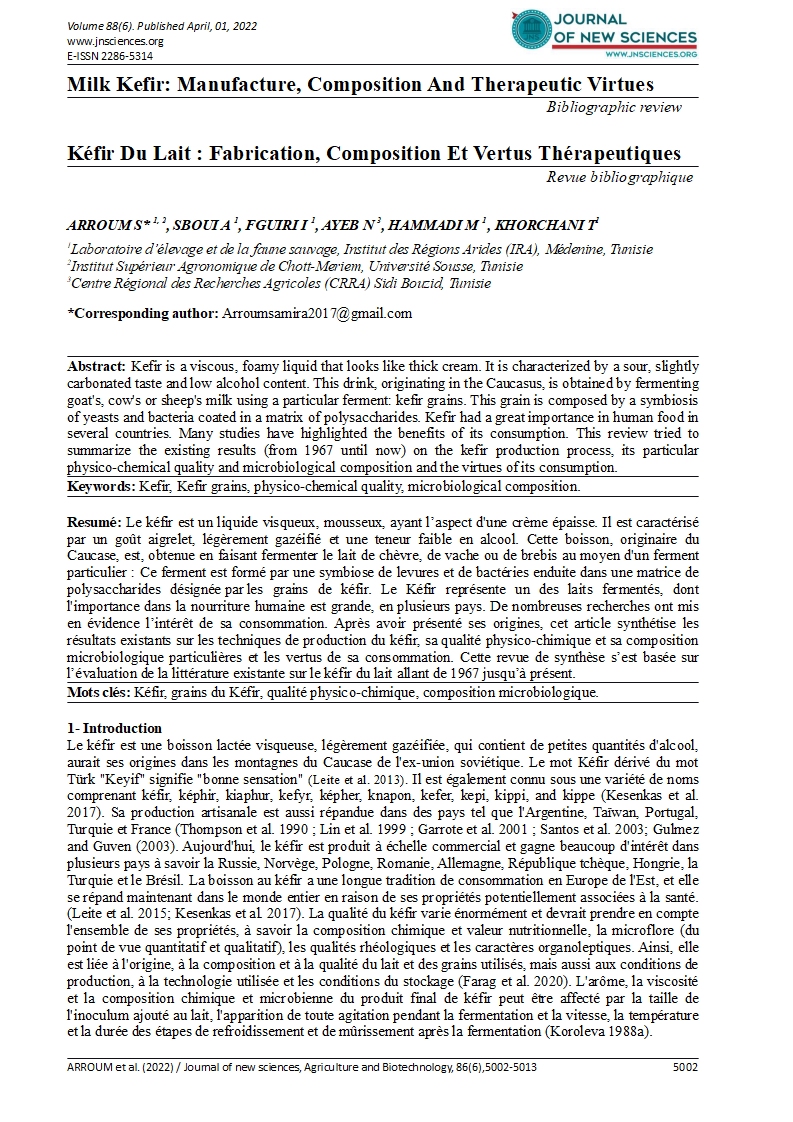 Milk Kefir: Manufacture, Composition And Therapeutic Virtues
 Kéfir Du Lait : Fabrication, Composition Et Vertus Thérapeutiques
Bibliographic Review
ARROUM S1, 2
SBOUI A 1
FGUIRI I 1
AYEB N 3
HAMMADI M 1
KHORCHANI T1
1Laboratoire d'élevage et de la faune sauvage, Institut des Régions Arides (IRA), Médenine, Tunisie
2Institut Supérieur Agronomique de Chott-Meriem, Université Sousse, Tunisie
3Centre Régional des Recherches Agricoles (CRRA) Sidi Bouzid, Tunisie 
DOI: https://doi.org/10.55416/sunb.jns01.2204.08806
Abstract: Kefir is a viscous, foamy liquid that looks like thick cream. It is characterized by a sour, slightly carbonated taste and low alcohol content. This drink, originating in the Caucasus, is obtained by fermenting goat's, cow's or sheep's milk using a particular ferment: kefir grains. This grain is composed by a symbiosis of yeasts and bacteria coated in a matrix of polysaccharides. Kefir had a great importance in human food in several countries. Many studies have highlighted the benefits of its consumption. This review tried to summarize the existing results (from 1967 until now) on the kefir production process, its particular physico-chemical quality and microbiological composition and the virtues of its consumption.
Keywords: Kefir, Kefir grains, physico-chemical quality, microbiological composition.
Resumé: Le kéfir est un liquide visqueux, mousseux, ayant l'aspect d'une crème épaisse. Il est caractérisé par un goût aigrelet, légèrement gazéifié et une teneur faible en alcool. Cette boisson, originaire du Caucase, est, obtenue en faisant fermenter le lait de chèvre, de vache ou de brebis au moyen d'un ferment particulier : Ce ferment est formé par une symbiose de levures et de bactéries enduite dans une matrice de polysaccharides désignée par les grains de kéfir. Le Kéfir représente un des laits fermentés, dont l'importance dans la nourriture humaine est grande, en plusieurs pays. De nombreuses recherches ont mis en évidence l'intérêt de sa consommation. Après avoir présenté ses origines, cet article synthétise les résultats existants sur les techniques de production du kéfir, sa qualité physico-chimique et sa composition microbiologique particulières et les vertus de sa consommation. Cette revue de synthèse s'est basée sur l'évaluation de la littérature existante sur le kéfir du lait allant de 1967 jusqu'à présent.
Mots clés: Kéfir, grains du Kéfir, qualité physico-chimique, composition microbiologique.