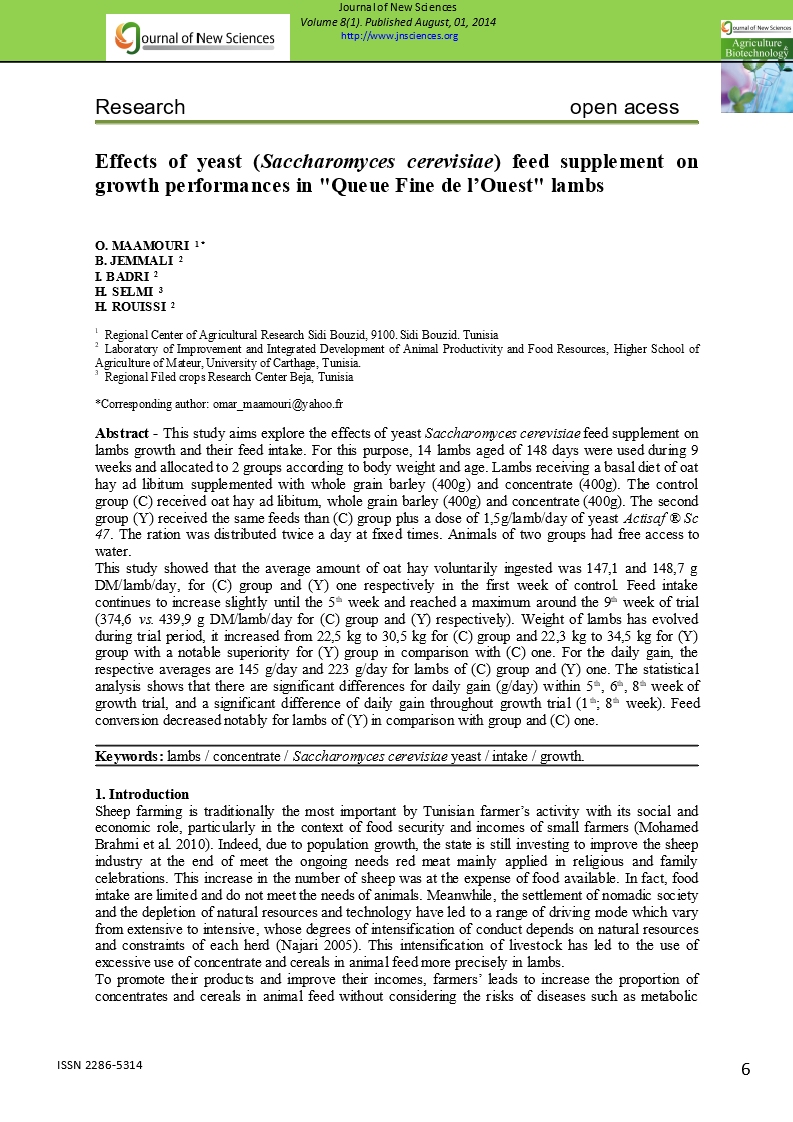 O. Maamouri 1 *
B. Jemmali 2
I. Badri 2
H. Selmi 3
H. Rouissi 2
1 Regional Center of Agricultural Research Sidi Bouzid, 9100. Sidi Bouzid. Tunisia
2 Laboratory of Improvement and Integrated Development of Animal Productivity and Food Resources, Higher School of Agriculture of Mateur, University of Carthage, Tunisia.
3 Regional Filed crops Research Center Beja, Tunisia
Abstract - This study aims explore the effects of yeast Saccharomyces cerevisiae feed supplement on lambs growth and their feed intake. For this purpose, 14 lambs aged of 148 days were used during 9 weeks and allocated to 2 groups according to body weight and age. Lambs receiving a basal diet of oat hay ad libitum supplemented with whole grain barley (400g) and concentrate (400g). The control group (C) received oat hay ad libitum, whole grain barley (400g) and concentrate (400g). The second group (Y) received the same feeds than (C) group plus a dose of 1,5g/lamb/day of yeast Actisaf ® Sc 47. The ration was distributed twice a day at fixed times. Animals of two groups had free access to water.
This study showed that the average amount of oat hay voluntarily ingested was 147,1 and 148,7 g DM/lamb/day, for (C) group and (Y) one respectively in the first week of control. Feed intake continues to increase slightly until the 5th week and reached a maximum around the 9th week of trial (374,6 vs. 439,9 g DM/lamb/day for (C) group and (Y) respectively). Weight of lambs has evolved during trial period, it increased from 22,5 kg to 30,5 kg for (C) group and 22,3 kg to 34,5 kg for (Y) group with a notable superiority for (Y) group in comparison with (C) one. For the daily gain, the respective averages are 145 g/day and 223 g/day for lambs of (C) group and (Y) one. The statistical analysis shows that there are significant differences for daily gain (g/day) within 5th, 6th, 8th week of growth trial, and a significant difference of daily gain throughout growth trial (1th; 8th week). Feed conversion decreased notably for lambs of (Y) in comparison with group and (C) one.
Keywords: lambs / concentrate / Saccharomyces cerevisiae yeast / intake / growth.