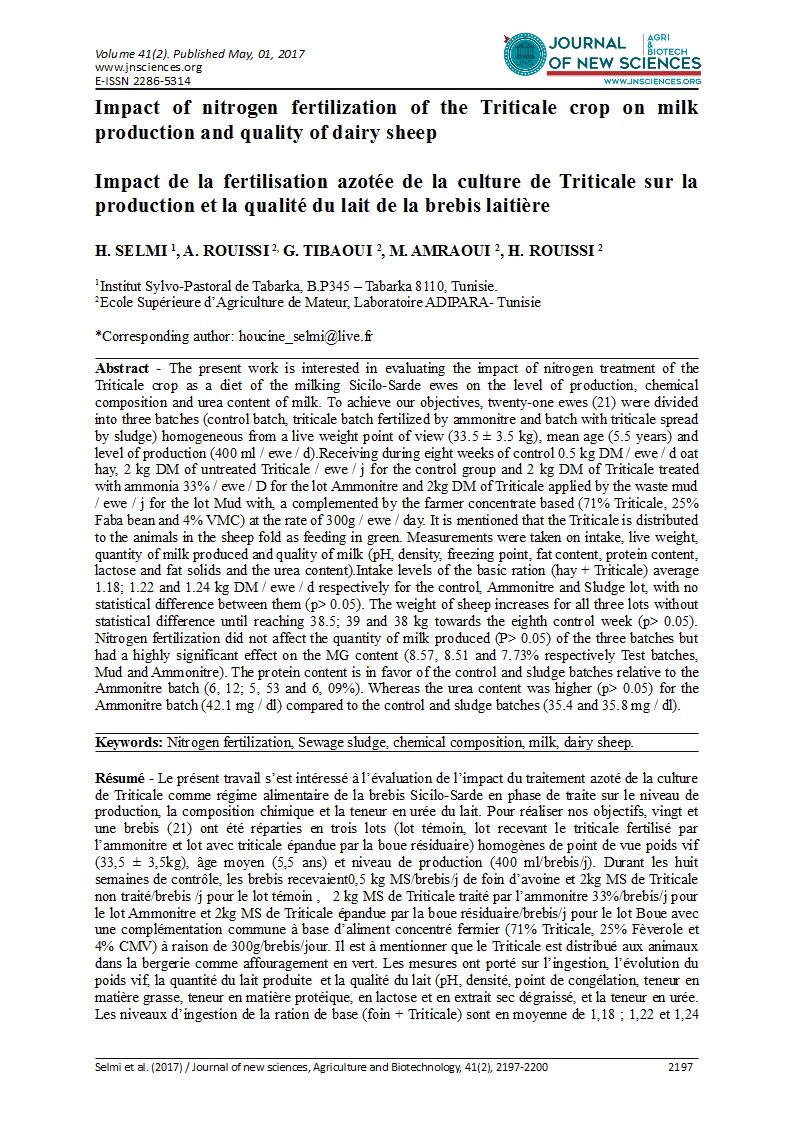 Impact de la fertilisation azotée de la culture de Triticale sur la production et la qualité du lait de la brebis laitière
H. SELMI 1
A. ROUISSI 2
G. TIBAOUI 2
M. AMRAOUI 2
H. ROUISSI 2
1Institut Sylvo-Pastoral de Tabarka, B.P345 – Tabarka 8110, Tunisie.
2Ecole Supérieure d'Agriculture de Mateur, Laboratoire ADIPARA- Tunisie
Abstract - The present work is interested in evaluating the impact of nitrogen treatment of the Triticale crop as a diet of the milking Sicilo-Sarde ewes on the level of production, chemical composition and urea content of milk. To achieve our objectives, twenty-one ewes (21) were divided into three batches (control batch, triticale batch fertilized by ammonitre and batch with triticale spread by sludge) homogeneous from a live weight point of view (33.5 ± 3.5 kg), mean age (5.5 years) and level of production (400 ml / ewe / d).Receiving during eight weeks of control 0.5 kg DM / ewe / d oat hay, 2 kg DM of untreated Triticale / ewe / j for the control group and 2 kg DM of Triticale treated with ammonia 33% / ewe / D for the lot Ammonitre and 2kg DM of Triticale applied by the waste mud / ewe / j for the lot Mud with, a complemented by the farmer concentrate based (71% Triticale, 25% Faba bean and 4% VMC) at the rate of 300g / ewe / day. It is mentioned that the Triticale is distributed to the animals in the sheep fold as feeding in green. Measurements were taken on intake, live weight, quantity of milk produced and quality of milk (pH, density, freezing point, fat content, protein content, lactose and fat solids and the urea content).Intake levels of the basic ration (hay + Triticale) average 1.18; 1.22 and 1.24 kg DM / ewe / d respectively for the control, Ammonitre and Sludge lot, with no statistical difference between them (p> 0.05). The weight of sheep increases for all three lots without statistical difference until reaching 38.5; 39 and 38 kg towards the eighth control week (p> 0.05). Nitrogen fertilization did not affect the quantity of milk produced (P> 0.05) of the three batches but had a highly significant effect on the MG content (8.57, 8.51 and 7.73% respectively Test batches, Mud and Ammonitre). The protein content is in favor of the control and sludge batches relative to the Ammonitre batch (6, 12; 5, 53 and 6, 09%). Whereas the urea content was higher (p> 0.05) for the Ammonitre batch (42.1 mg / dl) compared to the control and sludge batches (35.4 and 35.8 mg / dl).
Keywords: Nitrogen fertilization, Sewage sludge, chemical composition, milk, dairy sheep.
Résumé - Le présent travail s'est intéressé à l'évaluation de l'impact du traitement azoté de la culture de Triticale comme régime alimentaire de la brebis Sicilo-Sarde en phase de traite sur le niveau de production, la composition chimique et la teneur en urée du lait. Pour réaliser nos objectifs, vingt et une brebis (21) ont été réparties en trois lots (lot témoin, lot recevant le triticale fertilisé par l'ammonitre et lot avec triticale épandue par la boue résiduaire) homogènes de point de vue poids vif (33,5 ± 3,5kg), âge moyen (5,5 ans) et niveau de production (400 ml/brebis/j). Durant les huit semaines de contrôle, les brebis recevaient0,5 kg MS/brebis/j de foin d'avoine et 2kg MS de Triticale non traité/brebis /j pour le lot témoin , 2 kg MS de Triticale traité par l'ammonitre 33%/brebis/j pour le lot Ammonitre et 2kg MS de Triticale épandue par la boue résiduaire/brebis/j pour le lot Boue avec une complémentation commune à base d'aliment concentré fermier (71% Triticale, 25% Fèverole et 4% CMV) à raison de 300g/brebis/jour. Il est à mentionner que le Triticale est distribué aux animaux dans la bergerie comme affouragement en vert. Les mesures ont porté sur l'ingestion, l'évolution du poids vif, la quantité du lait produite et la qualité du lait (pH, densité, point de congélation, teneur en matière grasse, teneur en matière protéique, en lactose et en extrait sec dégraissé, et la teneur en urée. Les niveaux d'ingestion de la ration de base (foin + Triticale) sont en moyenne de 1,18 ; 1,22 et 1,24 kg MS/brebis/j respectivement pour le lot témoin, lot Ammonitre et lot Boue, sans différence statistique entre eux (p>0,05). Le poids vif des brebis a augmenté pour les trois lots sans différence statistique jusqu'à atteindre 38,5 ; 39 et 38 kg vers la huitième semaine de contrôle (p>0,05). La fertilisation azotée n'a pas affecté la quantité de lait produite (P>0,05) des trois lots mais elle a un effet hautement significatif sur la teneur en MG (8,57 ; 8,51 et 7,73% respectivement pour les lots témoin, Boue et Ammonitre). La teneur en matière protéique est en faveur des lots témoin et avec boue par rapport au lot Ammonitre (6,12 ; 5,53 et 6,09%). Alors que la teneur en urée est plus élevée (p>0,05) pour le lot Ammonitre (42,1 mg/dl) par rapport aux lots témoin et avec boue (35,4 et 35,8 mg/dl).
Mots clés: Fertilisation azotée, boue résiduaire, composition chimique, lait, brebis laitière