Journal of New Sciences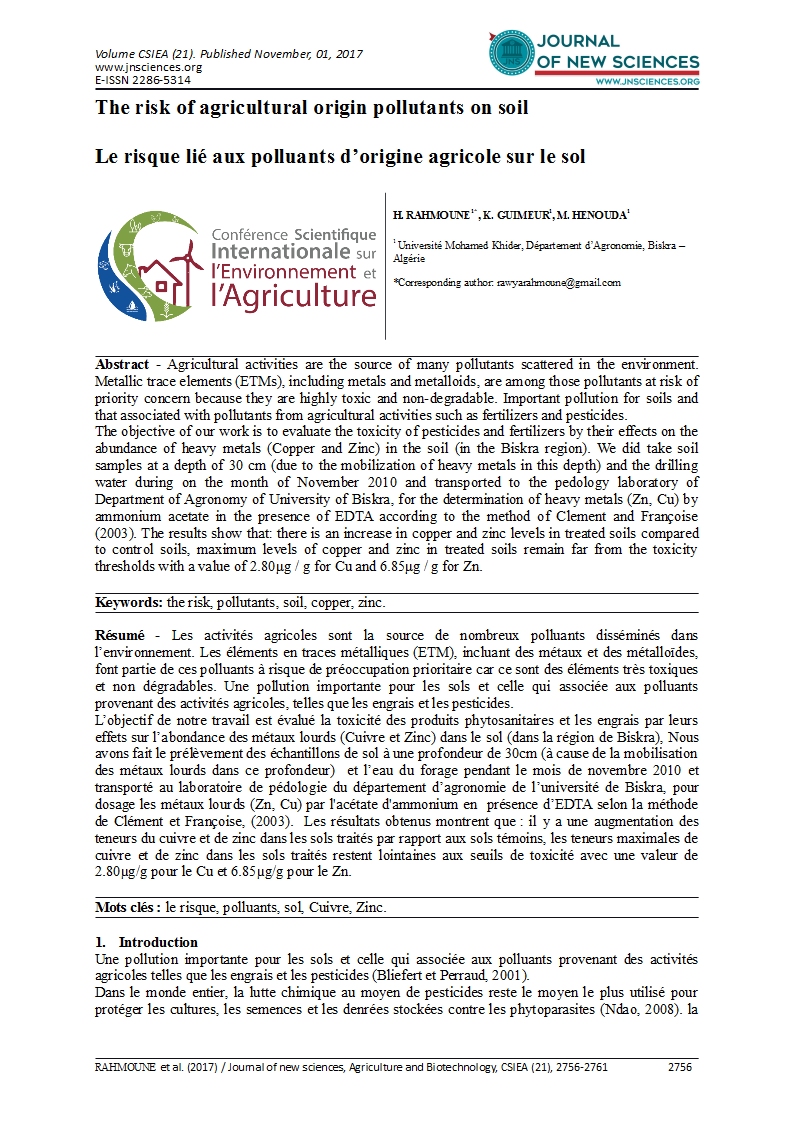 The risk of agricultural origin pollutants on soil
Le risque lié aux polluants d'origine agricole sur le sol
 

H. RAHMOUNE1*, K. GUIMEUR1, M. HENOUDA1

 

1 Université Mohamed Khider, Département d'Agronomie, Biskra – Algérie

 

Abstract - Agricultural activities are the source of many pollutants scattered in the environment. Metallic trace elements (ETMs), including metals and metalloids, are among those pollutants at risk of priority concern because they are highly toxic and non-degradable. Important pollution for soils and that associated with pollutants from agricultural activities such as fertilizers and pesticides. The objective of our work is to evaluate the toxicity of pesticides and fertilizers by their effects on the abundance of heavy metals (Copper and Zinc) in the soil (in the Biskra region). We did take soil samples at a depth of 30 cm (due to the mobilization of heavy metals in this depth) and the drilling water during on the month of November 2010 and transported to the pedology laboratory of Department of Agronomy of University of Biskra, for the determination of heavy metals (Zn, Cu) by ammonium acetate in the presence of EDTA according to the method of Clement and Françoise (2003). The results show that: there is an increase in copper and zinc levels in treated soils compared to control soils, maximum levels of copper and zinc in treated soils remain far from the toxicity thresholds with a value of 2.80μg / g for Cu and 6.85μg / g for Zn.
Keywords: the risk, pollutants, soil, copper, zinc.
Résumé - Les activités agricoles sont la source de nombreux polluants disséminés dans l'environnement. Les éléments en traces métalliques (ETM), incluant des métaux et des métalloïdes, font partie de ces polluants à risque de préoccupation prioritaire car ce sont des éléments très toxiques et non dégradables. Une pollution importante pour les sols et celle qui associée aux polluants provenant des activités agricoles, telles que les engrais et les pesticides. L'objectif de notre travail est évalué la toxicité des produits phytosanitaires et les engrais par leurs effets sur l'abondance des métaux lourds (Cuivre et Zinc) dans le sol (dans la région de Biskra), Nous avons fait le prélèvement des échantillons de sol à une profondeur de 30cm (à cause de la mobilisation des métaux lourds dans ce profondeur) et l'eau du forage pendant le mois de novembre 2010 et transporté au laboratoire de pédologie du département d'agronomie de l'université de Biskra, pour dosage les métaux lourds (Zn, Cu) par l'acétate d'ammonium en présence d'EDTA selon la méthode de Clément et Françoise, (2003). Les résultats obtenus montrent que : il y a une augmentation des teneurs du cuivre et de zinc dans les sols traités par rapport aux sols témoins, les teneurs maximales de cuivre et de zinc dans les sols traités restent lointaines aux seuils de toxicité avec une valeur de 2.80µg/g pour le Cu et 6.85µg/g pour le Zn.
Mots clés : le risque, polluants, sol, Cuivre, Zinc.