Journal of New Sciences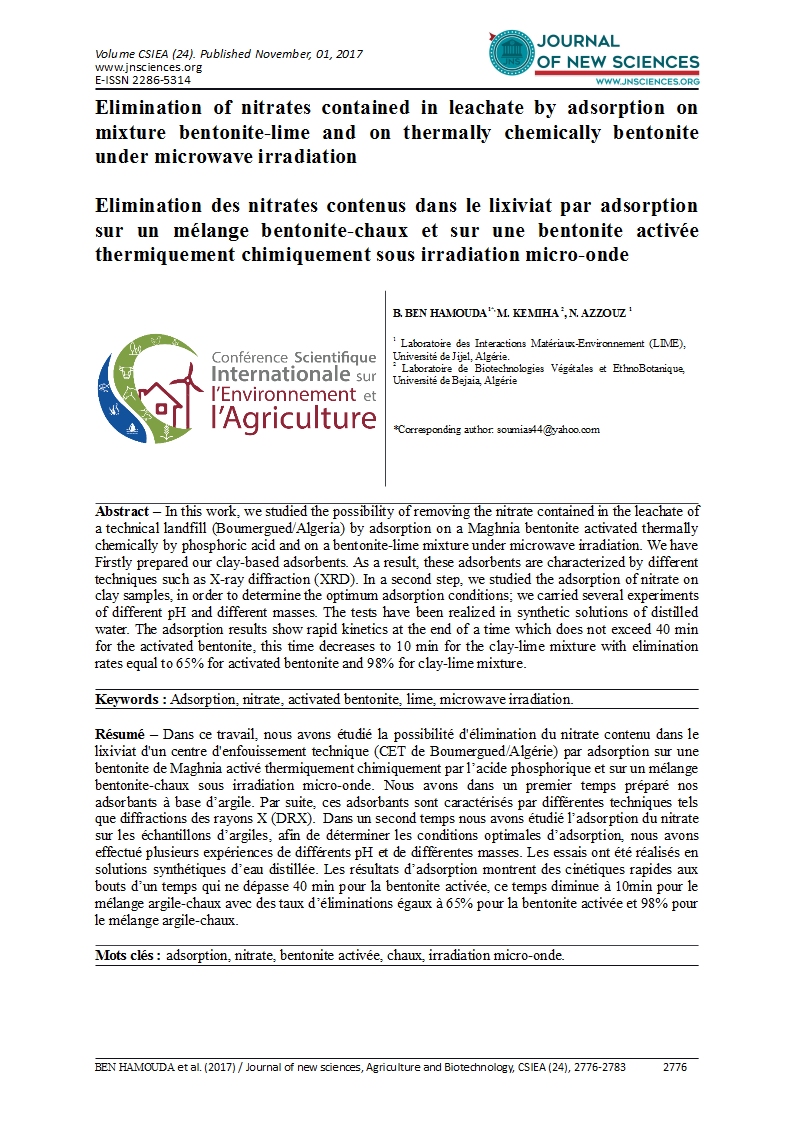 Elimination of nitrates contained in leachate by adsorption on mixture bentonite-lime and on thermally chemically bentonite under microwave irradiation
Elimination des nitrates contenus dans le lixiviat par adsorption sur un mélange bentonite-chaux et sur une bentonite activée thermiquement chimiquement sous irradiation micro-onde
 

B. BEN HAMOUDA1*, M. KEMIHA 2, N. AZZOUZ 1

 

1 Laboratoire des Interactions Matériaux-Environnement (LIME), Université de Jijel, Algérie.

2 Laboratoire de Biotechnologies Végétales et EthnoBotanique, Université de Bejaia, Algérie

 

Abstract – In this work, we studied the possibility of removing the nitrate contained in the leachate of a technical landfill (Boumergued/Algeria) by adsorption on a Maghnia bentonite activated thermally chemically by phosphoric acid and on a bentonite-lime mixture under microwave irradiation. We have Firstly prepared our clay-based adsorbents. As a result, these adsorbents are characterized by different techniques such as X-ray diffraction (XRD). In a second step, we studied the adsorption of nitrate on clay samples, in order to determine the optimum adsorption conditions; we carried several experiments of different pH and different masses. The tests have been realized in synthetic solutions of distilled water. The adsorption results show rapid kinetics at the end of a time which does not exceed 40 min for the activated bentonite, this time decreases to 10 min for the clay-lime mixture with elimination rates equal to 65% for activated bentonite and 98% for clay-lime mixture. 
Keywords : Adsorption, nitrate, activated bentonite, lime, microwave irradiation.
Résumé – Dans ce travail, nous avons étudié la possibilité d'élimination du nitrate contenu dans le lixiviat d'un centre d'enfouissement technique (CET de Boumergued/Algérie) par adsorption sur une bentonite de Maghnia activé thermiquement chimiquement par l'acide phosphorique et sur un mélange bentonite-chaux sous irradiation micro-onde. Nous avons dans un premier temps préparé nos adsorbants à base d'argile. Par suite, ces adsorbants sont caractérisés par différentes techniques tels que diffractions des rayons X (DRX). Dans un second temps nous avons étudié l'adsorption du nitrate sur les échantillons d'argiles, afin de déterminer les conditions optimales d'adsorption, nous avons effectué plusieurs expériences de différents pH et de différentes masses. Les essais ont été réalisés en solutions synthétiques d'eau distillée. Les résultats d'adsorption montrent des cinétiques rapides aux bouts d'un temps qui ne dépasse 40 min pour la bentonite activée, ce temps diminue à 10min pour le mélange argile-chaux avec des taux d'éliminations égaux à 65% pour la bentonite activée et 98% pour le mélange argile-chaux.
Mots clés : adsorption, nitrate, bentonite activée, chaux, irradiation micro-onde.