Journal of New Sciences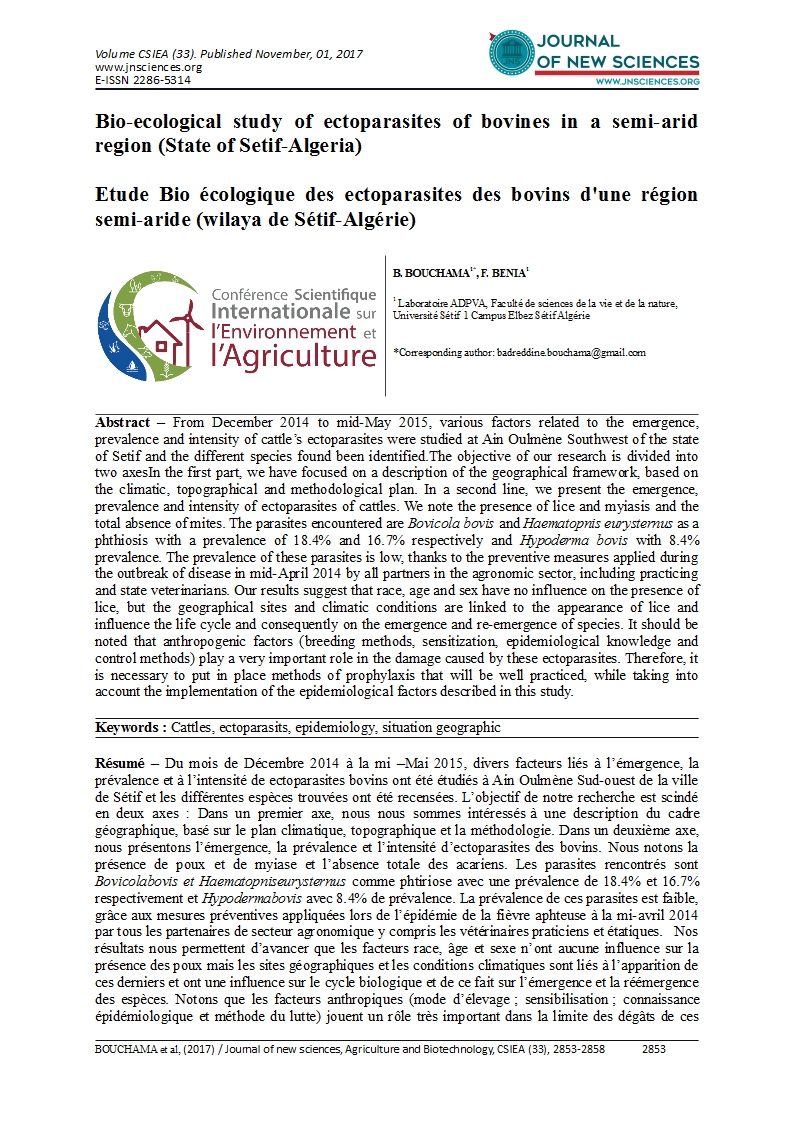 Bio-ecological study of ectoparasites of bovines in a semi-arid region (State of Setif-Algeria)
Etude Bio écologique des ectoparasites des bovins d'une région semi-aride (wilaya de Sétif-Algérie)
B. BOUCHAMA1*, F. BENIA1

 

1 Laboratoire ADPVA, Faculté de sciences de la vie et de la nature, Université Sétif 1 Campus Elbez Sétif Algérie

Abstract – From December 2014 to mid-May 2015, various factors related to the emergence, prevalence and intensity of cattle's ectoparasites were studied at Ain Oulmène Southwest of the state of Setif and the different species found been identified.The objective of our research is divided into two axesIn the first part, we have focused on a description of the geographical framework, based on the climatic, topographical and methodological plan. In a second line, we present the emergence, prevalence and intensity of ectoparasites of cattles. We note the presence of lice and myiasis and the total absence of mites. The parasites encountered are Bovicola bovis and Haematopnis eurysternus as a phthiosis with a prevalence of 18.4% and 16.7% respectively and Hypoderma bovis with 8.4% prevalence. The prevalence of these parasites is low, thanks to the preventive measures applied during the outbreak of disease in mid-April 2014 by all partners in the agronomic sector, including practicing and state veterinarians. Our results suggest that race, age and sex have no influence on the presence of lice, but the geographical sites and climatic conditions are linked to the appearance of lice and influence the life cycle and consequently on the emergence and re-emergence of species. It should be noted that anthropogenic factors (breeding methods, sensitization, epidemiological knowledge and control methods) play a very important role in the damage caused by these ectoparasites. Therefore, it is necessary to put in place methods of prophylaxis that will be well practiced, while taking into account the implementation of the epidemiological factors described in this study.
Keywords : Cattles, ectoparasits, epidemiology, situation geographic.
Résumé – Du mois de Décembre 2014 à la mi –Mai 2015, divers facteurs liés à l'émergence, la prévalence et à l'intensité de ectoparasites bovins ont été étudiés à Ain Oulmène Sud-ouest de la ville de Sétif et les différentes espèces trouvées ont été recensées. L'objectif de notre recherche est scindé en deux axes : Dans un premier axe, nous nous sommes intéressés à une description du cadre géographique, basé sur le plan climatique, topographique et la méthodologie. Dans un deuxième axe, nous présentons l'émergence, la prévalence et l'intensité d'ectoparasites des bovins. Nous notons la présence de poux et de myiase et l'absence totale des acariens. Les parasites rencontrés sont Bovicolabovis et Haematopniseurysternus comme phtiriose avec une prévalence de 18.4% et 16.7% respectivement et Hypodermabovis avec 8.4% de prévalence. La prévalence de ces parasites est faible, grâce aux mesures préventives appliquées lors de l'épidémie de la fièvre aphteuse à la mi-avril 2014 par tous les partenaires de secteur agronomique y compris les vétérinaires praticiens et étatiques. Nos résultats nous permettent d'avancer que les facteurs race, âge et sexe n'ont aucune influence sur la présence des poux mais les sites géographiques et les conditions climatiques sont liés à l'apparition de ces derniers et ont une influence sur le cycle biologique et de ce fait sur l'émergence et la réémergence des espèces. Notons que les facteurs anthropiques (mode d'élevage ; sensibilisation ; connaissance épidémiologique et méthode du lutte) jouent un rôle très important dans la limite des dégâts de ces ectoparasites. De ce fait il est donc nécessaire de mettre en place des méthodes de prophylaxie qui seront bien pratiquées, tout en tenant compte de la mise en œuvre des facteurs épidémiologiques décrits dans cette étude.
Mots clés : Bovins, ectoparasites, épidémiologie, situation géographique.