Journal of New Sciences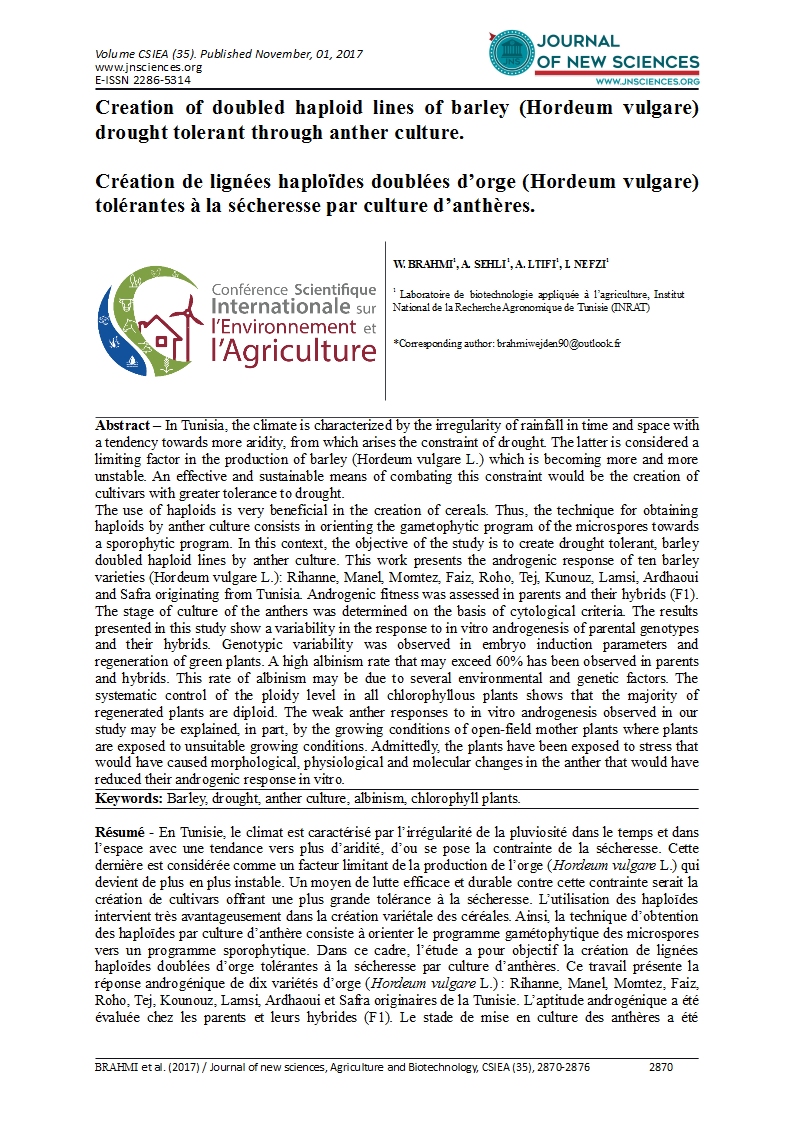 Creation of doubled haploid lines of barley (Hordeum vulgare) drought tolerant through anther culture.
Création de lignées haploïdes doublées d'orge (Hordeum vulgare) tolérantes à la sécheresse par culture d'anthères.
W. BRAHMI1, A. SEHLI1, A. LTIFI1, I. NEFZI1

 

1 Laboratoire de biotechnologie appliquée à l'agriculture, Institut National de la Recherche Agronomique de Tunisie (INRAT)

 

 

Abstract – In Tunisia, the climate is characterized by the irregularity of rainfall in time and space with a tendency towards more aridity, from which arises the constraint of drought. The latter is considered a limiting factor in the production of barley (Hordeum vulgare L.) which is becoming more and more unstable. An effective and sustainable means of combating this constraint would be the creation of cultivars with greater tolerance to drought. The use of haploids is very beneficial in the creation of cereals. Thus, the technique for obtaining haploids by anther culture consists in orienting the gametophytic program of the microspores towards a sporophytic program. In this context, the objective of the study is to create drought tolerant, barley doubled haploid lines by anther culture. This work presents the androgenic response of ten barley varieties (Hordeum vulgare L.): Rihanne, Manel, Momtez, Faiz, Roho, Tej, Kunouz, Lamsi, Ardhaoui and Safra originating from Tunisia. Androgenic fitness was assessed in parents and their hybrids (F1). The stage of culture of the anthers was determined on the basis of cytological criteria. The results presented in this study show a variability in the response to in vitro androgenesis of parental genotypes and their hybrids. Genotypic variability was observed in embryo induction parameters and regeneration of green plants. A high albinism rate that may exceed 60% has been observed in parents and hybrids. This rate of albinism may be due to several environmental and genetic factors. The systematic control of the ploidy level in all chlorophyllous plants shows that the majority of regenerated plants are diploid. The weak anther responses to in vitro androgenesis observed in our study may be explained, in part, by the growing conditions of open-field mother plants where plants are exposed to unsuitable growing conditions. Admittedly, the plants have been exposed to stress that would have caused morphological, physiological and molecular changes in the anther that would have reduced their androgenic response in vitro.
Keywords: Barley, drought, anther culture, albinism, chlorophyll plants.
Résumé - En Tunisie, le climat est caractérisé par l'irrégularité de la pluviosité dans le temps et dans l'espace avec une tendance vers plus d'aridité, d'ou se pose la contrainte de la sécheresse. Cette dernière est considérée comme un facteur limitant de la production de l'orge (Hordeum vulgare L.) qui devient de plus en plus instable. Un moyen de lutte efficace et durable contre cette contrainte serait la création de cultivars offrant une plus grande tolérance à la sécheresse. L'utilisation des haploïdes intervient très avantageusement dans la création variétale des céréales. Ainsi, la technique d'obtention des haploïdes par culture d'anthère consiste à orienter le programme gamétophytique des microspores vers un programme sporophytique. Dans ce cadre, l'étude a pour objectif la création de lignées haploïdes doublées d'orge tolérantes à la sécheresse par culture d'anthères. Ce travail présente la réponse androgénique de dix variétés d'orge (Hordeum vulgare L.) : Rihanne, Manel, Momtez, Faiz, Roho, Tej, Kounouz, Lamsi, Ardhaoui et Safra originaires de la Tunisie. L'aptitude androgénique a été évaluée chez les parents et leurs hybrides (F1). Le stade de mise en culture des anthères a été déterminé sur la base de critères cytologiques. Les résultats présentés dans cette étude montrent une variabilité de la réponse à l'androgenèse in vitro des génotypes parentaux et leurs hybrides. La variabilité génotypique a été observée dans les paramètres d'induction des embryons et dans la régénération des plantes vertes. Un taux d'albinisme élevé qui peut dépasser 60% a été observé chez les parents et les hybrides. Ce taux d'albinisme peut être dû à plusieurs facteurs de nature environnementale et génétique. Le contrôle systématique du niveau de ploïdie chez toutes les plantes chlorophylliennes permet de constater que la majorité des plantes régénérées sont diploïdes. Les faibles réponses des anthères à l'androgenèse in vitro observées dans notre étude peuvent être expliquées, en partie, par les conditions de culture de plantes mères en plein champ où les plantes sont exposées à des conditions de culture qui ne sont pas optimales. Certes, les plantes ont été exposées à des stress qui auraient provoqué au niveau des anthères des changements morphologiques, physiologiques et moléculaires qui auraient réduit leur réponse androgénique in vitro.
Mots clés : Orge, sécheresse, culture d'anthères, albinisme, plantes chlorophylliennes.