Journal of New Sciences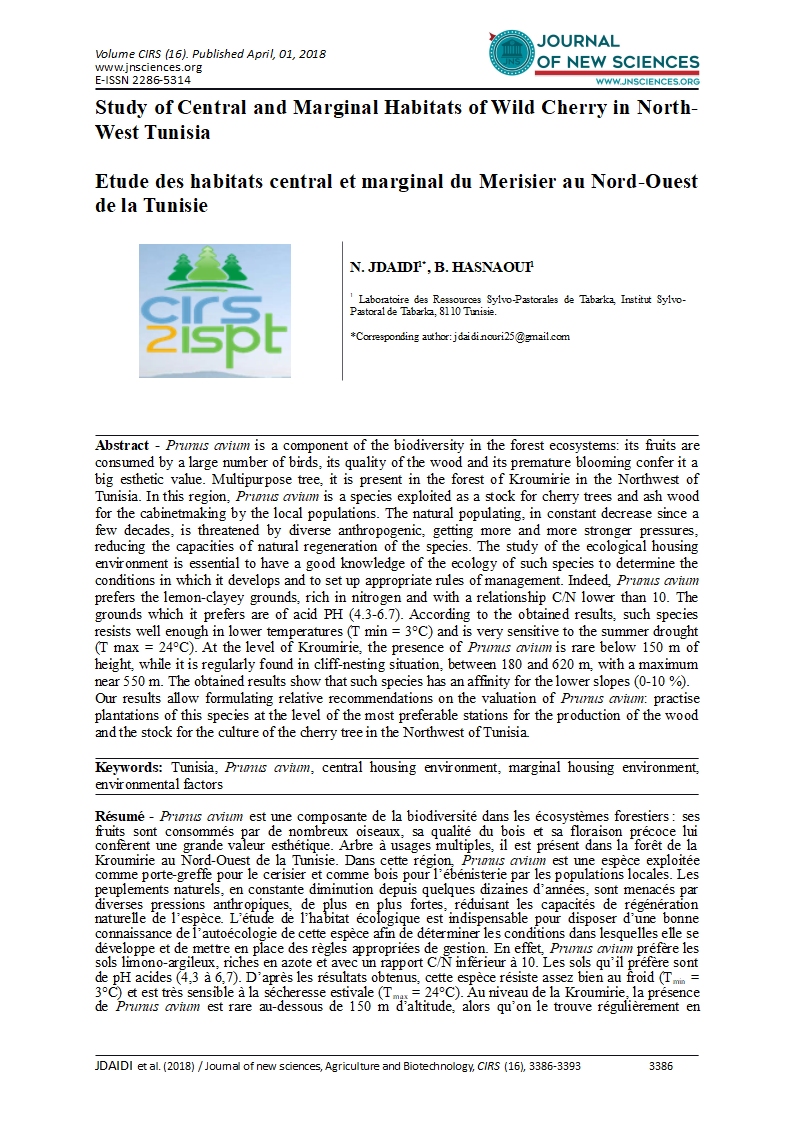 Study of Central and Marginal Habitats of Wild Cherry in North-West Tunisia
Etude des habitats central et marginal du Merisier au Nord-Ouest de la Tunisie
N. JDAIDI1*

B. HASNAOUI1

 

1 Laboratoire des Ressources Sylvo-Pastorales de Tabarka, Institut Sylvo-Pastoral de Tabarka, 8110 Tunisie.
 
Abstract - Prunus avium is a component of the biodiversity in the forest ecosystems: its fruits are consumed by a large number of birds, its quality of the wood and its premature blooming confer it a big esthetic value. Multipurpose tree, it is present in the forest of Kroumirie in the Northwest of Tunisia. In this region, Prunus avium is a species exploited as a stock for cherry trees and ash wood for the cabinetmaking by the local populations. The natural populating, in constant decrease since a few decades, is threatened by diverse anthropogenic, getting more and more stronger pressures, reducing the capacities of natural regeneration of the species. The study of the ecological housing environment is essential to have a good knowledge of the ecology of such species to determine the conditions in which it develops and to set up appropriate rules of management. Indeed, Prunus avium prefers the lemon-clayey grounds, rich in nitrogen and with a relationship C/N lower than 10. The grounds which it prefers are of acid PH (4.3-6.7). According to the obtained results, such species resists well enough in lower temperatures (T min = 3°C) and is very sensitive to the summer drought (T max = 24°C). At the level of Kroumirie, the presence of Prunus avium is rare below 150 m of height, while it is regularly found in cliff-nesting situation, between 180 and 620 m, with a maximum near 550 m. The obtained results show that such species has an affinity for the lower slopes (0-10 %). Our results allow formulating relative recommendations on the valuation of Prunus avium: practise plantations of this species at the level of the most preferable stations for the production of the wood and the stock for the culture of the cherry tree in the Northwest of Tunisia.
Keywords: Tunisia, Prunus avium, central housing environment, marginal housing environment, environmental factors.
Résumé - Prunus avium est une composante de la biodiversité dans les écosystèmes forestiers : ses fruits sont consommés par de nombreux oiseaux, sa qualité du bois et sa floraison précoce lui confèrent une grande valeur esthétique. Arbre à usages multiples, il est présent dans la forêt de la Kroumirie au Nord-Ouest de la Tunisie. Dans cette région, Prunus avium est une espèce exploitée comme porte-greffe pour le cerisier et comme bois pour l'ébénisterie par les populations locales. Les peuplements naturels, en constante diminution depuis quelques dizaines d'années, sont menacés par diverses pressions anthropiques, de plus en plus fortes, réduisant les capacités de régénération naturelle de l'espèce. L'étude de l'habitat écologique est indispensable pour disposer d'une bonne connaissance de l'autoécologie de cette espèce afin de déterminer les conditions dans lesquelles elle se développe et de mettre en place des règles appropriées de gestion. En effet, Prunus avium préfère les sols limono-argileux, riches en azote et avec un rapport C/N inférieur à 10. Les sols qu'il préfère sont de pH acides (4,3 à 6,7). D'après les résultats obtenus, cette espèce résiste assez bien au froid (Tmin = 3°C) et est très sensible à la sécheresse estivale (Tmax = 24°C). Au niveau de la Kroumirie, la présence de Prunus aviumest rare au-dessous de 150 m d'altitude, alors qu'on le trouve régulièrement en situation ripicole, entre 180 et 620 m, avec un maximum aux alentours de 550 m. Les résultats obtenus montrent que cette espèce a une affinité pour les pentes faibles (0-10%).
Nos résultats permettent de formuler des recommandations relatives sur la valorisation de Prunus avium : pratiquer des plantations de cette espèce au niveau des stations les plus favorables pour la production du bois et de porte-greffe pour la culture du cerisier au Nord-Ouest de la Tunisie.
Mots clés : Tunisie, Prunus avium, habitat central, habitat marginal, facteurs environnementaux.