Journal of New Sciences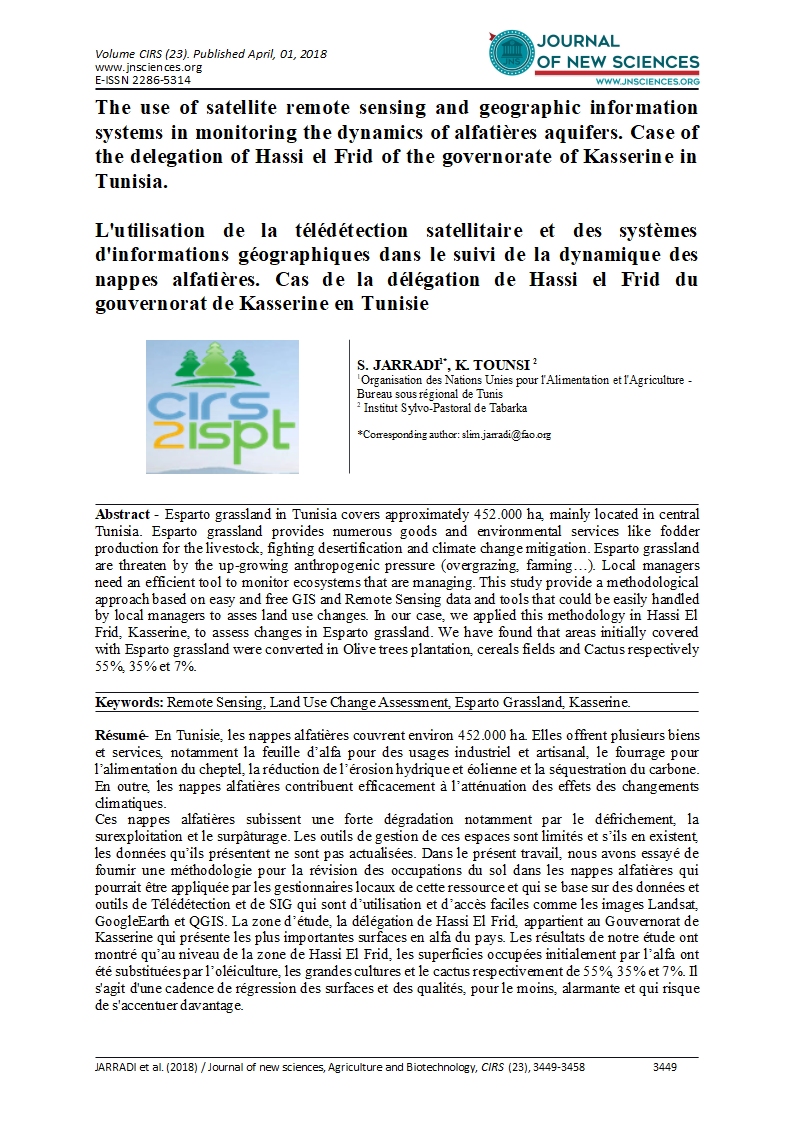 The use of satellite remote sensing and geographic information systems in monitoring the dynamics of alfatières aquifers. Case of the delegation of Hassi el Frid of the governorate of Kasserine in Tunisia.
L'utilisation de la télédétection satellitaire et des systèmes d'informations géographiques dans le suivi de la dynamique des nappes alfatières. Cas de la délégation de Hassi el Frid du gouvernorat de Kasserine en Tunisie
 

S. JARRADI1*

K. TOUNSI 2

1Organisation des Nations Unies pour l'Alimentation et l'Agriculture - Bureau sous régional de Tunis

2 Institut Sylvo-Pastoral de Tabarka

Abstract - Esparto grassland in Tunisia covers approximately 452.000 ha, mainly located in central Tunisia. Esparto grassland provides numerous goods and environmental services like fodder production for the livestock, fighting desertification and climate change mitigation. Esparto grassland are threaten by the up-growing anthropogenic pressure (overgrazing, farming…). Local managers need an efficient tool to monitor ecosystems that are managing. This study provide a methodological approach based on easy and free GIS and Remote Sensing data and tools that could be easily handled by local managers to asses land use changes. In our case, we applied this methodology in Hassi El Frid, Kasserine, to assess changes in Esparto grassland. We have found that areas initially covered with Esparto grassland were converted in Olive trees plantation, cereals fields and Cactus respectively 55%, 35% et 7%.
Keywords: Remote Sensing, Land Use Change Assessment, Esparto Grassland, Kasserine.
Résumé- En Tunisie, les nappes alfatières couvrent environ 452.000 ha. Elles offrent plusieurs biens et services, notamment la feuille d'alfa pour des usages industriel et artisanal, le fourrage pour l'alimentation du cheptel, la réduction de l'érosion hydrique et éolienne et la séquestration du carbone. En outre, les nappes alfatières contribuent efficacement à l'atténuation des effets des changements climatiques. Ces nappes alfatières subissent une forte dégradation notamment par le défrichement, la surexploitation et le surpâturage. Les outils de gestion de ces espaces sont limités et s'ils en existent, les données qu'ils présentent ne sont pas actualisées. Dans le présent travail, nous avons essayé de fournir une méthodologie pour la révision des occupations du sol dans les nappes alfatières qui pourrait être appliquée par les gestionnaires locaux de cette ressource et qui se base sur des données et outils de Télédétection et de SIG qui sont d'utilisation et d'accès faciles comme les images Landsat, GoogleEarth et QGIS. La zone d'étude, la délégation de Hassi El Frid, appartient au Gouvernorat de Kasserine qui présente les plus importantes surfaces en alfa du pays. Les résultats de notre étude ont montré qu'au niveau de la zone de Hassi El Frid, les superficies occupées initialement par l'alfa ont été substituées par l'oléiculture, les grandes cultures et le cactus respectivement de 55%, 35% et 7%. Il s'agit d'une cadence de régression des surfaces et des qualités, pour le moins, alarmante et qui risque de s'accentuer davantage.
Mots clés : Télédétection, Réaffectation des Occupations du Sol, Nappes Alfatières, Kasserine