Journal of New Sciences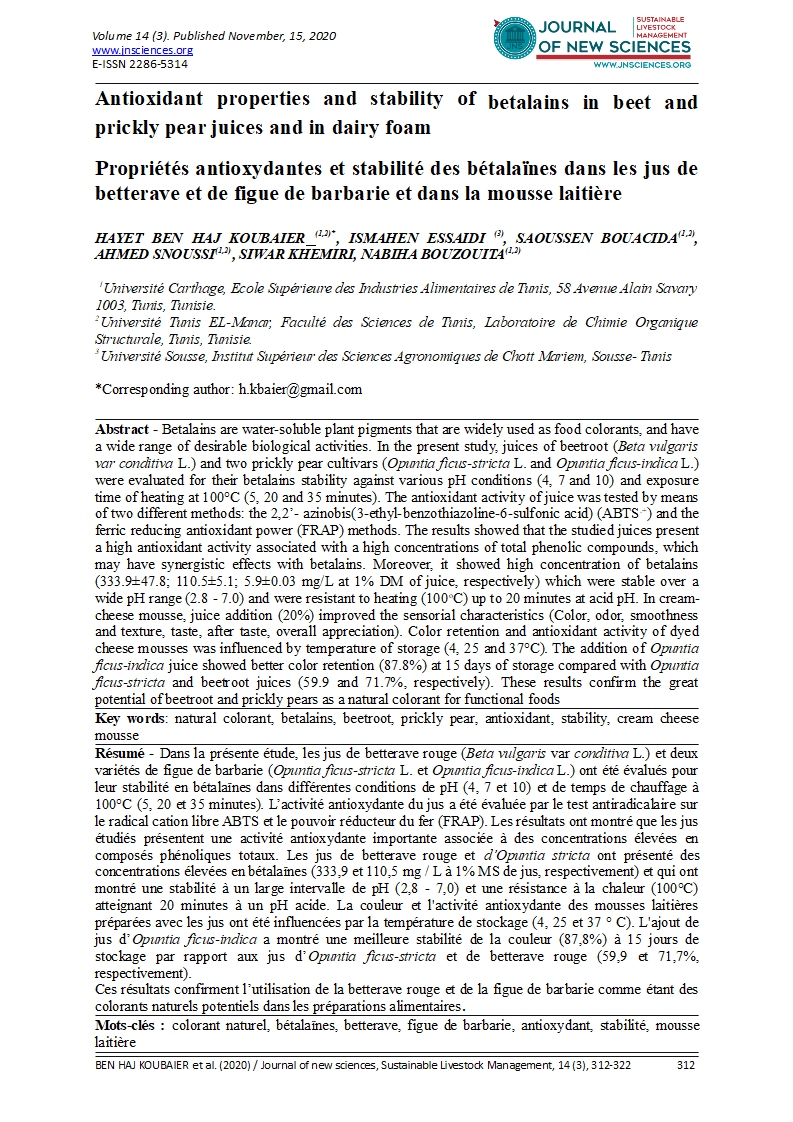 Antioxidant properties and stability of betalains in beet and prickly pear juices and in dairy foam
ropriétés antioxydantes et stabilité des bétalaïnes dans les jus de betterave et de figue de barbarie et dans la mousse laitière
HAYET BEN HAJ KOUBAIER (1,2)
ISMAHEN ESSAIDI (3)
SAOUSSEN BOUACIDA(1,2)
AHMED SNOUSSI(1,2)
SIWAR KHEMIRI
NABIHA BOUZOUITA(1,2)
1Université Carthage, Ecole Supérieure des Industries Alimentaires de Tunis, 58 Avenue Alain Savary 1003, Tunis, Tunisie.
2Université Tunis EL-Manar, Faculté des Sciences de Tunis, Laboratoire de Chimie Organique Structurale, Tunis, Tunisie.
3Université Sousse, Institut Supérieur des Sciences Agronomiques de Chott Mariem, Sousse- Tunis
Abstract - Betalains are water-soluble plant pigments that are widely used as food colorants, and have a wide range of desirable biological activities. In the present study, juices of beetroot (Beta vulgaris var conditiva L.) and two prickly pear cultivars (Opuntia ficus-stricta L. and Opuntia ficus-indica L.) were evaluated for their betalains stability against various pH conditions (4, 7 and 10) and exposure time of heating at 100°C (5, 20 and 35 minutes). The antioxidant activity of juice was tested by means of two different methods: the 2,2'- azinobis(3-ethyl-benzothiazoline-6-sulfonic acid) (ABTS.+) and the ferric reducing antioxidant power (FRAP) methods. The results showed that the studied juices present a high antioxidant activity associated with a high concentrations of total phenolic compounds, which may have synergistic effects with betalains. Moreover, it showed high concentration of betalains (333.9±47.8; 110.5±5.1; 5.9±0.03 mg/L at 1% DM of juice, respectively) which were stable over a wide pH range (2.8 - 7.0) and were resistant to heating (100oC) up to 20 minutes at acid pH. In cream-cheese mousse, juice addition (20%) improved the sensorial characteristics (Color, odor, smoothness and texture, taste, after taste, overall appreciation). Color retention and antioxidant activity of dyed cheese mousses was influenced by temperature of storage (4, 25 and 37°C). The addition of Opuntia ficus-indica juice showed better color retention (87.8%) at 15 days of storage compared with Opuntia ficus-stricta and beetroot juices (59.9 and 71.7%, respectively). These results confirm the great potential of beetroot and prickly pears as a natural colorant for functional foods
Key words: natural colorant, betalains, beetroot, prickly pear, antioxidant, stability,cream cheese mousse 
Résumé - Dans la présente étude, les jus de betterave rouge (Beta vulgaris var conditiva L.) et deux variétés de figue de barbarie (Opuntia ficus-stricta L. et Opuntia ficus-indica L.) ont été évalués pour leur stabilité en bétalaïnes dans différentes conditions de pH (4, 7 et 10) et de temps de chauffage à 100°C (5, 20 et 35 minutes). L'activité antioxydante du jus a été évaluée par le test antiradicalaire sur le radical cation libre ABTS et le pouvoir réducteur du fer (FRAP). Les résultats ont montré que les jus étudiés présentent une activité antioxydante importante associée à des concentrations élevées en composés phénoliques totaux. Les jus de betterave rouge et d'Opuntia stricta ont présenté des concentrations élevées en bétalaïnes (333,9 et 110,5 mg / L à 1% MS de jus, respectivement) et qui ont montré une stabilité à un large intervalle de pH (2,8 - 7,0) et une résistance à la chaleur (100°C) atteignant 20 minutes à un pH acide. La couleur et l'activité antioxydante des mousses laitières préparées avec les jus ont été influencées par la température de stockage (4, 25 et 37 ° C). L'ajout de jus d'Opuntia ficus-indica a montré une meilleure stabilité de la couleur (87,8%) à 15 jours de stockage par rapport aux jus d'Opuntia ficus-stricta et de betterave rouge (59,9 et 71,7%, respectivement).
Ces résultats confirment l'utilisation de la betterave rouge et de la figue de barbarie comme étant des colorants naturels potentiels dans les préparations alimentaires.
Mots-clés : colorant naturel, bétalaïnes, betterave, figue de barbarie, antioxydant, stabilité, mousse laitière