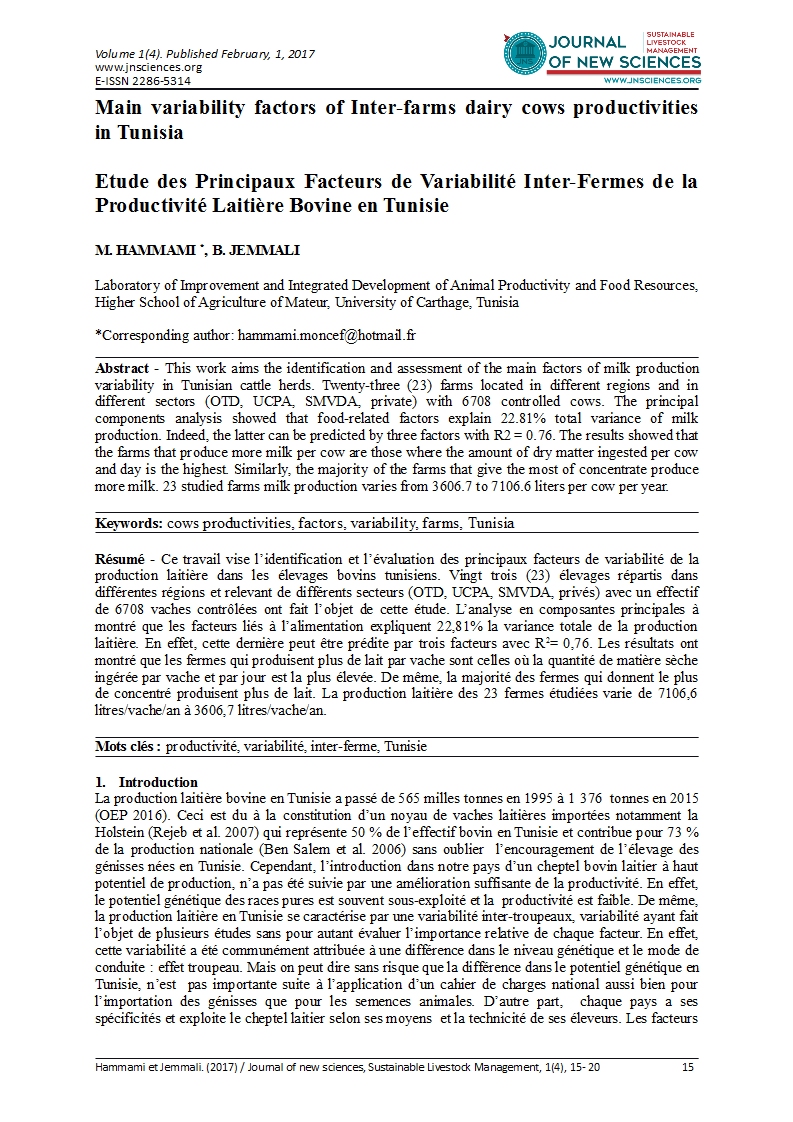 Etude des Principaux Facteurs de Variabilité Inter-Fermes de la Productivité Laitière Bovine en Tunisie
M. HAMMAMI *
B. JEMMALI
Laboratory of Improvement and Integrated Development of Animal Productivity and Food Resources, Higher School of Agriculture of Mateur, University of Carthage, Tunisia
Abstract - This work aims the identification and assessment of the main factors of milk production variability in Tunisian cattle herds. Twenty-three (23) farms located in different regions and in different sectors (OTD, UCPA, SMVDA, private) with 6708 controlled cows. The principal components analysis showed that food-related factors explain 22.81% total variance of milk production. Indeed, the latter can be predicted by three factors with R2 = 0.76. The results showed that the farms that produce more milk per cow are those where the amount of dry matter ingested per cow and day is the highest. Similarly, the majority of the farms that give the most of concentrate produce more milk. 23 studied farms milk production varies from 3606.7 to 7106.6 liters per cow per year.
Keywords: cows productivities, factors, variability, farms, Tunisia
Résumé - Ce travail vise l'identification et l'évaluation des principaux facteurs de variabilité de la production laitière dans les élevages bovins tunisiens. Vingt trois (23) élevages répartis dans différentes régions et relevant de différents secteurs (OTD, UCPA, SMVDA, privés) avec un effectif de 6708 vaches contrôlées ont fait l'objet de cette étude. L'analyse en composantes principales à montré que les facteurs liés à l'alimentation expliquent 22,81% la variance totale de la production laitière. En effet, cette dernière peut être prédite par trois facteurs avec R2= 0,76. Les résultats ont montré que les fermes qui produisent plus de lait par vache sont celles où la quantité de matière sèche ingérée par vache et par jour est la plus élevée. De même, la majorité des fermes qui donnent le plus de concentré produisent plus de lait. La production laitière des 23 fermes étudiées varie de 7106,6 litres/vache/an à 3606,7 litres/vache/an.
Mots clés : productivité, variabilité, inter-ferme, Tunisie