Journal of New Sciences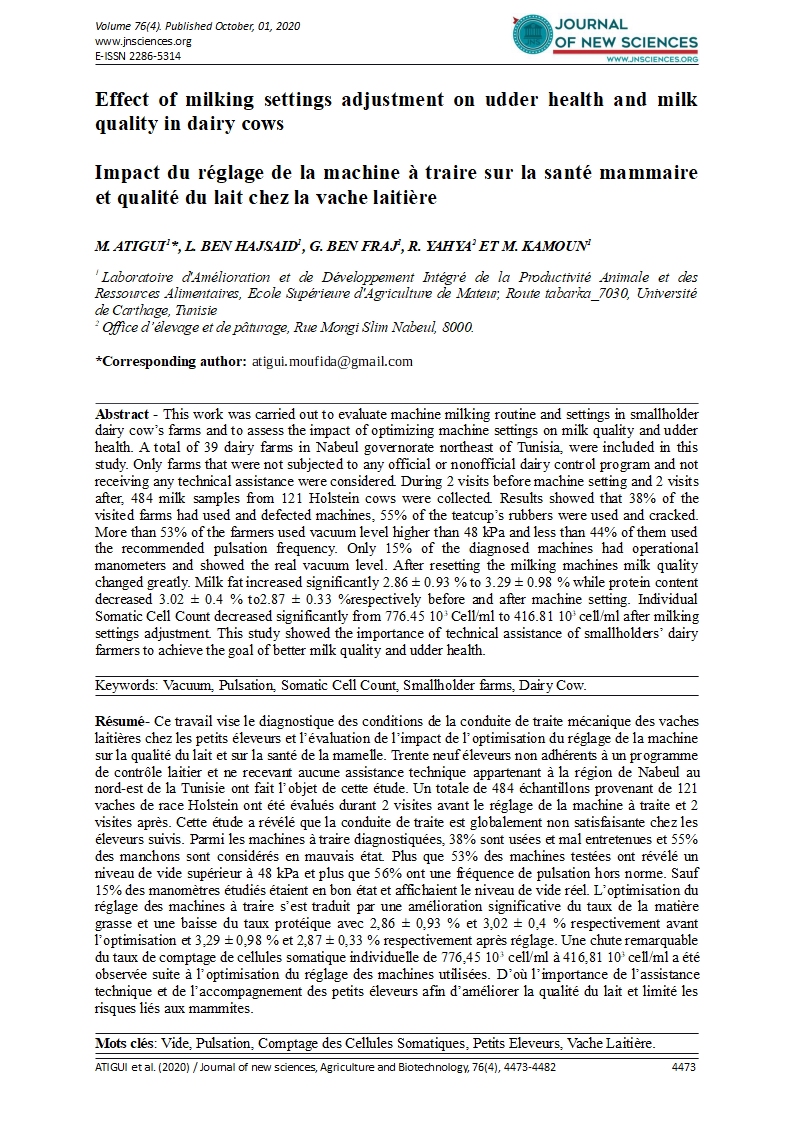 Effect milking settings adjustment on udder health and milk quality in dairy cows
Impact du réglage de la machine à traire sur la santé mammaire et qualité du lait chez la vache laitière
M. ATIGUI1
L. BEN HAJSAID1
G. BEN FRAJ1
R. YAHYA2
M. KAMOUN1
1 Laboratoire d'Amélioration et de Développement Intégré de la Productivité Animale et des Ressources Alimentaires, Ecole Supérieure d'Agriculture de Mateur, Route tabarka_7030, Université de Carthage, Tunisie
2 Office d'élevage et de pâturage, Rue Mongi Slim Nabeul, 8000.
Abstract - This work was carried out to evaluate machine milking routine and settings in smallholder dairy cow's farms and to assess the impact of optimizing machine settings on milk quality and udder health. A total of 39 dairy farms in Nabeul governorate northeast of Tunisia, were included in this study. Only farms that were not subjected to any official or nonofficial dairy control program and not receiving any technical assistance were considered. During 2 visits before machine setting and 2 visits after, 484 milk samples from 121 Holstein cows were collected. Results showed that 38% of the visited farms had used and defected machines, 55% of the teatcup's rubbers were used and cracked. More than 53% of the farmers used vacuum level higher than 48 kPa and less than 44% of them used the recommended pulsation frequency. Only 15% of the diagnosed machines had operational manometers and showed the real vacuum level. After resetting the milking machines milk quality changed greatly. Milk fat increased significantly 2.86 ± 0.93 % to 3.29 ± 0.98 % while protein content decreased 3.02 ± 0.4 % to2.87 ± 0.33 %respectively before and after machine setting. Individual Somatic Cell Count decreased significantly from 776.45 103 Cell/ml to 416.81 103 cell/ml after milking settings adjustment. This study showed the importance of technical assistance of smallholders' dairy farmers to achieve the goal of better milk quality and udder health. 
Keywords: Vacuum, Pulsation, Somatic Cell Count, Smallholder farms, Dairy Cow.
Résumé- Ce travail vise le diagnostique des conditions de la conduite de traite mécanique des vaches laitières chez les petits éleveurs et l'évaluation de l'impact de l'optimisation du réglage de la machine sur la qualité du lait et sur la santé de la mamelle. Trente neuf éleveurs non adhérents à un programme de contrôle laitier et ne recevant aucune assistance technique appartenant à la région de Nabeul au nord-est de la Tunisie ont fait l'objet de cette étude. Un totale de 484 échantillons provenant de 121 vaches de race Holstein ont été évalués durant 2 visites avant le réglage de la machine à traite et 2 visites après. Cette étude a révélé que la conduite de traite est globalement non satisfaisante chez les éleveurs suivis. Parmi les machines à traire diagnostiquées, 38% sont usées et mal entretenues et 55% des manchons sont considérés en mauvais état. Plus que 53% des machines testées ont révélé un niveau de vide supérieur à 48 kPa et plus que 56% ont une fréquence de pulsation hors norme. Sauf 15% des manomètres étudiés étaient en bon état et affichaient le niveau de vide réel. L'optimisation du réglage des machines à traire s'est traduit par une amélioration significative du taux de la matière grasse et une baisse du taux protéique avec 2,86 ± 0,93 % et 3,02 ± 0,4 % respectivement avant l'optimisation et 3,29 ± 0,98 % et 2,87 ± 0,33 % respectivement après réglage. Une chute remarquable du taux de comptage de cellules somatique individuelle de 776,45 103 cell/ml à 416,81 103 cell/ml a été observée suite à l'optimisation du réglage des machines utilisées. D'où l'importance de l'assistance technique et de l'accompagnement des petits éleveurs afin d'améliorer la qualité du lait et limité les risques liés aux mammites.
Mots clés: Vide, Pulsation, Comptage des Cellules Somatiques, Petits Eleveurs, Vache Laitière.