Journal of New Sciences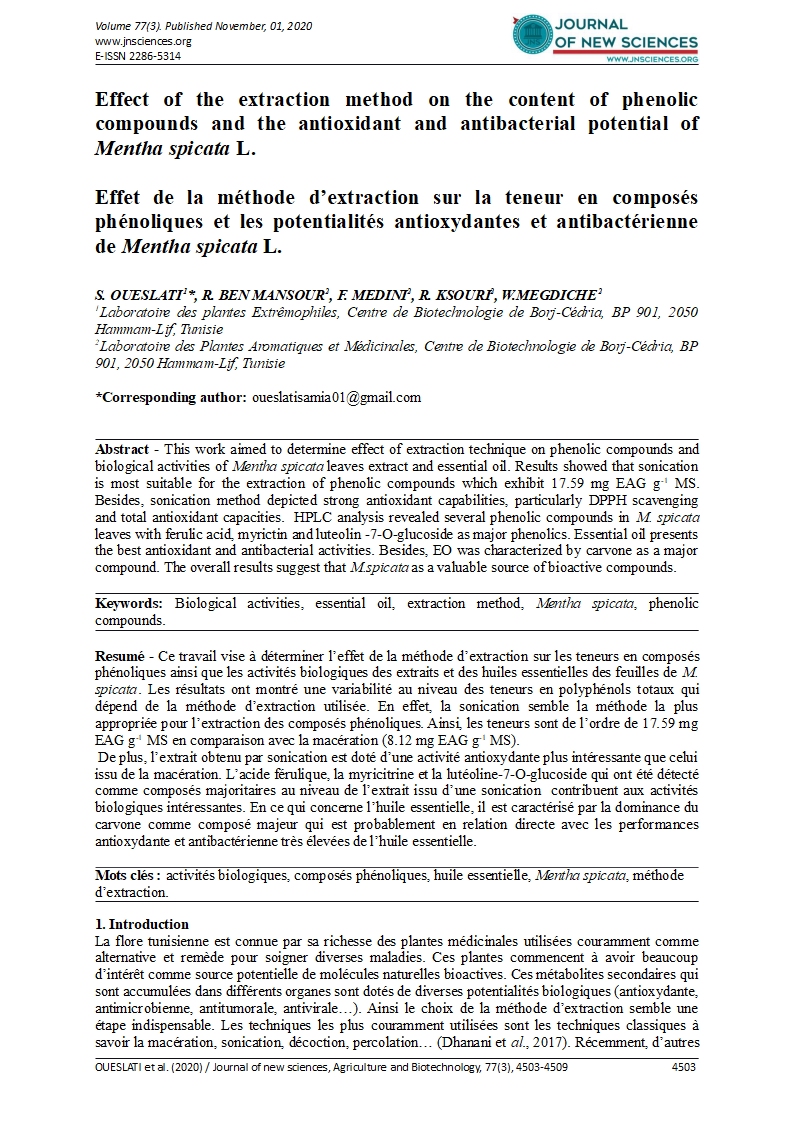 Effect of the extraction method on the content of phenolic compounds and the antioxidant and antibacterial potential of Mentha spicata L.
Effet de la méthode d'extraction sur la teneur en composés phénoliques et les potentialités antioxydantes et antibactérienne de Mentha spicata L.
S. OUESLATI1
R. BEN MANSOUR2
F. MEDINI2
R. KSOURI2
W.MEGDICHE2
1Laboratoire des plantes Extrêmophiles, Centre de Biotechnologie de Borj-Cédria, BP 901, 2050 Hammam-Lif, Tunisie
2Laboratoire des Plantes Aromatiques et Médicinales, Centre de Biotechnologie de Borj-Cédria, BP 901, 2050 Hammam-Lif, Tunisie
Abstract - This work aimed to determine effect of extraction technique on phenolic compounds and biological activities of Mentha spicata leaves extract and essential oil. Results showed that sonication is most suitable for the extraction of phenolic compounds which exhibit 17.59 mg EAG g-1 MS. Besides, sonication method depicted strong antioxidant capabilities, particularly DPPH scavenging and total antioxidant capacities. HPLC analysis revealed several phenolic compounds in M. spicata leaves with ferulic acid, myrictin and luteolin -7-O-glucoside as major phenolics. Essential oil presents the best antioxidant and antibacterial activities. Besides, EO was characterized by carvone as a major compound. The overall results suggest that M.spicata as a valuable source of bioactive compounds.
Keywords: Biological activities, essential oil, extraction method, Mentha spicata, phenolic compounds.
Resumé - Ce travail vise à déterminer l'effet de la méthode d'extraction sur les teneurs en composés phénoliques ainsi que les activités biologiques des extraits et des huiles essentielles des feuilles de M. spicata. Les résultats ont montré une variabilité au niveau des teneurs en polyphénols totaux qui dépend de la méthode d'extraction utilisée. En effet, la sonication semble la méthode la plus appropriée pour l'extraction des composés phénoliques. Ainsi, les teneurs sont de l'ordre de 17.59 mg EAG g-1 MS en comparaison avec la macération (8.12 mg EAG g-1 MS).
De plus, l'extrait obtenu par sonication est doté d'une activité antioxydante plus intéressante que celui issu de la macération. L'acide férulique, la myricitrine et la lutéoline-7-O-glucoside qui ont été détecté comme composés majoritaires au niveau de l'extrait issu d'une sonication contribuent aux activités biologiques intéressantes. En ce qui concerne l'huile essentielle, il est caractérisé par la dominance du carvone comme composé majeur qui est probablement en relation directe avec les performances antioxydante et antibactérienne très élevées de l'huile essentielle.


Mots clés : activités biologiques, composés phénoliques, huile essentielle, Mentha spicata, méthode d'extraction.