Journal of New Sciences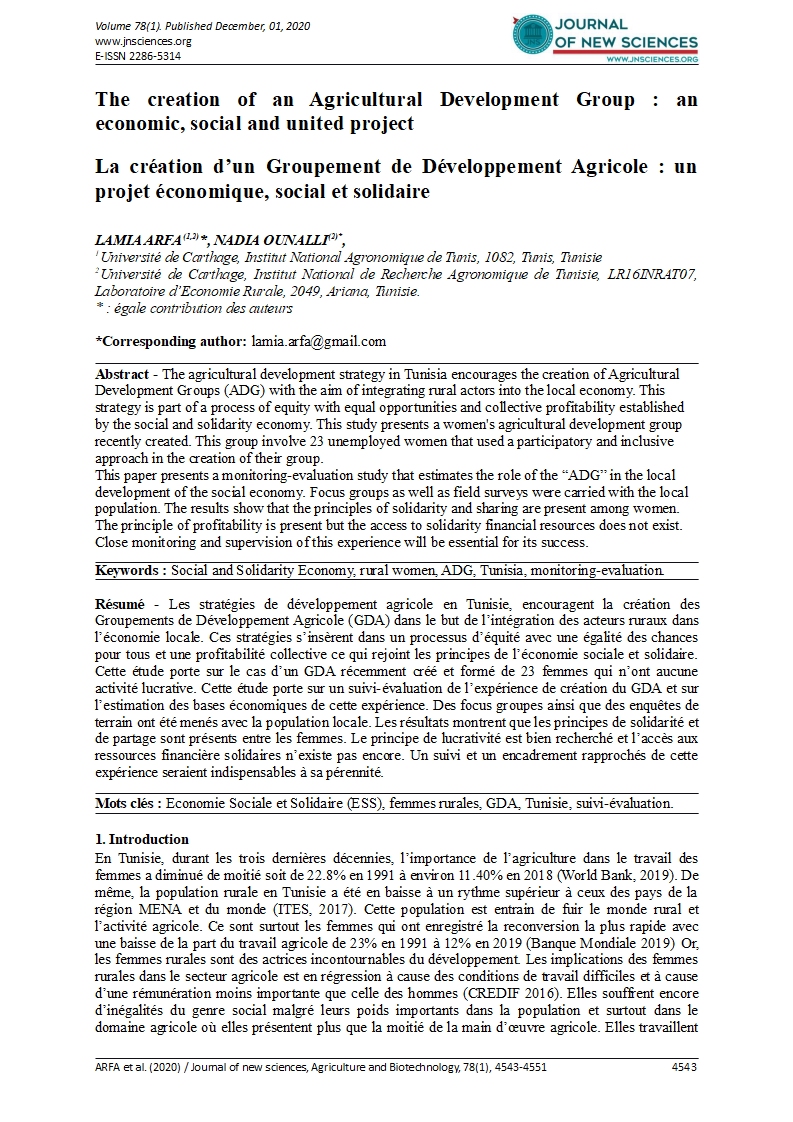 The creation of an Agricultural Development Group : an economic, social and united project
La création d'un Groupement de Développement Agricole : un projet économique, social et solidaire
LAMIA ARFA(1,2)
NADIA OUNALLI(2)*
1Université de Carthage, Institut National Agronomique de Tunis, 1082, Tunis, Tunisie
2Université de Carthage, Institut National de Recherche Agronomique de Tunisie, LR16INRAT07, Laboratoire d'Economie Rurale, 2049, Ariana, Tunisie.
* : égale contribution des auteurs
Abstract - The agricultural development strategy in Tunisia encourages the creation of Agricultural Development Groups (ADG) with the aim of integrating rural actors into the local economy. This strategy is part of a process of equity with equal opportunities and collective profitability established by the social and solidarity economy. This study presents a women's agricultural development group recently created. This group involve 23 unemployed women that used a participatory and inclusive approach in the creation of their group. This paper presents a monitoring-evaluation study that estimates the role of the "ADG" in the local development of the social economy. Focus groups as well as field surveys were carried with the local population. The results show that the principles of solidarity and sharing are present among women. The principle of profitability is present but the access to solidarity financial resources does not exist. Close monitoring and supervision of this experience will be essential for its success.


Keywords : Social and Solidarity Economy, rural women, ADG, Tunisia, monitoring-evaluation.
Résumé - Les stratégies de développement agricole en Tunisie, encouragent la création des Groupements de Développement Agricole (GDA) dans le but de l'intégration des acteurs ruraux dans l'économie locale. Ces stratégies s'insèrent dans un processus d'équité avec une égalité des chances pour tous et une profitabilité collective ce qui rejoint les principes de l'économie sociale et solidaire. Cette étude porte sur le cas d'un GDA récemment créé et formé de 23 femmes qui n'ont aucune activité lucrative. Cette étude porte sur un suivi-évaluation de l'expérience de création du GDA et sur l'estimation des bases économiques de cette expérience. Des focus groupes ainsi que des enquêtes de terrain ont été menés avec la population locale. Les résultats montrent que les principes de solidarité et de partage sont présents entre les femmes. Le principe de lucrativité est bien recherché et l'accès aux ressources financière solidaires n'existe pas encore. Un suivi et un encadrement rapprochés de cette expérience seraient indispensables à sa pérennité.
Mots clés : Economie Sociale et Solidaire (ESS), femmes rurales, GDA, Tunisie, suivi-évaluation.