Journal of New Sciences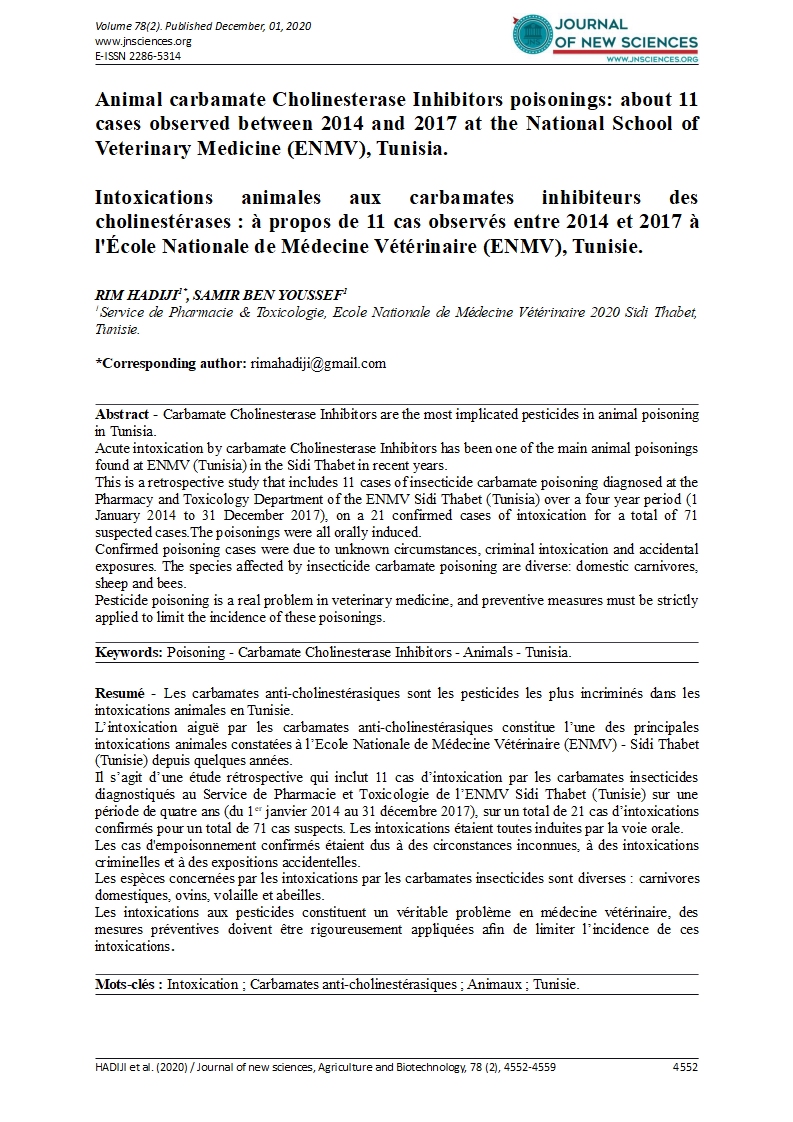 Animal carbamate Cholinesterase Inhibitors poisonings: about 11 cases observed between 2014 and 2017 at the National School of Veterinary Medicine (ENMV), Tunisia.
ntoxications animales aux carbamates inhibiteurs des cholinestérases : à propos de 11 cas observés entre 2014 et 2017 à l'École Nationale de Médecine Vétérinaire (ENMV), Tunisie.
RIM HADIJI1
SAMIR BEN YOUSSEF1
1Service de Pharmacie & Toxicologie, Ecole Nationale de Médecine Vétérinaire 2020 Sidi Thabet, Tunisie.
Abstract - Carbamate Cholinesterase Inhibitors are the most implicated pesticides in animal poisoning in Tunisia. Acute intoxication by carbamate Cholinesterase Inhibitors has been one of the main animal poisonings found at ENMV (Tunisia) in the Sidi Thabet in recent years.
This is a retrospective study that includes 11 cases of insecticide carbamate poisoning diagnosed at the Pharmacy and Toxicology Department of the ENMV Sidi Thabet (Tunisia) over a four year period (1 January 2014 to 31 December 2017), on a 21 confirmed cases of intoxication for a total of 71 suspected cases.The poisonings were all orally induced. Confirmed poisoning cases were due to unknown circumstances, criminal intoxication and accidental exposures. The species affected by insecticide carbamate poisoning are diverse: domestic carnivores, sheep and bees. Pesticide poisoning is a real problem in veterinary medicine, and preventive measures must be strictly applied to limit the incidence of these poisonings.
Keywords: Poisoning - Carbamate Cholinesterase Inhibitors - Animals - Tunisia.
Resumé - Les carbamates anti-cholinestérasiques sont les pesticides les plus incriminés dans les intoxications animales en Tunisie.
L'intoxication aiguë par les carbamates anti-cholinestérasiques constitue l'une des principales intoxications animales constatées à l'Ecole Nationale de Médecine Vétérinaire (ENMV) - Sidi Thabet (Tunisie) depuis quelques années.
Il s'agit d'une étude rétrospective qui inclut 11 cas d'intoxication par les carbamates insecticides diagnostiqués au Service de Pharmacie et Toxicologie de l'ENMV Sidi Thabet (Tunisie) sur une période de quatre ans (du 1er janvier 2014 au 31 décembre 2017), sur un total de 21 cas d'intoxications confirmés pour un total de 71 cas suspects. Les intoxications étaient toutes induites par la voie orale.
Les cas d'empoisonnement confirmés étaient dus à des circonstances inconnues, à des intoxications criminelles et à des expositions accidentelles.
Les espèces concernées par les intoxications par les carbamates insecticides sont diverses : carnivores domestiques, ovins, volaille et abeilles.
Les intoxications aux pesticides constituent un véritable problème en médecine vétérinaire, des mesures préventives doivent être rigoureusement appliquées afin de limiter l'incidence de ces intoxications.
Mots-clés : Intoxication ; Carbamates anti-cholinestérasiques ; Animaux ; Tunisie.