Journal of New Sciences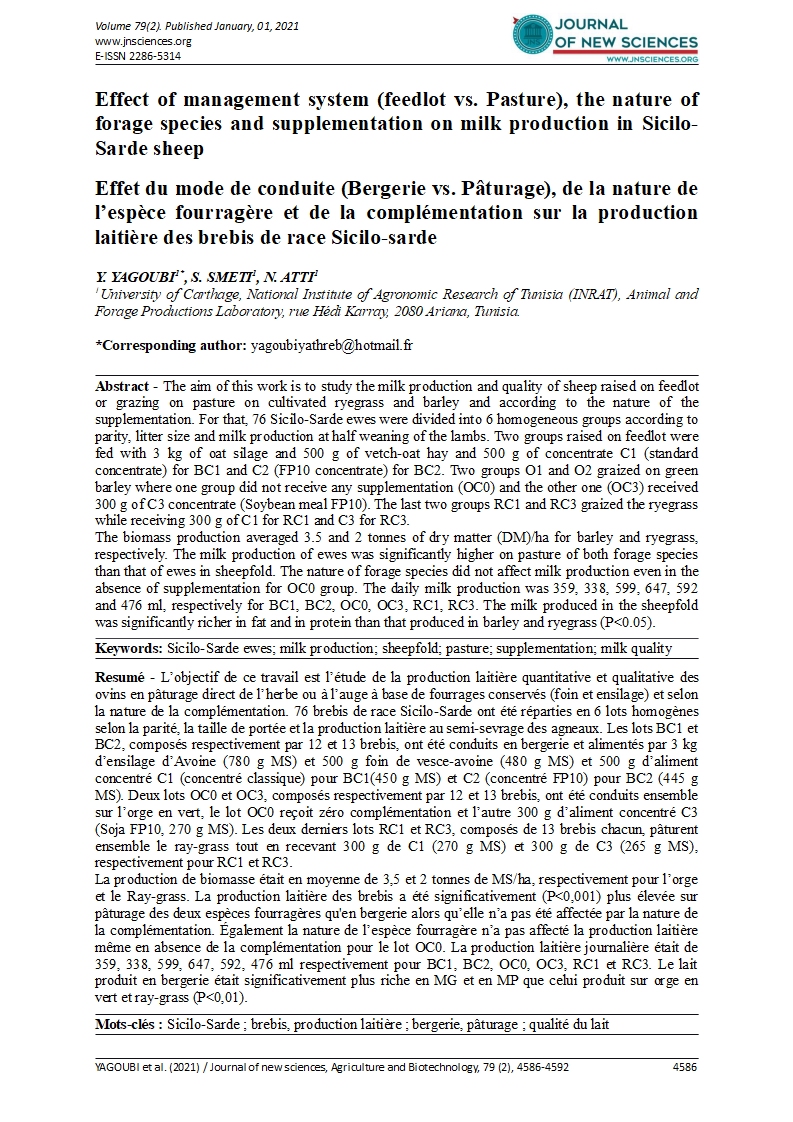 Effect of management system (feedlot vs. Pasture), the nature of forage species and supplementation on milk production in Sicilo-Sarde sheep
Effet du mode de conduite (Bergerie vs. Pâturage), de la nature de l'espèce fourragère et de la complémentation sur la production laitière des brebis de race Sicilo-sarde 
Y. YAGOUBI1
S. SMETI1
N. ATTI1
1University of Carthage, National Institute of Agronomic Research of Tunisia (INRAT), Animal and Forage Productions Laboratory, rue Hédi Karray, 2080 Ariana, Tunisia.
Abstract - The aim of this work is to study the milk production and quality of sheep raised on feedlot or grazing on pasture on cultivated ryegrass and barley and according to the nature of the supplementation. For that, 76 Sicilo-Sarde ewes were divided into 6 homogeneous groups according to parity, litter size and milk production at half weaning of the lambs. Two groups raised on feedlot were fed with 3 kg of oat silage and 500 g of vetch-oat hay and 500 g of concentrate C1 (standard concentrate) for BC1 and C2 (FP10 concentrate) for BC2. Two groups O1 and O2 graized on green barley where one group did not receive any supplementation (OC0) and the other one (OC3) received 300 g of C3 concentrate (Soybean meal FP10). The last two groups RC1 and RC3 graized the ryegrass while receiving 300 g of C1 for RC1 and C3 for RC3. The biomass production averaged 3.5 and 2 tonnes of dry matter (DM)/ha for barley and ryegrass, respectively. The milk production of ewes was significantly higher on pasture of both forage species than that of ewes in sheepfold. The nature of forage species did not affect milk production even in the absence of supplementation for OC0 group. The daily milk production was 359, 338, 599, 647, 592 and 476 ml, respectively for BC1, BC2, OC0, OC3, RC1, RC3. The milk produced in the sheepfold was significantly richer in fat and in protein than that produced in barley and ryegrass (P<0.05).
Keywords: Sicilo-Sarde ewes; milk production; sheepfold; pasture; supplementation; milk quality
Resumé - L'objectif de ce travail est l'étude de la production laitière quantitative et qualitative des ovins en pâturage direct de l'herbe ou à l'auge à base de fourrages conservés (foin et ensilage) et selon la nature de la complémentation. 76 brebis de race Sicilo-Sarde ont été réparties en 6 lots homogènes selon la parité, la taille de portée et la production laitière au semi-sevrage des agneaux. Les lots BC1 et BC2, composés respectivement par 12 et 13 brebis, ont été conduits en bergerie et alimentés par 3 kg d'ensilage d'Avoine (780 g MS) et 500 g foin de vesce-avoine (480 g MS) et 500 g d'aliment concentré C1 (concentré classique) pour BC1(450 g MS) et C2 (concentré FP10) pour BC2 (445 g MS). Deux lots OC0 et OC3, composés respectivement par 12 et 13 brebis, ont été conduits ensemble sur l'orge en vert, le lot OC0 reçoit zéro complémentation et l'autre 300 g d'aliment concentré C3 (Soja FP10, 270 g MS). Les deux derniers lots RC1 et RC3, composés de 13 brebis chacun, pâturent ensemble le ray-grass tout en recevant 300 g de C1 (270 g MS) et 300 g de C3 (265 g MS), respectivement pour RC1 et RC3.
La production de biomasse était en moyenne de 3,5 et 2 tonnes de MS/ha, respectivement pour l'orge et le Ray-grass. La production laitière des brebis a été significativement (P<0,001) plus élevée sur pâturage des deux espèces fourragères qu'en bergerie alors qu'elle n'a pas été affectée par la nature de la complémentation. Également la nature de l'espèce fourragère n'a pas affecté la production laitière même en absence de la complémentation pour le lot OC0. La production laitière journalière était de 359, 338, 599, 647, 592, 476 ml respectivement pour BC1, BC2, OC0, OC3, RC1 et RC3. Le lait produit en bergerie était significativement plus riche en MG et en MP que celui produit sur orge en vert et ray-grass (P<0,01).
Mots-clés : Sicilo-Sarde ; brebis, production laitière ; bergerie, pâturage ; qualité du lait