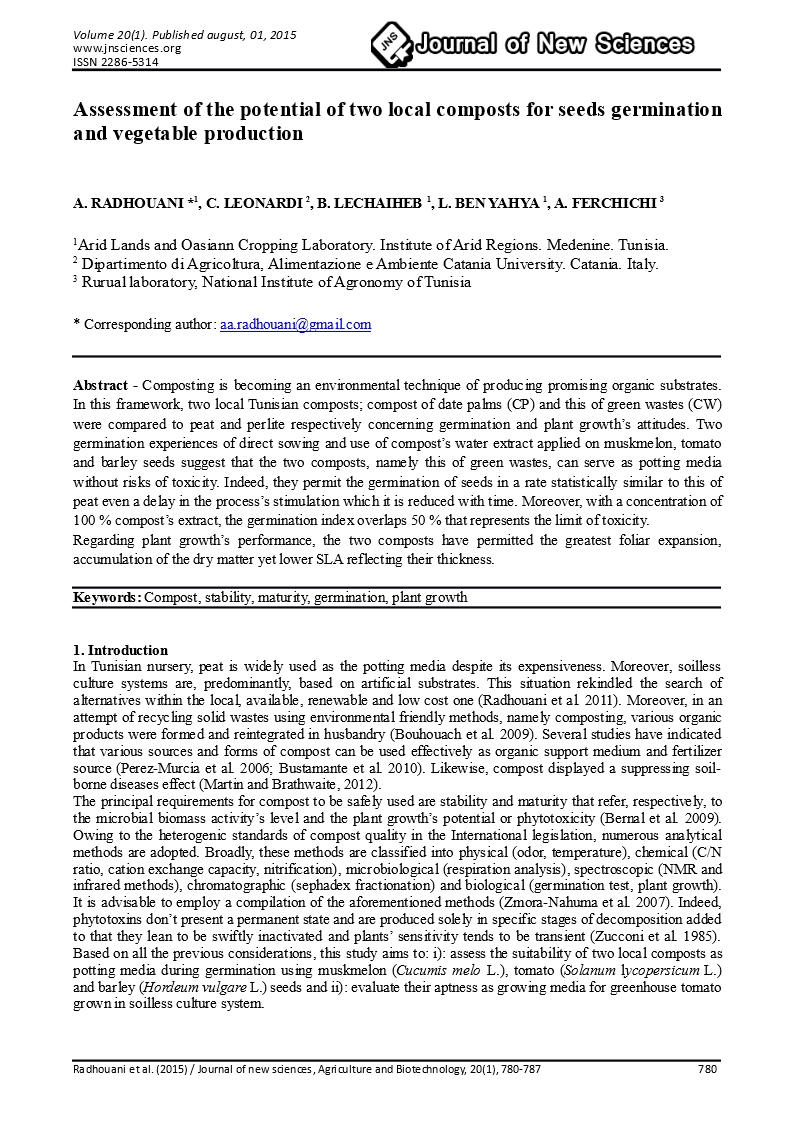 A. RADHOUANI *1
C. LEONARDI 2
B. LECHAIHEB 1
L. BEN YAHYA 1
A. FERCHICHI 3
1Arid Lands and Oasiann Cropping Laboratory. Institute of Arid Regions. Medenine. Tunisia.
2 Dipartimento di Agricoltura, Alimentazione e Ambiente Catania University. Catania. Italy.
3 Rurual laboratory, National Institute of Agronomy of Tunisia
Abstract - Composting is becoming an environmental technique of producing promising organic substrates. In this framework, two local Tunisian composts; compost of date palms (CP) and this of green wastes (CW) were compared to peat and perlite respectively concerning germination and plant growth's attitudes. Two germination experiences of direct sowing and use of compost's water extract applied on muskmelon, tomato and barley seeds suggest that the two composts, namely this of green wastes, can serve as potting media without risks of toxicity. Indeed, they permit the germination of seeds in a rate statistically similar to this of peat even a delay in the process's stimulation which it is reduced with time. Moreover, with a concentration of 100 % compost's extract, the germination index overlaps 50 % that represents the limit of toxicity.
Regarding plant growth's performance, the two composts have permitted the greatest foliar expansion, accumulation of the dry matter yet lower SLA reflecting their thickness.
Keywords: Compost, stability, maturity, germination, plant growth