Journal of New Sciences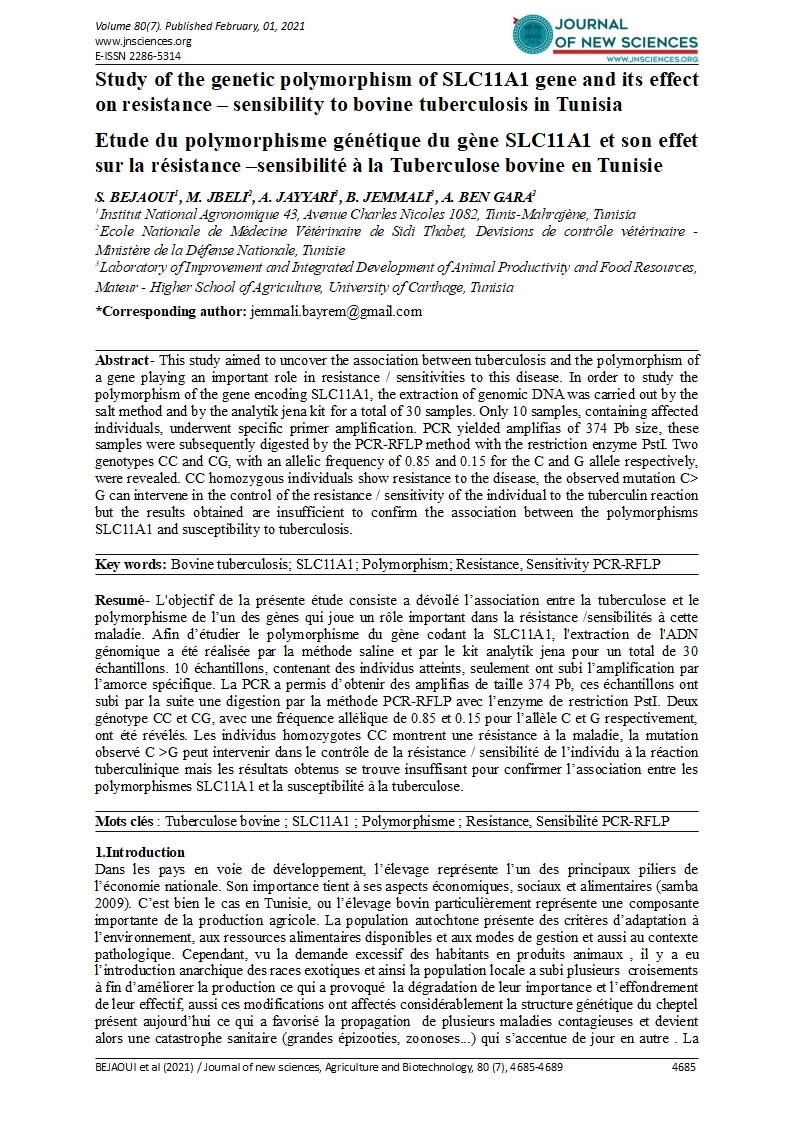 Study of the genetic polymorphism of SLC11A1 gene and its effect on resistance – sensibility to bovine tuberculosis in Tunisia
Etude du polymorphisme génétique du gène SLC11A1 et son effet sur la résistance –sensibilité à la Tuberculose bovine en Tunisie
S. BEJAOUI1
M. JBELI2
A. JAYYARI3
B. JEMMALI3
A. BEN GARA3
1Institut National Agronomique 43, Avenue Charles Nicoles 1082, Tunis-Mahrajène, Tunisia
2Ecole Nationale de Médecine Vétérinaire de Sidi Thabet, Devisions de contrôle vétérinaire - Ministère de la Défense Nationale, Tunisie
3Laboratory of Improvement and Integrated Development of Animal Productivity and Food Resources, Mateur - Higher School of Agriculture, University of Carthage, Tunisia
Abstract- This study aimed to uncover the association between tuberculosis and the polymorphism of a gene playing an important role in resistance / sensitivities to this disease. In order to study the polymorphism of the gene encoding SLC11A1, the extraction of genomic DNA was carried out by the salt method and by the analytik jena kit for a total of 30 samples. Only 10 samples, containing affected individuals, underwent specific primer amplification. PCR yielded amplifias of 374 Pb size, these samples were subsequently digested by the PCR-RFLP method with the restriction enzyme PstI. Two genotypes CC and CG, with an allelic frequency of 0.85 and 0.15 for the C and G allele respectively, were revealed. CC homozygous individuals show resistance to the disease, the observed mutation C> G can intervene in the control of the resistance / sensitivity of the individual to the tuberculin reaction but the results obtained are insufficient to confirm the association between the polymorphisms SLC11A1 and susceptibility to tuberculosis.
Key words: Bovine tuberculosis; SLC11A1; Polymorphism; Resistance, Sensitivity PCR-RFLP
Resumé- L'objectif de la présente étude consiste a dévoilé l'association entre la tuberculose et le polymorphisme de l'un des gènes qui joue un rôle important dans la résistance /sensibilités à cette maladie. Afin d'étudier le polymorphisme du gène codant la SLC11A1, l'extraction de l'ADN génomique a été réalisée par la méthode saline et par le kit analytik jena pour un total de 30 échantillons. 10 échantillons, contenant des individus atteints, seulement ont subi l'amplification par l'amorce spécifique. La PCR a permis d'obtenir des amplifias de taille 374 Pb, ces échantillons ont subi par la suite une digestion par la méthode PCR-RFLP avec l'enzyme de restriction PstI. Deux génotype CC et CG, avec une fréquence allélique de 0.85 et 0.15 pour l'allèle C et G respectivement, ont été révélés. Les individus homozygotes CC montrent une résistance à la maladie, la mutation observé C >G peut intervenir dans le contrôle de la résistance / sensibilité de l'individu à la réaction tuberculinique mais les résultats obtenus se trouve insuffisant pour confirmer l'association entre les polymorphismes SLC11A1 et la susceptibilité à la tuberculose.
Mots clés : Tuberculose bovine ; SLC11A1 ; Polymorphisme ; Resistance, Sensibilité PCR-RFLP