Journal of New Sciences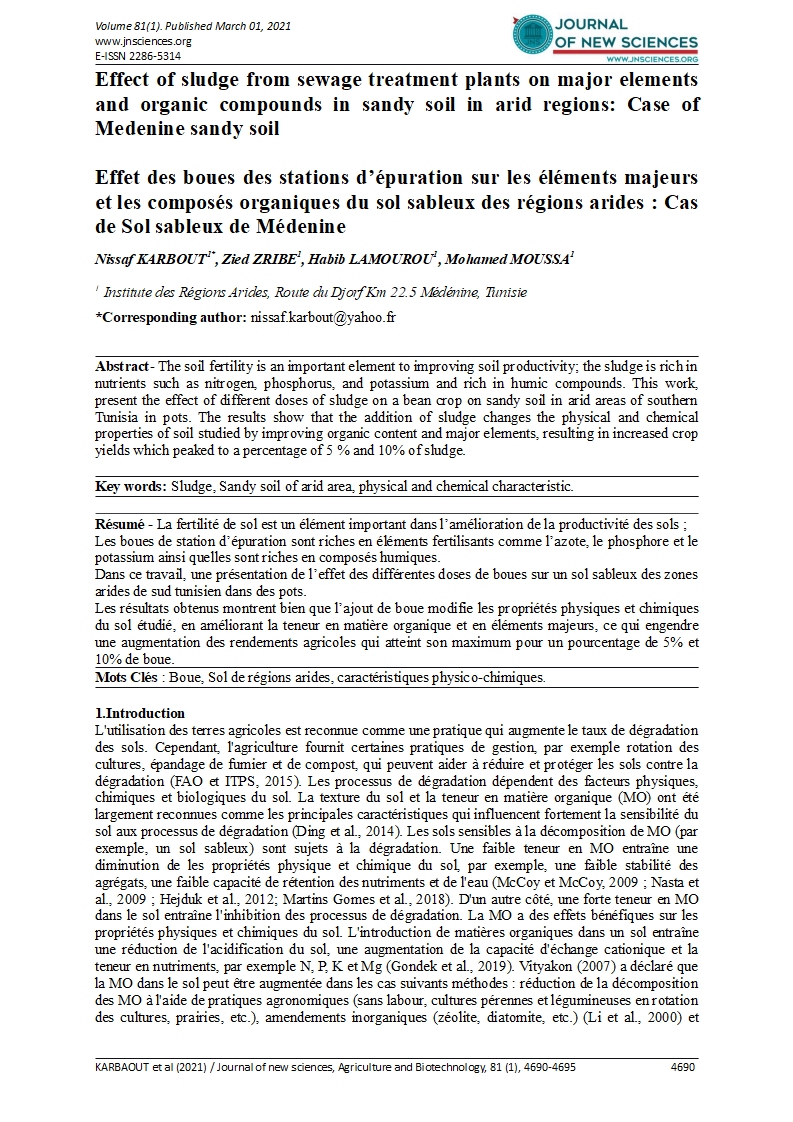 Effect of sludge from sewage treatment plants on major elements and organic compounds in sandy soil in arid regions: Case of Medenine sandy soil
Effet des boues des stations d'épuration sur les éléments majeurs et les composés organiques du sol sableux des régions arides : Cas de Sol sableux de Médenine
Nissaf KARBOUT1
Zied ZRIBE1
Habib LAMOUROU1
Mohamed MOUSSA1
1 Institute des Régions Arides, Route du Djorf Km 22.5 Médénine, Tunisie
Abstract- The soil fertility is an important element to improving soil productivity; the sludge is rich in nutrients such as nitrogen, phosphorus, and potassium and rich in humic compounds. This work, present the effect of different doses of sludge on a bean crop on sandy soil in arid areas of southern Tunisia in pots. The results show that the addition of sludge changes the physical and chemical properties of soil studied by improving organic content and major elements, resulting in increased crop yields which peaked to a percentage of 5 % and 10% of sludge.
Key words: Sludge, Sandy soil of arid area, physical and chemical characteristic.
Résumé - La fertilité de sol est un élément important dans l'amélioration de la productivité des sols ; Les boues de station d'épuration sont riches en éléments fertilisants comme l'azote, le phosphore et le potassium ainsi quelles sont riches en composés humiques.
Dans ce travail, une présentation de l'effet des différentes doses de boues sur un sol sableux des zones arides de sud tunisien dans des pots.Les résultats obtenus montrent bien que l'ajout de boue modifie les propriétés physiques et chimiques du sol étudié, en améliorant la teneur en matière organique et en éléments majeurs, ce qui engendre une augmentation des rendements agricoles qui atteint son maximum pour un pourcentage de 5% et 10% de boue.
Mots Clés : Boue, Sol de régions arides, caractéristiques physico-chimiques.