Journal of New Sciences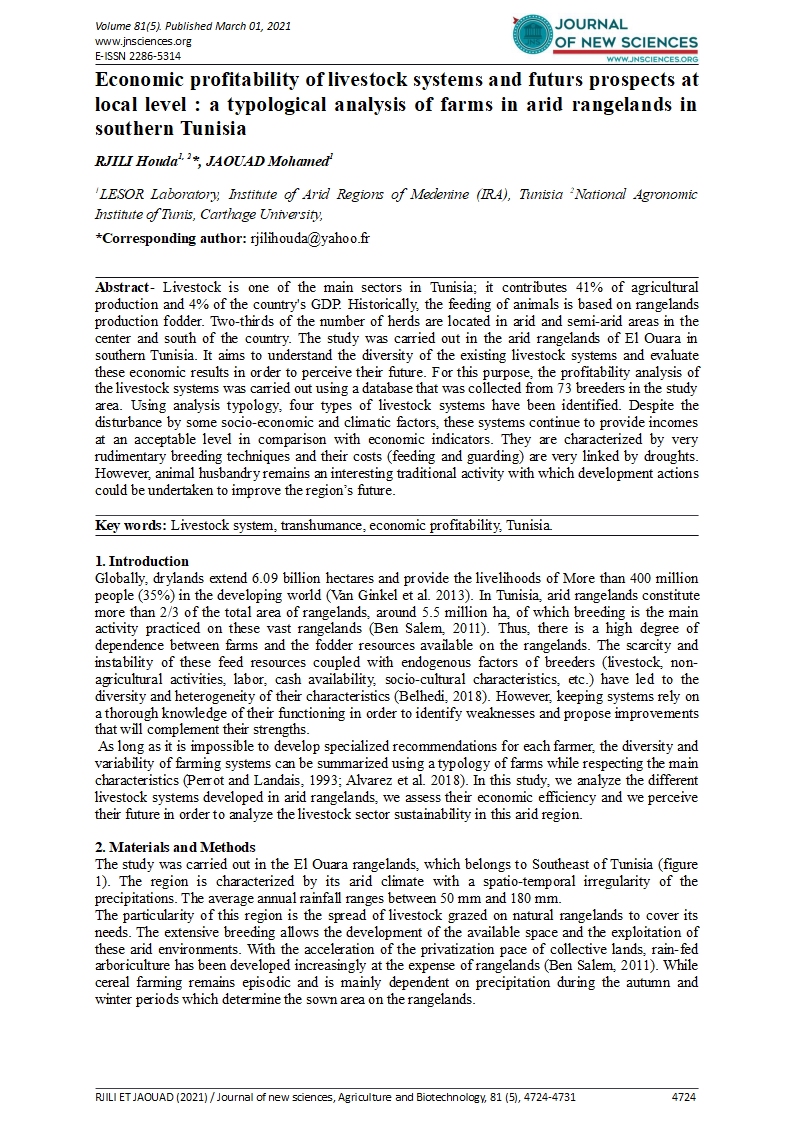 Economic profitability of livestock systems and futurs prospects at local level : a typological analysis of farms in arid rangelands in southern Tunisia
RJILI Houda1, 2
JAOUAD Mohamed1
1LESOR Laboratory, Institute of Arid Regions of Medenine (IRA), Tunisia 2National Agronomic Institute of Tunis, Carthage University,
Abstract- Livestock is one of the main sectors in Tunisia; it contributes 41% of agricultural production and 4% of the country's GDP. Historically, the feeding of animals is based on rangelands production fodder. Two-thirds of the number of herds are located in arid and semi-arid areas in the center and south of the country. The study was carried out in the arid rangelands of El Ouara in southern Tunisia. It aims to understand the diversity of the existing livestock systems and evaluate these economic results in order to perceive their future. For this purpose, the profitability analysis of the livestock systems was carried out using a database that was collected from 73 breeders in the study area. Using analysis typology, four types of livestock systems have been identified. Despite the disturbance by some socio-economic and climatic factors, these systems continue to provide incomes at an acceptable level in comparison with economic indicators. They are characterized by very rudimentary breeding techniques and their costs (feeding and guarding) are very linked by droughts. However, animal husbandry remains an interesting traditional activity with which development actions could be undertaken to improve the region's future.
Key words: Livestock system, transhumance, economic profitability, Tunisia.