Journal of New Sciences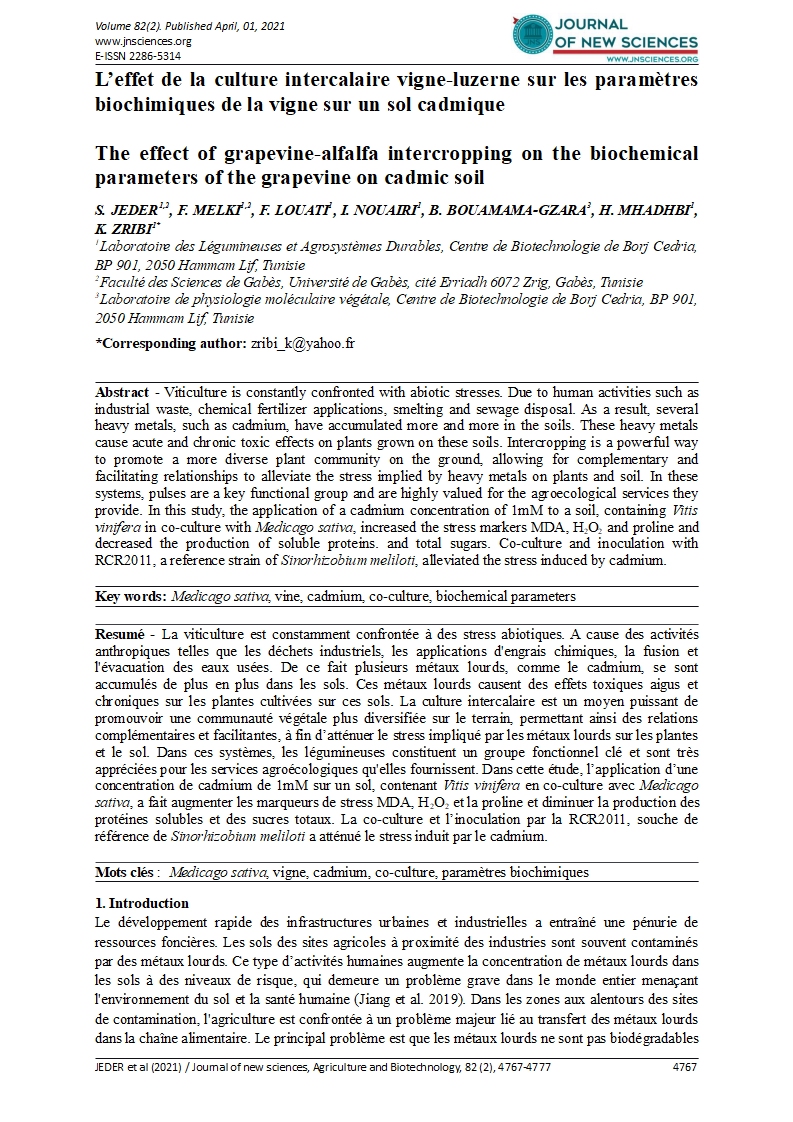 The effect of grapevine-alfalfa intercropping on the biochemical parameters of the grapevine on cadmic soil
L'effet de la culture intercalaire vigne-luzerne sur les paramètres biochimiques de la vigne sur un sol cadmique

S. JEDER1,2
F. MELKI1,2
F. LOUATI1
I. NOUAIRI1
B. BOUAMAMA-GZARA3
H. MHADHBI1
K. ZRIBI1
1Laboratoire des Légumineuses et Agrosystèmes Durables, Centre de Biotechnologie de Borj Cedria, BP 901, 2050 Hammam Lif, Tunisie
2Faculté des Sciences de Gabès, Université de Gabès, cité Erriadh 6072 Zrig, Gabès, Tunisie
3Laboratoire de physiologie moléculaire végétale, Centre de Biotechnologie de Borj Cedria, BP 901, 2050 Hammam Lif, Tunisie

Abstract - Viticulture is constantly confronted with abiotic stresses. Due to human activities such as industrial waste, chemical fertilizer applications, smelting and sewage disposal. As a result, several heavy metals, such as cadmium, have accumulated more and more in the soils. These heavy metals cause acute and chronic toxic effects on plants grown on these soils. Intercropping is a powerful way to promote a more diverse plant community on the ground, allowing for complementary and facilitating relationships to alleviate the stress implied by heavy metals on plants and soil. In these systems, pulses are a key functional group and are highly valued for the agroecological services they provide. In this study, the application of a cadmium concentration of 1mM to a soil, containing Vitis vinifera in co-culture with Medicago sativa, increased the stress markers MDA, H2O2 and proline and decreased the production of soluble proteins. and total sugars. Co-culture and inoculation with RCR2011, a reference strain of Sinorhizobium meliloti, alleviated the stress induced by cadmium.
Key words: Medicago sativa, vine, cadmium, co-culture, biochemical parameters
Resumé - La viticulture est constamment confrontée à des stress abiotiques. A cause des activités anthropiques telles que les déchets industriels, les applications d'engrais chimiques, la fusion et l'évacuation des eaux usées. De ce fait plusieurs métaux lourds, comme le cadmium, se sont accumulés de plus en plus dans les sols. Ces métaux lourds causent des effets toxiques aigus et chroniques sur les plantes cultivées sur ces sols. La culture intercalaire est un moyen puissant de promouvoir une communauté végétale plus diversifiée sur le terrain, permettant ainsi des relations complémentaires et facilitantes, à fin d'atténuer le stress impliqué par les métaux lourds sur les plantes et le sol. Dans ces systèmes, les légumineuses constituent un groupe fonctionnel clé et sont très appréciées pour les services agroécologiques qu'elles fournissent. Dans cette étude, l'application d'une concentration de cadmium de 1mM sur un sol, contenant Vitis vinifera en co-culture avec Medicago sativa, a fait augmenter les marqueurs de stress MDA, H2O2 et la proline et diminuer la production des protéines solubles et des sucres totaux. La co-culture et l'inoculation par la RCR2011, souche de référence de Sinorhizobium meliloti a atténué le stress induit par le cadmium.
Mots clés :  Medicago sativa, vigne, cadmium, co-culture, paramètres biochimiques