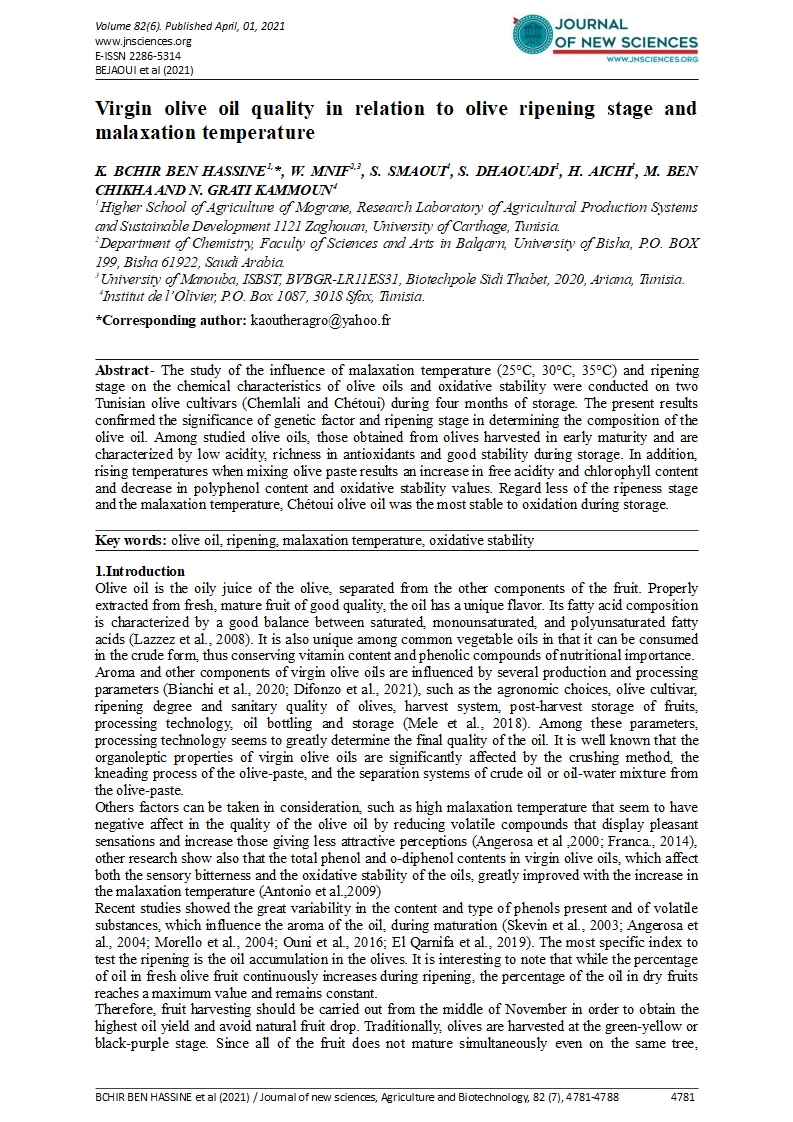 K. BCHIR BEN HASSINE1
W. MNIF2,3
S. SMAOUI4
S. DHAOUADI1
H. AICHI1
M. BEN CHIKHA
N. GRATI KAMMOUN4
1Higher School of Agriculture of Mograne, Research Laboratory of Agricultural Production Systems and Sustainable Development 1121 Zaghouan, University of Carthage, Tunisia.
2Department of Chemistry, Faculty of Sciences and Arts in Balqarn, University of Bisha, P.O. BOX 199, Bisha 61922, Saudi Arabia.
3University of Manouba, ISBST, BVBGR-LR11ES31, Biotechpole Sidi Thabet, 2020, Ariana, Tunisia.
4Institut de l'Olivier, P.O. Box 1087, 3018 Sfax, Tunisia.
Abstract- The study of the influence of malaxation temperature (25°C, 30°C, 35°C) and ripening stage on the chemical characteristics of olive oils and oxidative stability were conducted on two Tunisian olive cultivars (Chemlali and Chétoui) during four months of storage. The present results confirmed the significance of genetic factor and ripening stage in determining the composition of the olive oil. Among studied olive oils, those obtained from olives harvested in early maturity and are characterized by low acidity, richness in antioxidants and good stability during storage. In addition, rising temperatures when mixing olive paste results an increase in free acidity and chlorophyll content and decrease in polyphenol content and oxidative stability values. Regard less of the ripeness stage and the malaxation temperature, Chétoui olive oil was the most stable to oxidation during storage.
Key words: olive oil, ripening, malaxation temperature, oxidative stability