Journal of New Sciences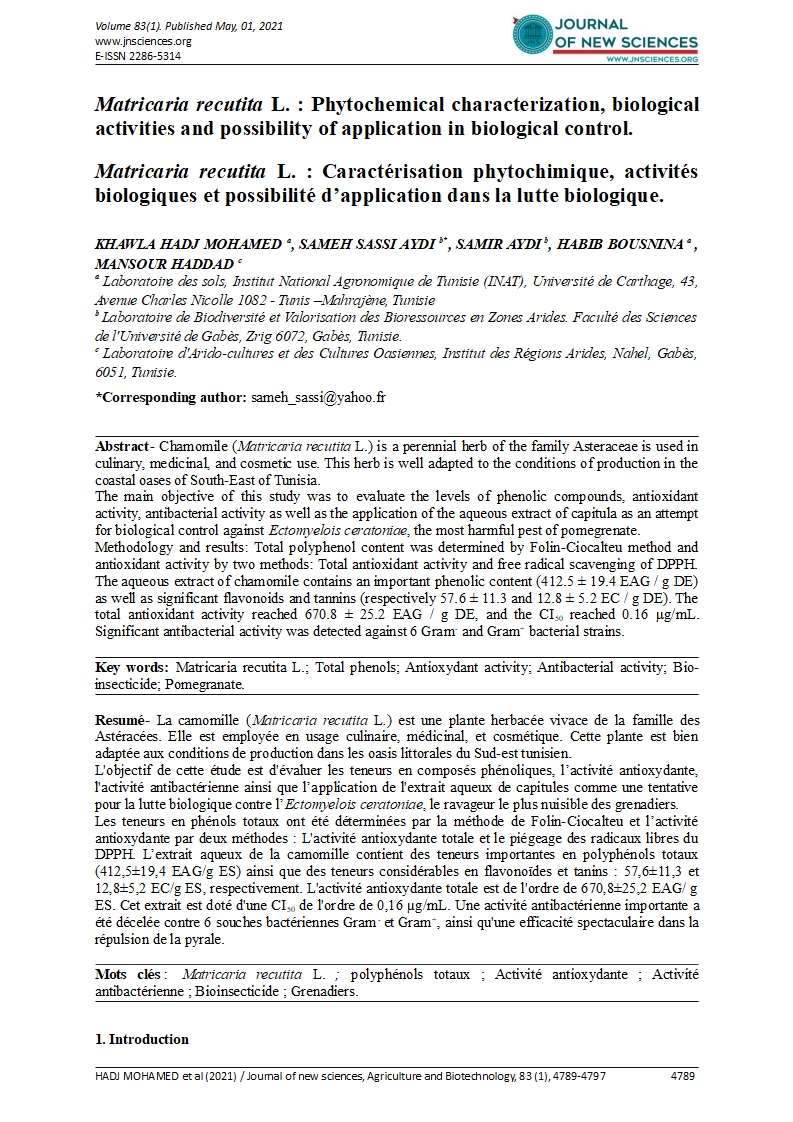 Matricaria recutita L. : Phytochemical characterization, biological activities and possibility of application in biological control.
Matricaria recutita L. : Caractérisation phytochimique, activités biologiques et possibilité d'application dans la lutte biologique.

KHAWLA HADJ MOHAMED a
SAMEH SASSI AYDI b
SAMIR AYDI b
HABIB BOUSNINA a
MANSOUR HADDAD c
a Laboratoire des sols, Institut National Agronomique de Tunisie (INAT), Université de Carthage, 43, Avenue Charles Nicolle 1082 - Tunis –Mahrajène, Tunisie
b Laboratoire de Biodiversité et Valorisation des Bioressources en Zones Arides. Faculté des Sciences de l'Université de Gabès, Zrig 6072, Gabès, Tunisie.
c Laboratoire d'Arido-cultures et des Cultures Oasiennes, Institut des Régions Arides, Nahel, Gabès, 6051, Tunisie.
Abstract- Chamomile (Matricaria recutita L.) is a perennial herb of the family Asteraceae is used in culinary, medicinal, and cosmetic use. This herb is well adapted to the conditions of production in the coastal oases of South-East of Tunisia. The main objective of this study was to evaluate the levels of phenolic compounds, antioxidant activity, antibacterial activity as well as the application of the aqueous extract of capitula as an attempt for biological control against Ectomyelois ceratoniae, the most harmful pest of pomegrenate. Methodology and results: Total polyphenol content was determined by Folin-Ciocalteu method and antioxidant activity by two methods: Total antioxidant activity and free radical scavenging of DPPH. The aqueous extract of chamomile contains an important phenolic content (412.5 ± 19.4 EAG / g DE) as well as significant flavonoids and tannins (respectively 57.6 ± 11.3 and 12.8 ± 5.2 EC / g DE). The total antioxidant activity reached 670.8 ± 25.2 EAG / g DE, and the CI50 reached 0.16 μg/mL. Significant antibacterial activity was detected against 6 Gram- and Gram+ bacterial strains.
Key words: Matricaria recutita L.; Total phenols; Antioxydant activity; Antibacterial activity; Bio-insecticide; Pomegranate.
Resumé- La camomille (Matricaria recutita L.) est une plante herbacée vivace de la famille des Astéracées. Elle est employée en usage culinaire, médicinal, et cosmétique. Cette plante est bien adaptée aux conditions de production dans les oasis littorales du Sud-est tunisien.
L'objectif de cette étude est d'évaluer les teneurs en composés phénoliques, l'activité antioxydante, l'activité antibactérienne ainsi que l'application de l'extrait aqueux de capitules comme une tentative pour la lutte biologique contre l'Ectomyelois ceratoniae, le ravageur le plus nuisible des grenadiers.
Les teneurs en phénols totaux ont été déterminées par la méthode de Folin-Ciocalteu et l'activité antioxydante par deux méthodes : L'activité antioxydante totale et le piégeage des radicaux libres du DPPH. L'extrait aqueux de la camomille contient des teneurs importantes en polyphénols totaux (412,5±19,4 EAG/g ES) ainsi que des teneurs considérables en flavonoïdes et tanins : 57,6±11,3 et 12,8±5,2 EC/g ES, respectivement. L'activité antioxydante totale est de l'ordre de 670,8±25,2 EAG/ g ES. Cet extrait est doté d'une CI50 de l'ordre de 0,16 µg/mL. Une activité antibactérienne importante a été décelée contre 6 souches bactériennes Gram- et Gram+, ainsi qu'une efficacité spectaculaire dans la répulsion de la pyrale.
Mots clés :  Matricaria recutita L. ; polyphénols totaux ; Activité antioxydante ; Activité antibactérienne ; Bioinsecticide ; Grenadiers.