Journal of New Sciences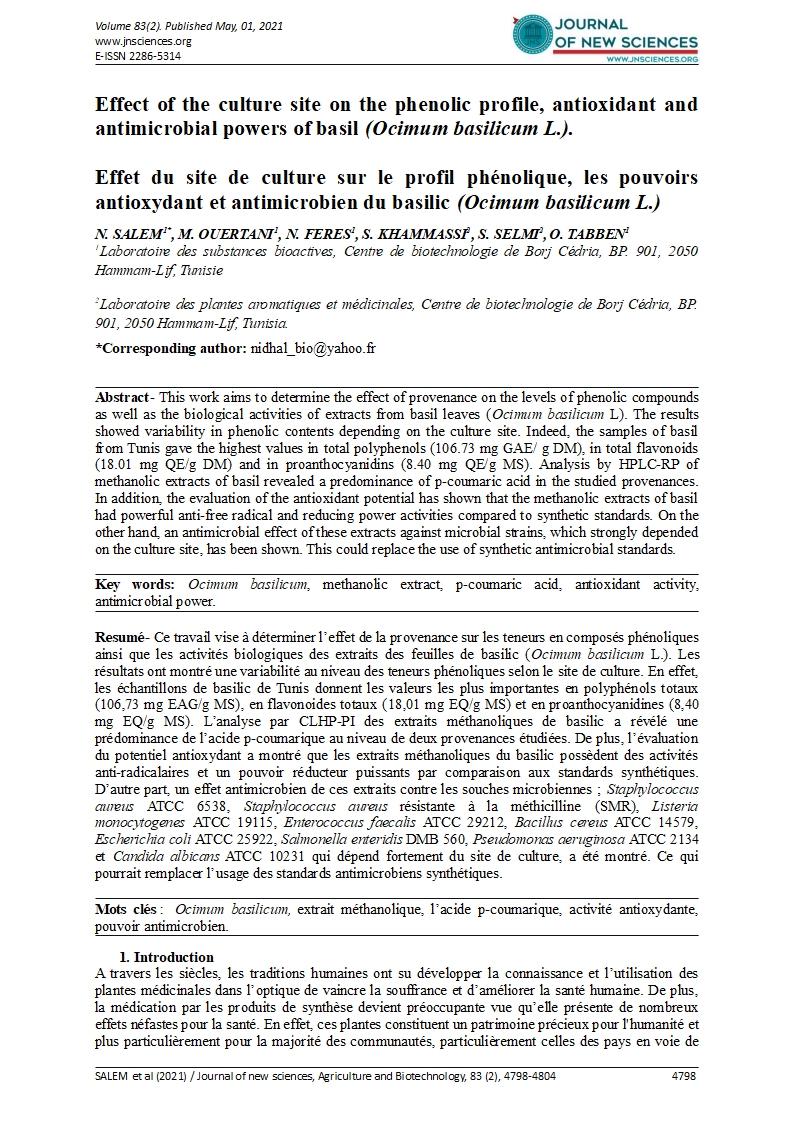 Effect of the culture site on the phenolic profile, antioxidant and antimicrobial powers of basil (Ocimum basilicum L.).
Effet du site de culture sur le profil phénolique, les pouvoirs antioxydant et antimicrobien du basilic (Ocimum basilicum L.)
N. SALEM1
M. OUERTANI1
N. FERES1
S. KHAMMASSI2
S. SELMI2
O. TABBEN1
1Laboratoire des substances bioactives, Centre de biotechnologie de Borj Cédria, BP. 901, 2050 Hammam-Lif, Tunisie.
2Laboratoire des plantes aromatiques et médicinales, Centre de biotechnologie de Borj Cédria, BP. 901, 2050 Hammam-Lif, Tunisia.
Abstract- This work aims to determine the effect of provenance on the levels of phenolic compounds as well as the biological activities of extracts from basil leaves (Ocimum basilicum L). The results showed variability in phenolic contents depending on the culture site. Indeed, the samples of basil from Tunis gave the highest values in total polyphenols (106.73 mg GAE/ g DM), in total flavonoids (18.01 mg QE/g DM) and in proanthocyanidins (8.40 mg QE/g MS). Analysis by HPLC-RP of methanolic extracts of basil revealed a predominance of p-coumaric acid in the studied provenances. In addition, the evaluation of the antioxidant potential has shown that the methanolic extracts of basil had powerful anti-free radical and reducing power activities compared to synthetic standards. On the other hand, an antimicrobial effect of these extracts against microbial strains, which strongly depended on the culture site, has been shown. This could replace the use of synthetic antimicrobial standards.
Key words: Ocimum basilicum, methanolic extract, p-coumaric acid, antioxidant activity, antimicrobial power.
Resumé- Ce travail vise à déterminer l'effet de la provenance sur les teneurs en composés phénoliques ainsi que les activités biologiques des extraits des feuilles de basilic (Ocimum basilicum L.). Les résultats ont montré une variabilité au niveau des teneurs phénoliques selon le site de culture. En effet, les échantillons de basilic de Tunis donnent les valeurs les plus importantes en polyphénols totaux (106,73 mg EAG/g MS), en flavonoides totaux (18,01 mg EQ/g MS) et en proanthocyanidines (8,40 mg EQ/g MS). L'analyse par CLHP-PI des extraits méthanoliques de basilic a révélé une prédominance de l'acide p-coumarique au niveau de deux provenances étudiées. De plus, l'évaluation du potentiel antioxydant a montré que les extraits méthanoliques du basilic possèdent des activités anti-radicalaires et un pouvoir réducteur puissants par comparaison aux standards synthétiques. D'autre part, un effet antimicrobien de ces extraits contre les souches microbiennes ; Staphylococcus aureus ATCC 6538, Staphylococcus aureus résistante à la méthicilline (SMR), Listeria monocytogenes ATCC 19115, Enterococcus faecalis ATCC 29212, Bacillus cereus ATCC 14579, Escherichia coli ATCC 25922, Salmonella enteridis DMB 560, Pseudomonas aeruginosa ATCC 2134 et Candida albicans ATCC 10231 qui dépend fortement du site de culture, a été montré. Ce qui pourrait remplacer l'usage des standards antimicrobiens synthétiques.
Mots clés :  Ocimum basilicum, extrait méthanolique, l'acide p-coumarique, activité antioxydante, pouvoir antimicrobien.