Journal of New Sciences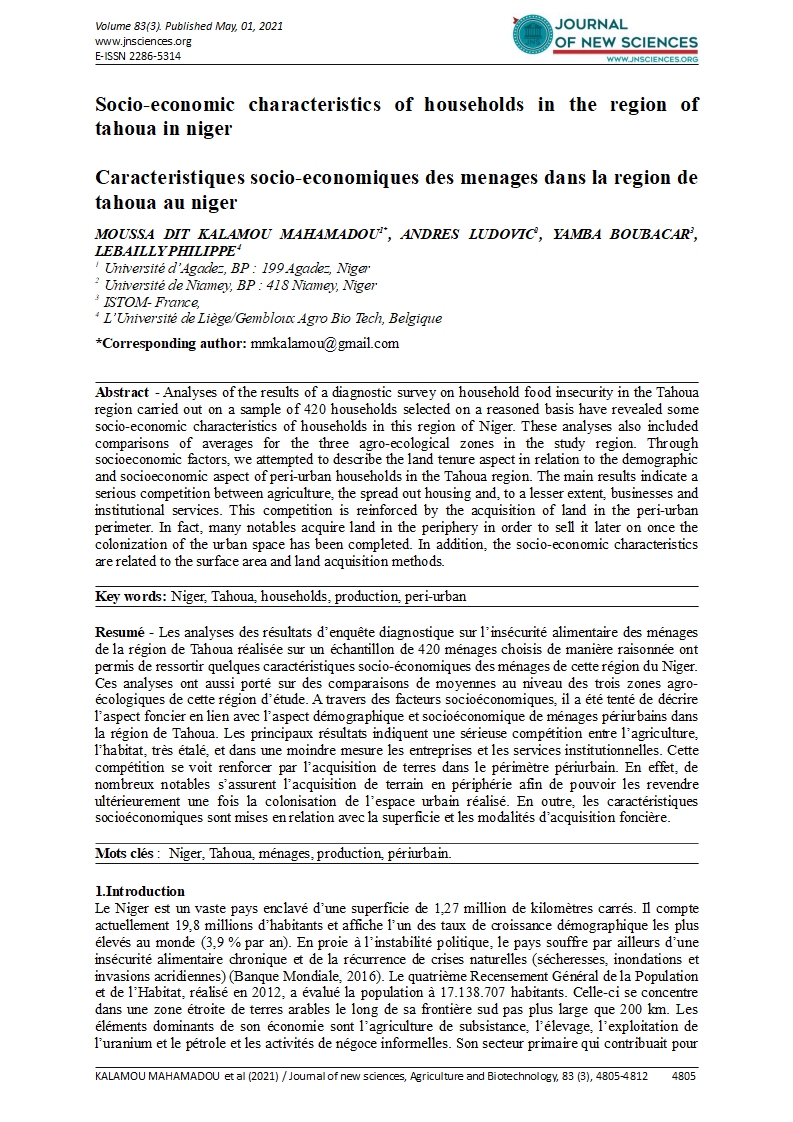 Socio-economic characteristics of households in the region of tahoua in niger
Caracteristiques socio-economiques des menages dans la region de tahoua au niger
MOUSSA DIT KALAMOU MAHAMADOU1
ANDRES LUDOVIC2
YAMBA BOUBACAR3
LEBAILLY PHILIPPE4
1 Université d'Agadez, BP : 199 Agadez, Niger
2 Université de Niamey, BP : 418 Niamey, Niger
3 ISTOM- France,
4 L'Université de Liège/Gembloux Agro Bio Tech, Belgique

Abstract - Analyses of the results of a diagnostic survey on household food insecurity in the Tahoua region carried out on a sample of 420 households selected on a reasoned basis have revealed some socio-economic characteristics of households in this region of Niger. These analyses also included comparisons of averages for the three agro-ecological zones in the study region. Through socioeconomic factors, we attempted to describe the land tenure aspect in relation to the demographic and socioeconomic aspect of peri-urban households in the Tahoua region. The main results indicate a serious competition between agriculture, the spread out housing and, to a lesser extent, businesses and institutional services. This competition is reinforced by the acquisition of land in the peri-urban perimeter. In fact, many notables acquire land in the periphery in order to sell it later on once the colonization of the urban space has been completed. In addition, the socio-economic characteristics are related to the surface area and land acquisition methods.
Key words: Niger, Tahoua, households, production, peri-urban
Resumé - Les analyses des résultats d'enquête diagnostique sur l'insécurité alimentaire des ménages de la région de Tahoua réalisée sur un échantillon de 420 ménages choisis de manière raisonnée ont permis de ressortir quelques caractéristiques socio-économiques des ménages de cette région du Niger. Ces analyses ont aussi porté sur des comparaisons de moyennes au niveau des trois zones agro-écologiques de cette région d'étude. A travers des facteurs socioéconomiques, il a été tenté de décrire l'aspect foncier en lien avec l'aspect démographique et socioéconomique de ménages périurbains dans la région de Tahoua. Les principaux résultats indiquent une sérieuse compétition entre l'agriculture, l'habitat, très étalé, et dans une moindre mesure les entreprises et les services institutionnelles. Cette compétition se voit renforcer par l'acquisition de terres dans le périmètre périurbain. En effet, de nombreux notables s'assurent l'acquisition de terrain en périphérie afin de pouvoir les revendre ultérieurement une fois la colonisation de l'espace urbain réalisé. En outre, les caractéristiques socioéconomiques sont mises en relation avec la superficie et les modalités d'acquisition foncière.
Mots clés :  Niger, Tahoua, ménages, production, périurbain.