Journal of New Sciences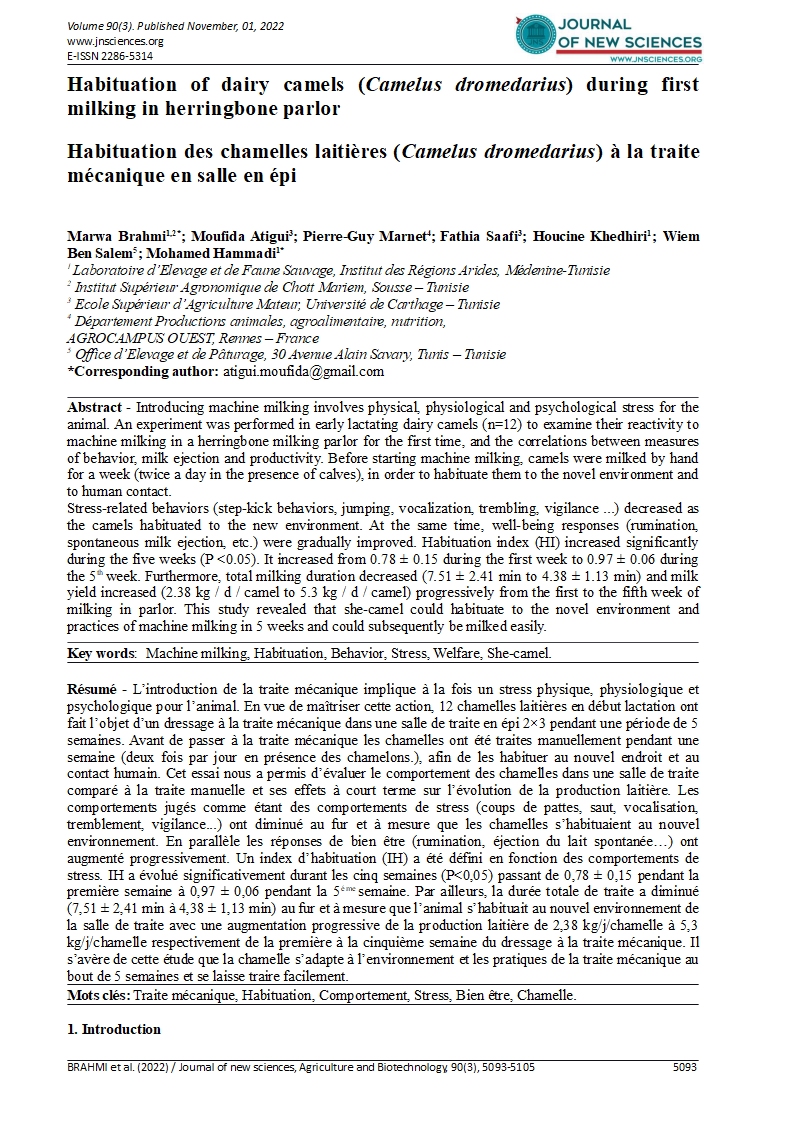 Habituation of dairy camels (Camelus dromedarius) during first milking in herringbone parlor
Habituation des chamelles laitières (Camelus dromedarius) à la traite mécanique en salle en épi
Marwa Brahmi1,2
Moufida Atigui3
Pierre-Guy Marnet4
Fathia Saafi3
Houcine Khedhiri1
Wiem Ben Salem5
Mohamed Hammadi1*
1 Laboratoire d'Elevage et de Faune Sauvage, Institut des Régions Arides, Médenine-Tunisie
2 Institut Supérieur Agronomique de Chott Mariem, Sousse – Tunisie
3 Ecole Supérieur d'Agriculture Mateur, Université de Carthage – Tunisie
4 Département Productions animales, agroalimentaire, nutrition,
AGROCAMPUS OUEST, Rennes – France
5 Office d'Elevage et de Pâturage, 30 Avenue Alain Savary, Tunis – Tunisie
 DOI: https://doi.org/10.55416/sunb.jns01.2211.09003
Abstract - Introducing machine milking involves physical, physiological and psychological stress for the animal. An experiment was performed in early lactating dairy camels (n=12) to examine their reactivity to machine milking in a herringbone milking parlor for the first time, and the correlations between measures of behavior, milk ejection and productivity. Before starting machine milking, camels were milked by hand for a week (twice a day in the presence of calves), in order to habituate them to the novel environment and to human contact.Stress-related behaviors (step-kick behaviors, jumping, vocalization, trembling, vigilance ...) decreased as the camels habituated to the new environment. At the same time, well-being responses (rumination, spontaneous milk ejection, etc.) were gradually improved. Habituation index (HI) increased significantly during the five weeks (P <0.05). It increased from 0.78 ± 0.15 during the first week to 0.97 ± 0.06 during the 5th week. Furthermore, total milking duration decreased (7.51 ± 2.41 min to 4.38 ± 1.13 min) and milk yield increased (2.38 kg / d / camel to 5.3 kg / d / camel) progressively from the first to the fifth week of milking in parlor. This study revealed that she-camel could habituate to the novel environment and practices of machine milking in 5 weeks and could subsequently be milked easily.
Key words: Machine milking, Habituation, Behavior, Stress, Welfare, She-camel
Résumé - L'introduction de la traite mécanique implique à la fois un stress physique, physiologique et psychologique pour l'animal. En vue de maîtriser cette action, 12 chamelles laitières en début lactation ont fait l'objet d'un dressage à la traite mécanique dans une salle de traite en épi 2×3 pendant une période de 5 semaines. Avant de passer à la traite mécanique les chamelles ont été traites manuellement pendant une semaine (deux fois par jour en présence des chamelons.), afin de les habituer au nouvel endroit et au contact humain. Cet essai nous a permis d'évaluer le comportement des chamelles dans une salle de traite comparé à la traite manuelle et ses effets à court terme sur l'évolution de la production laitière. Les comportements jugés comme étant des comportements de stress (coups de pattes, saut, vocalisation, tremblement, vigilance...) ont diminué au fur et à mesure que les chamelles s'habituaient au nouvel environnement. En parallèle les réponses de bien être (rumination, éjection du lait spontanée…) ont augmenté progressivement. Un index d'habituation (IH) a été défini en fonction des comportements de stress. IH a évolué significativement durant les cinq semaines (P<0,05) passant de 0,78 ± 0,15 pendant la première semaine à 0,97 ± 0,06 pendant la 5éme semaine. Par ailleurs, la durée totale de traite a diminué (7,51 ± 2,41 min à 4,38 ± 1,13 min) au fur et à mesure que l'animal s'habituait au nouvel environnement de la salle de traite avec une augmentation progressive de la production laitière de 2,38 kg/j/chamelle à 5,3 kg/j/chamelle respectivement de la première à la cinquième semaine du dressage à la traite mécanique. Il s'avère de cette étude que la chamelle s'adapte à l'environnement et les pratiques de la traite mécanique au bout de 5 semaines et se laisse traire facilement.
Mots clés: Traite mécanique, Habituation, Comportement, Stress, Bien être, Chamelle.