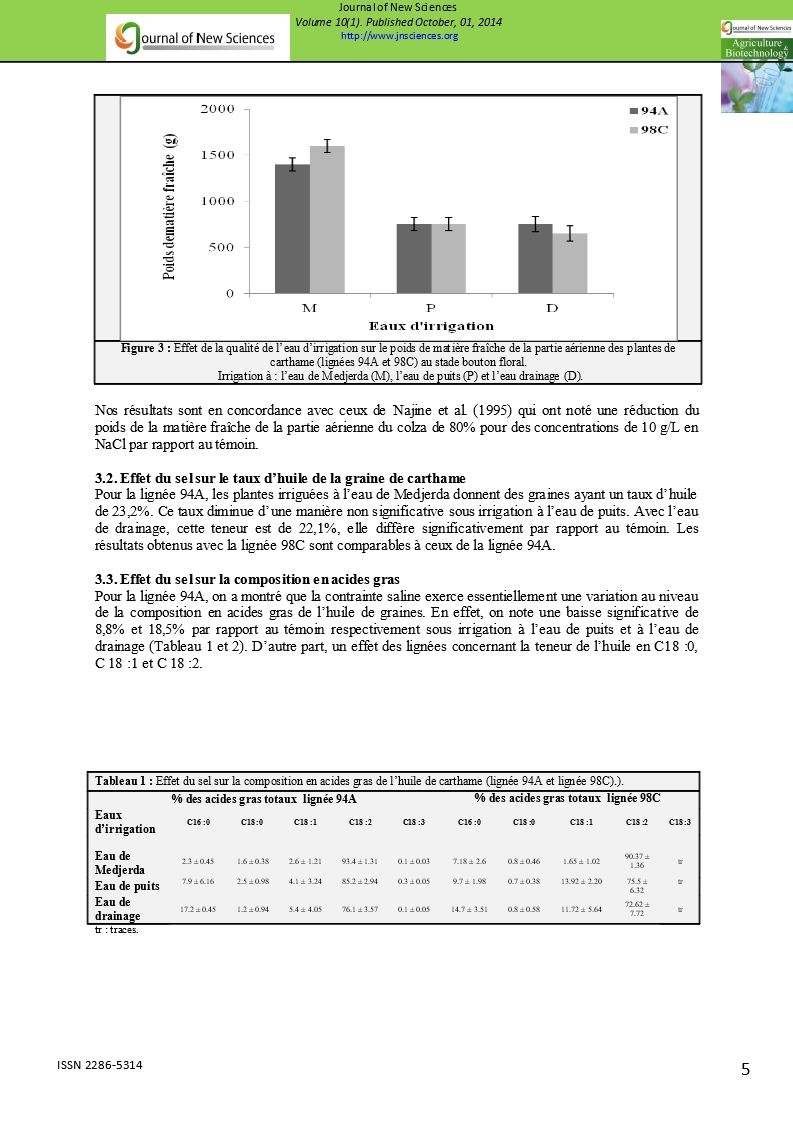 N. Salem*1
M.A. Hasnaoui 1
H. Ben Salah2
B. Marzouk1
1Laboratoire des Substances Bioactives, Centre de Biotechnologie de Borj Cédria, BP. 901, 2050 Hammam-Lif, Tunisie
2Institut National de la Recherche Agronomique de Tunisie, Rue Hédi Karray 2049 Ariana, Tunisie
Abstract - As part of a program of conservation and valorization of genetic plant resources in Tunisia, we studied the effect of salinity on growth, yield and oil quality of two lines safflower (94A and 98C). For weight gains of the aerial part, the weight of fresh material measures in the rosette and flower bud stage showed a sensitivity of 98C line particularly to the salt in the flower bud stage. The salinity of irrigation water also causes a decrease in oil safflower seed rates. The fatty acid composition of the oil is also affected by the salt treatment, where there has been a decrease in the rate of linoleic acid (C18: 2) in favor of palmitic and oleic acids resulting in a decrease in the degree of unsaturation of oil.
Keywords: Safflower / salinity / flower bud stage / linoleic acid.
Résumé - Dans le cadre d'un programme de conservation et de valorisation des ressources phytogénétiques de la Tunisie, nous nous sommes intéressées à l'étude de l'effet de la salinité sur la croissance, le rendement et la qualité de l'huile de deux lignées de carthame (94A et 98C). Pour la croissance pondérale de la partie aérienne, les mesures du poids de la matière fraîche durant les stades rosette et bouton floral montrent une sensibilité de la lignée 98C vis-à-vis du sel particulièrement, au stade bouton floral. La salinité des eaux d'irrigation entraine également une diminution du taux d'huile de la graine de carthame. La composition en acides gras de l'huile est aussi affectée par le traitement salin où on enregistre une diminution du taux d'acide linoléique (C18 :2) au profit des acides palmitique et oléique ce qui entraîne une diminution du degré d'insaturation de l'huile.
Mots clés : carthame / salinité / stade bouton floral / acide linoléique.