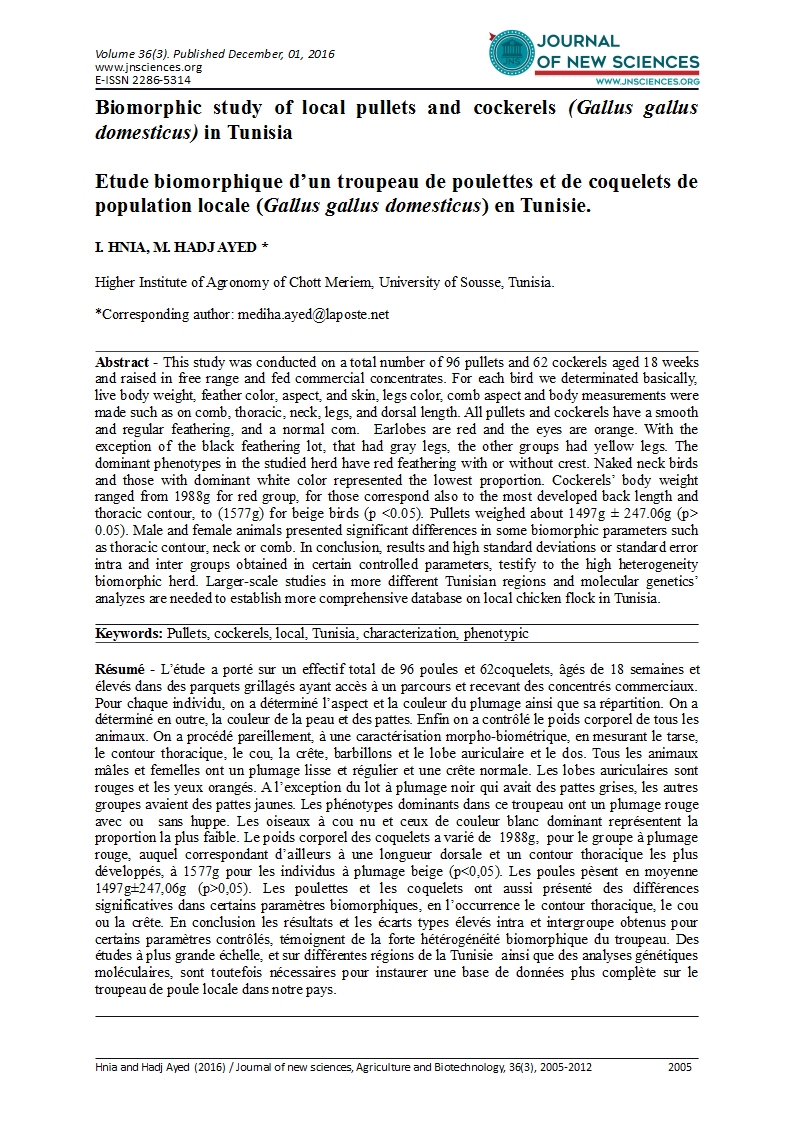 Etude biomorphique d'un troupeau de poulettes et de coquelets de population locale (Gallus gallus domesticus) en Tunisie.
I. HNIA
M. HADJ AYED *
Higher Institute of Agronomy of Chott Meriem, University of Sousse, Tunisia.
Abstract - This study was conducted on a total number of 96 pullets and 62 cockerels aged 18 weeks and raised in free range and fed commercial concentrates. For each bird we determinated basically, live body weight, feather color, aspect, and skin, legs color, comb aspect and body measurements were made such as on comb, thoracic, neck, legs, and dorsal length. All pullets and cockerels have a smooth and regular feathering, and a normal com. Earlobes are red and the eyes are orange. With the exception of the black feathering lot, that had gray legs, the other groups had yellow legs. The dominant phenotypes in the studied herd have red feathering with or without crest. Naked neck birds and those with dominant white color represented the lowest proportion. Cockerels' body weight ranged from 1988g for red group, for those correspond also to the most developed back length and thoracic contour, to (1577g) for beige birds (p <0.05). Pullets weighed about 1497g ± 247.06g (p> 0.05). Male and female animals presented significant differences in some biomorphic parameters such as thoracic contour, neck or comb. In conclusion, results and high standard deviations or standard error intra and inter groups obtained in certain controlled parameters, testify to the high heterogeneity biomorphic herd. Larger-scale studies in more different Tunisian regions and molecular genetics' analyzes are needed to establish more comprehensive database on local chicken flock in Tunisia.
Keywords: Pullets, cockerels, local, Tunisia, characterization, phenotypic
Résumé - L'étude a porté sur un effectif total de 96 poules et 62coquelets, âgés de 18 semaines et élevés dans des parquets grillagés ayant accès à un parcours et recevant des concentrés commerciaux. Pour chaque individu, on a déterminé l'aspect et la couleur du plumage ainsi que sa répartition. On a déterminé en outre, la couleur de la peau et des pattes. Enfin on a contrôlé le poids corporel de tous les animaux. On a procédé pareillement, à une caractérisation morpho-biométrique, en mesurant le tarse, le contour thoracique, le cou, la crête, barbillons et le lobe auriculaire et le dos. Tous les animaux mâles et femelles ont un plumage lisse et régulier et une crête normale. Les lobes auriculaires sont rouges et les yeux orangés. A l'exception du lot à plumage noir qui avait des pattes grises, les autres groupes avaient des pattes jaunes. Les phénotypes dominants dans ce troupeau ont un plumage rouge avec ou sans huppe. Les oiseaux à cou nu et ceux de couleur blanc dominant représentent la proportion la plus faible. Le poids corporel des coquelets a varié de 1988g, pour le groupe à plumage rouge, auquel correspondant d'ailleurs à une longueur dorsale et un contour thoracique les plus développés, à 1577g pour les individus à plumage beige (p<0,05). Les poules pèsent en moyenne 1497g±247,06g (p>0,05). Les poulettes et les coquelets ont aussi présenté des différences significatives dans certains paramètres biomorphiques, en l'occurrence le contour thoracique, le cou ou la crête. En conclusion les résultats et les écarts types élevés intra et intergroupe obtenus pour certains paramètres contrôlés, témoignent de la forte hétérogénéité biomorphique du troupeau. Des études à plus grande échelle, et sur différentes régions de la Tunisie ainsi que des analyses génétiques moléculaires, sont toutefois nécessaires pour instaurer une base de données plus complète sur le troupeau de poule locale dans notre pays.
Mots-clés: Poulettes, coquelets, locale, Tunisie, caractérisation, phénotype