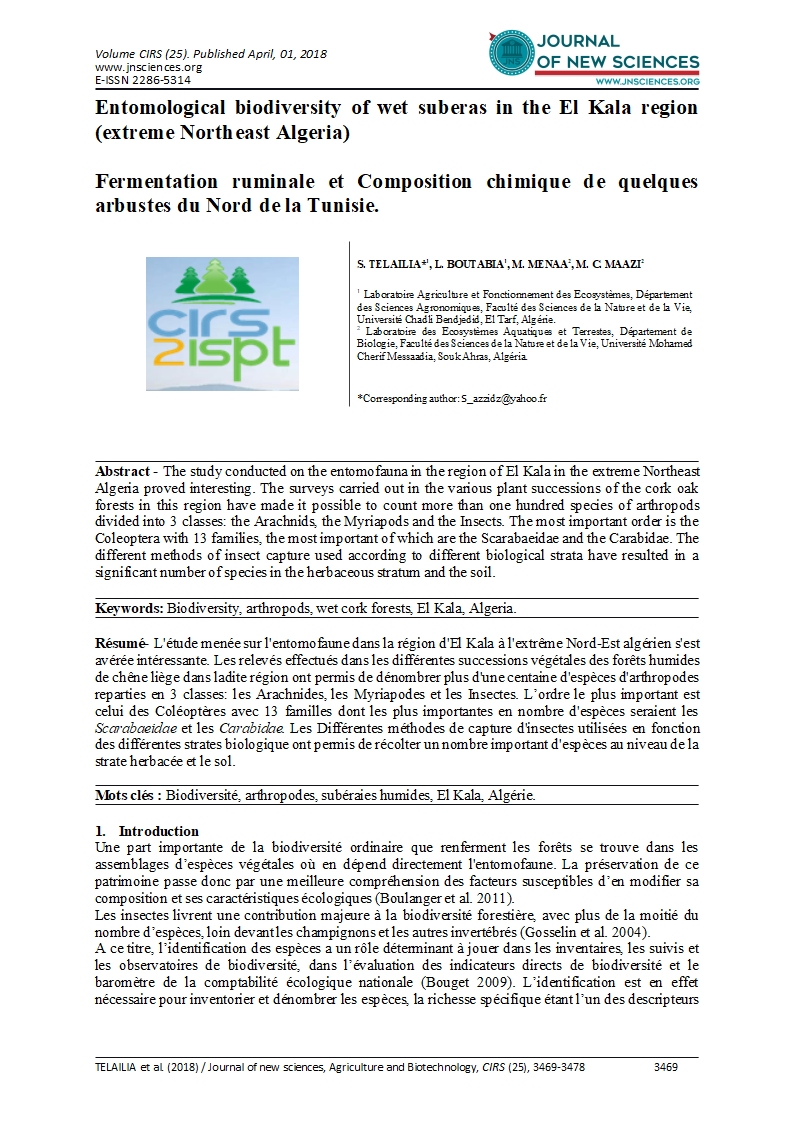 Fermentation ruminale et Composition chimique de quelques arbustes du Nord de la Tunisie.
S. TELAILIA*1

L. BOUTABIA1

M. MENAA2

M. C. MAAZI2

 

1 Laboratoire Agriculture et Fonctionnement des Ecosystèmes, Département des Sciences Agronomiques, Faculté des Sciences de la Nature et de la Vie, Université Chadli Bendjedid, El Tarf, Algérie.

2 Laboratoire des Ecosystèmes Aquatiques et Terrestes, Département de Biologie, Faculté des Sciences de la Nature et de la Vie, Université Mohamed Cherif Messaadia, Souk Ahras, Algéria.

 
Abstract - The study conducted on the entomofauna in the region of El Kala in the extreme Northeast Algeria proved interesting. The surveys carried out in the various plant successions of the cork oak forests in this region have made it possible to count more than one hundred species of arthropods divided into 3 classes: the Arachnids, the Myriapods and the Insects. The most important order is the Coleoptera with 13 families, the most important of which are the Scarabaeidae and the Carabidae. The different methods of insect capture used according to different biological strata have resulted in a significant number of species in the herbaceous stratum and the soil.
Keywords: Biodiversity, arthropods, wet cork forests, El Kala, Algeria.