Journal of New Sciences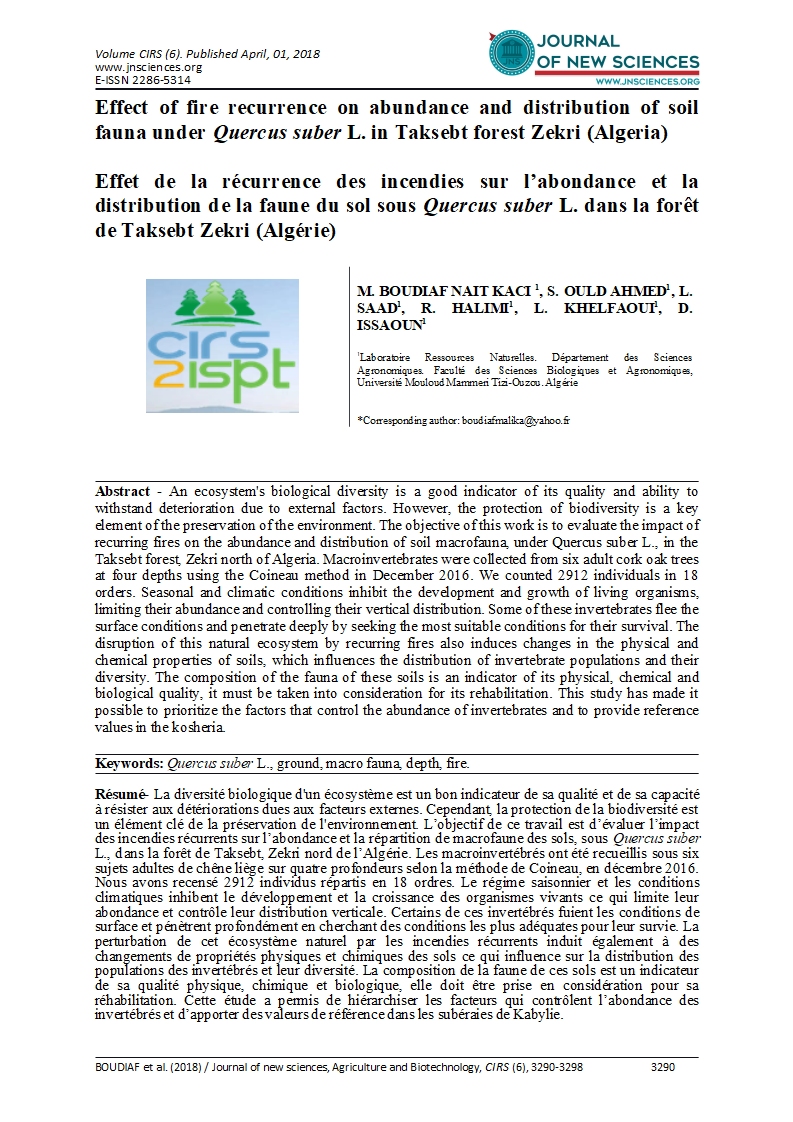 Effect of fire recurrence on abundance and distribution of soil fauna under Quercus suber L. in Taksebt forest Zekri (Algeria)
Effet de la récurrence des incendies sur l'abondance et la distribution de la faune du sol sous Quercus suber L. dans la forêt de Taksebt Zekri (Algérie)
 M. BOUDIAF NAIT KACI 1

S. OULD AHMED1

L. SAAD1

R. HALIMI1

L. KHELFAOUI1

D. ISSAOUN1

 

1Laboratoire Ressources Naturelles. Département des Sciences Agronomiques. Faculté des Sciences Biologiques et Agronomiques, Université Mouloud Mammeri Tizi-Ouzou. Algérie.
Abstract - An ecosystem's biological diversity is a good indicator of its quality and ability to withstand deterioration due to external factors. However, the protection of biodiversity is a key element of the preservation of the environment. The objective of this work is to evaluate the impact of recurring fires on the abundance and distribution of soil macrofauna, under Quercus suber L., in the Taksebt forest, Zekri north of Algeria. Macroinvertebrates were collected from six adult cork oak trees at four depths using the Coineau method in December 2016. We counted 2912 individuals in 18 orders. Seasonal and climatic conditions inhibit the development and growth of living organisms, limiting their abundance and controlling their vertical distribution. Some of these invertebrates flee the surface conditions and penetrate deeply by seeking the most suitable conditions for their survival. The disruption of this natural ecosystem by recurring fires also induces changes in the physical and chemical properties of soils, which influences the distribution of invertebrate populations and their diversity. The composition of the fauna of these soils is an indicator of its physical, chemical and biological quality, it must be taken into consideration for its rehabilitation. This study has made it possible to prioritize the factors that control the abundance of invertebrates and to provide reference values ​​in the kosheria.
Keywords: Quercus suber L., ground, macro fauna, depth, fire.
Résumé- La diversité biologique d'un écosystème est un bon indicateur de sa qualité et de sa capacité à résister aux détériorations dues aux facteurs externes. Cependant, la protection de la biodiversité est un élément clé de la préservation de l'environnement. L'objectif de ce travail est d'évaluer l'impact des incendies récurrents sur l'abondance et la répartition de macrofaune des sols, sous Quercus suber L., dans la forêt de Taksebt, Zekri nord de l'Algérie. Les macroinvertébrés ont été recueillis sous six sujets adultes de chêne liège sur quatre profondeurs selon la méthode de Coineau, en décembre 2016. Nous avons recensé 2912 individus répartis en 18 ordres. Le régime saisonnier et les conditions climatiques inhibent le développement et la croissance des organismes vivants ce qui limite leur abondance et contrôle leur distribution verticale. Certains de ces invertébrés fuient les conditions de surface et pénètrent profondément en cherchant des conditions les plus adéquates pour leur survie. La perturbation de cet écosystème naturel par les incendies récurrents induit également à des changements de propriétés physiques et chimiques des sols ce qui influence sur la distribution des populations des invertébrés et leur diversité. La composition de la faune de ces sols est un indicateur de sa qualité physique, chimique et biologique, elle doit être prise en considération pour sa réhabilitation. Cette étude a permis de hiérarchiser les facteurs qui contrôlent l'abondance des invertébrés et d'apporter des valeurs de référence dans les subéraies de Kabylie.
Mots clés : Quercus suber L., sol, macrofaune, profondeur, incendie.