Journal of New Sciences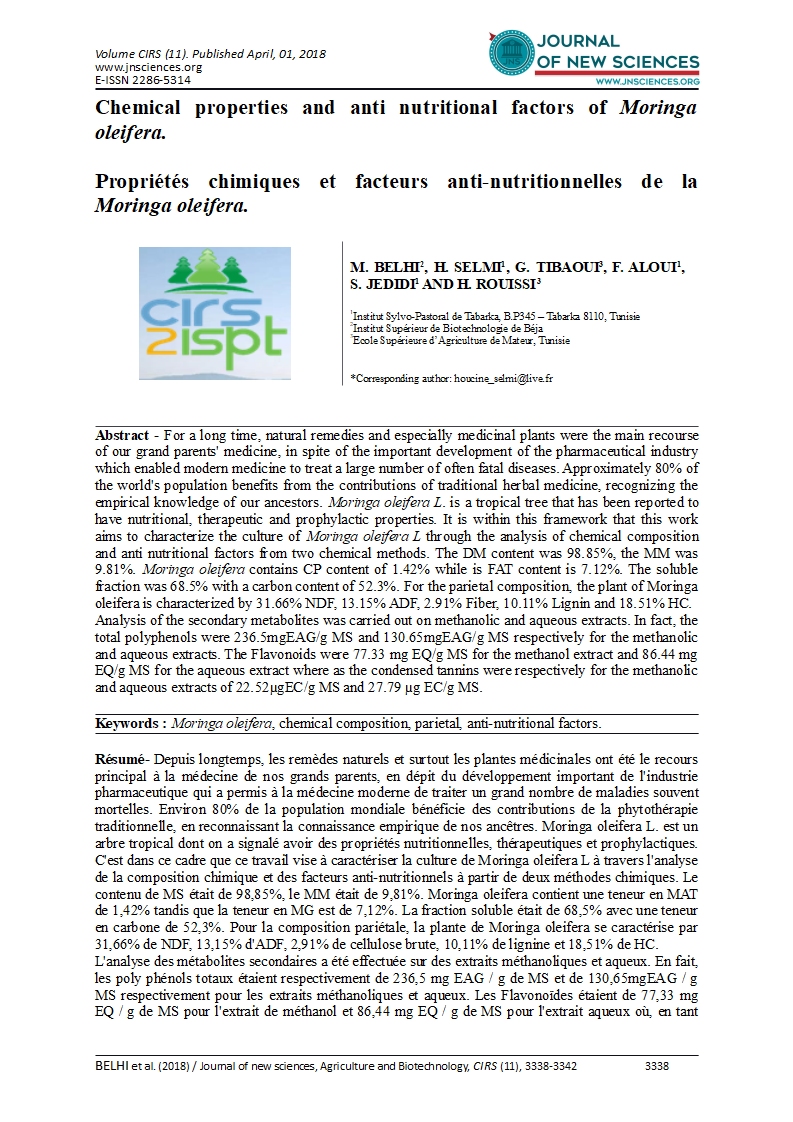 Chemical properties and anti nutritional factors of Moringa oleifera.
Propriétés chimiques et facteurs anti-nutritionnelles de la Moringa oleifera.
 

M. BELHI2

H. SELMI1

G. TIBAOUI3

F. ALOUI1

S. JEDIDI1 

H. ROUISSI3

 

1Institut Sylvo-Pastoral de Tabarka, B.P345 – Tabarka 8110, Tunisie

2Institut Supérieur de Biotechnologie de Béja

3Ecole Supérieure d'Agriculture de Mateur, Tunisie
 
Abstract - For a long time, natural remedies and especially medicinal plants were the main recourse of our grand parents' medicine, in spite of the important development of the pharmaceutical industry which enabled modern medicine to treat a large number of often fatal diseases. Approximately 80% of the world's population benefits from the contributions of traditional herbal medicine, recognizing the empirical knowledge of our ancestors. Moringa oleifera L. is a tropical tree that has been reported to have nutritional, therapeutic and prophylactic properties. It is within this framework that this work aims to characterize the culture of Moringa oleifera L through the analysis of chemical composition and anti nutritional factors from two chemical methods. The DM content was 98.85%, the MM was 9.81%. Moringa oleifera contains CP content of 1.42% while is FAT content is 7.12%. The soluble fraction was 68.5% with a carbon content of 52.3%. For the parietal composition, the plant of Moringa oleifera is characterized by 31.66% NDF, 13.15% ADF, 2.91% Fiber, 10.11% Lignin and 18.51% HC. Analysis of the secondary metabolites was carried out on methanolic and aqueous extracts. In fact, the total polyphenols were 236.5mgEAG/g MS and 130.65mgEAG/g MS respectively for the methanolic and aqueous extracts. The Flavonoids were 77.33 mg EQ/g MS for the methanol extract and 86.44 mg EQ/g MS for the aqueous extract where as the condensed tannins were respectively for the methanolic and aqueous extracts of 22.52µgEC/g MS and 27.79 µg EC/g MS.
Keywords : Moringa oleifera, chemical composition, parietal, anti-nutritional factors.
Résumé- Depuis longtemps, les remèdes naturels et surtout les plantes médicinales ont été le recours principal à la médecine de nos grands parents, en dépit du développement important de l'industrie pharmaceutique qui a permis à la médecine moderne de traiter un grand nombre de maladies souvent mortelles. Environ 80% de la population mondiale bénéficie des contributions de la phytothérapie traditionnelle, en reconnaissant la connaissance empirique de nos ancêtres. Moringa oleifera L. est un arbre tropical dont on a signalé avoir des propriétés nutritionnelles, thérapeutiques et prophylactiques. C'est dans ce cadre que ce travail vise à caractériser la culture de Moringa oleifera L à travers l'analyse de la composition chimique et des facteurs anti-nutritionnels à partir de deux méthodes chimiques. Le contenu de MS était de 98,85%, le MM était de 9,81%. Moringa oleifera contient une teneur en MAT de 1,42% tandis que la teneur en MG est de 7,12%. La fraction soluble était de 68,5% avec une teneur en carbone de 52,3%. Pour la composition pariétale, la plante de Moringa oleifera se caractérise par 31,66% de NDF, 13,15% d'ADF, 2,91% de cellulose brute, 10,11% de lignine et 18,51% de HC.
L'analyse des métabolites secondaires a été effectuée sur des extraits méthanoliques et aqueux. En fait, les poly phénols totaux étaient respectivement de 236,5 mg EAG / g de MS et de 130,65mgEAG / g MS respectivement pour les extraits méthanoliques et aqueux. Les Flavonoïdes étaient de 77,33 mg EQ / g de MS pour l'extrait de méthanol et 86,44 mg EQ / g de MS pour l'extrait aqueux où, en tant que tanins condensés, étaient respectivement des extraits méthanoliques et aqueux de 22,52 μg EC / g de MS et 27,79 μg EC / g MS.
Mots clés : Moringa oleifera, Composition chimiques, composition pariétale, anti- nutritionnelle