Journal of New Sciences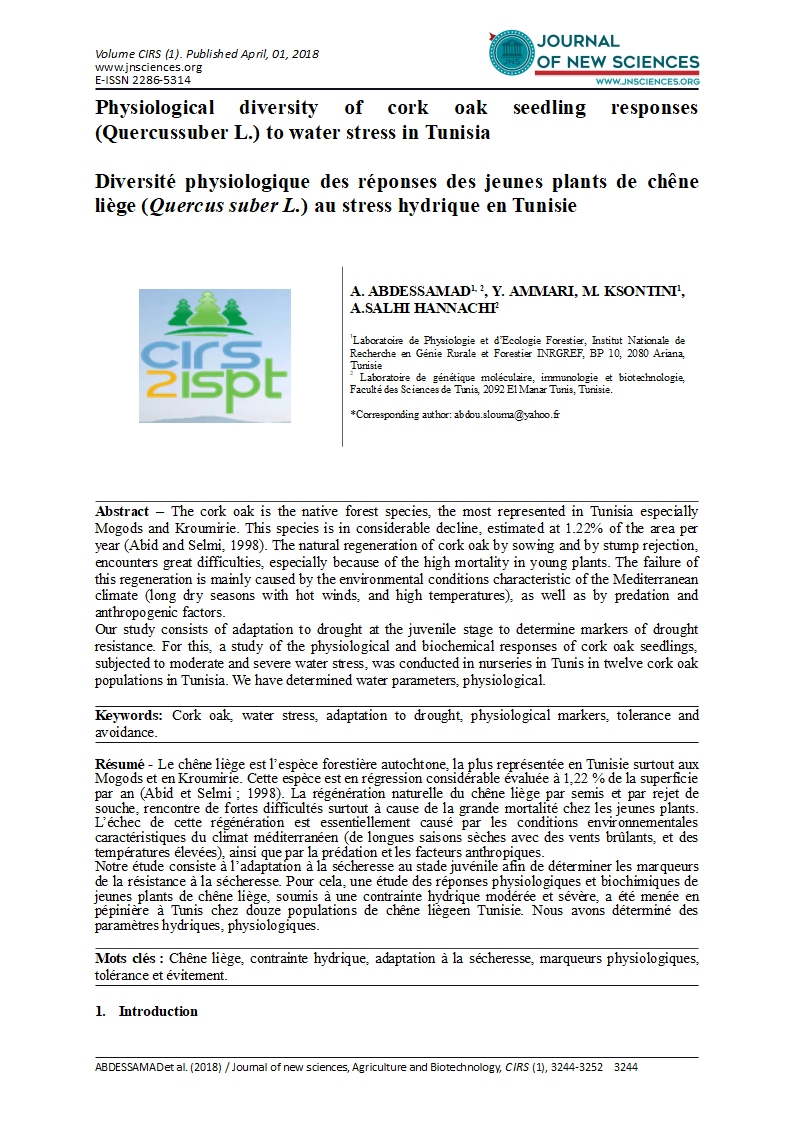 Physiological diversity of cork oak seedling responses (Quercussuber L.) to water stress in Tunisia
Diversité physiologique des réponses des jeunes plants de chêne liège (Quercus suber L.) au stress hydrique en Tunisie
 A. ABDESSAMAD1, 2

Y. AMMARI1

M. KSONTINI1

A. SALHI HANNACHI2

 

1Laboratoire de Physiologie et d'Ecologie Forestier, Institut Nationale de Recherche en Génie Rurale et Forestier INRGREF, BP 10, 2080 Ariana, Tunisie

2 Laboratoire de génétique moléculaire, immunologie et biotechnologie, Faculté des Sciences de Tunis, 2092 El Manar Tunis, Tunisie.

Abstract – The cork oak is the native forest species, the most represented in Tunisia especially Mogods and Kroumirie. This species is in considerable decline, estimated at 1.22% of the area per year (Abid and Selmi, 1998). The natural regeneration of cork oak by sowing and by stump rejection, encounters great difficulties, especially because of the high mortality in young plants. The failure of this regeneration is mainly caused by the environmental conditions characteristic of the Mediterranean climate (long dry seasons with hot winds, and high temperatures), as well as by predation and anthropogenic factors. Our study consists of adaptation to drought at the juvenile stage to determine markers of drought resistance. For this, a study of the physiological and biochemical responses of cork oak seedlings, subjected to moderate and severe water stress, was conducted in nurseries in Tunis in twelve cork oak populations in Tunisia. We have determined water parameters, physiological.
Keywords: Cork oak, water stress, adaptation to drought, physiological markers, tolerance and avoidance.
Résumé - Le chêne liège est l'espèce forestière autochtone, la plus représentée en Tunisie surtout aux Mogods et en Kroumirie. Cette espèce est en régression considérable évaluée à 1,22 % de la superficie par an (Abid et Selmi ; 1998). La régénération naturelle du chêne liège par semis et par rejet de souche, rencontre de fortes difficultés surtout à cause de la grande mortalité chez les jeunes plants. L'échec de cette régénération est essentiellement causé par les conditions environnementales caractéristiques du climat méditerranéen (de longues saisons sèches avec des vents brûlants, et des températures élevées), ainsi que par la prédation et les facteurs anthropiques.
Notre étude consiste à l'adaptation à la sécheresse au stade juvénile afin de déterminer les marqueurs de la résistance à la sécheresse. Pour cela, une étude des réponses physiologiques et biochimiques de jeunes plants de chêne liège, soumis à une contrainte hydrique modérée et sévère, a été menée en pépinière à Tunis chez douze populations de chêne liègeen Tunisie. Nous avons déterminé des paramètres hydriques, physiologiques.
Mots clés : Chêne liège, contrainte hydrique, adaptation à la sécheresse, marqueurs physiologiques, tolérance et évitement.