Journal of New Sciences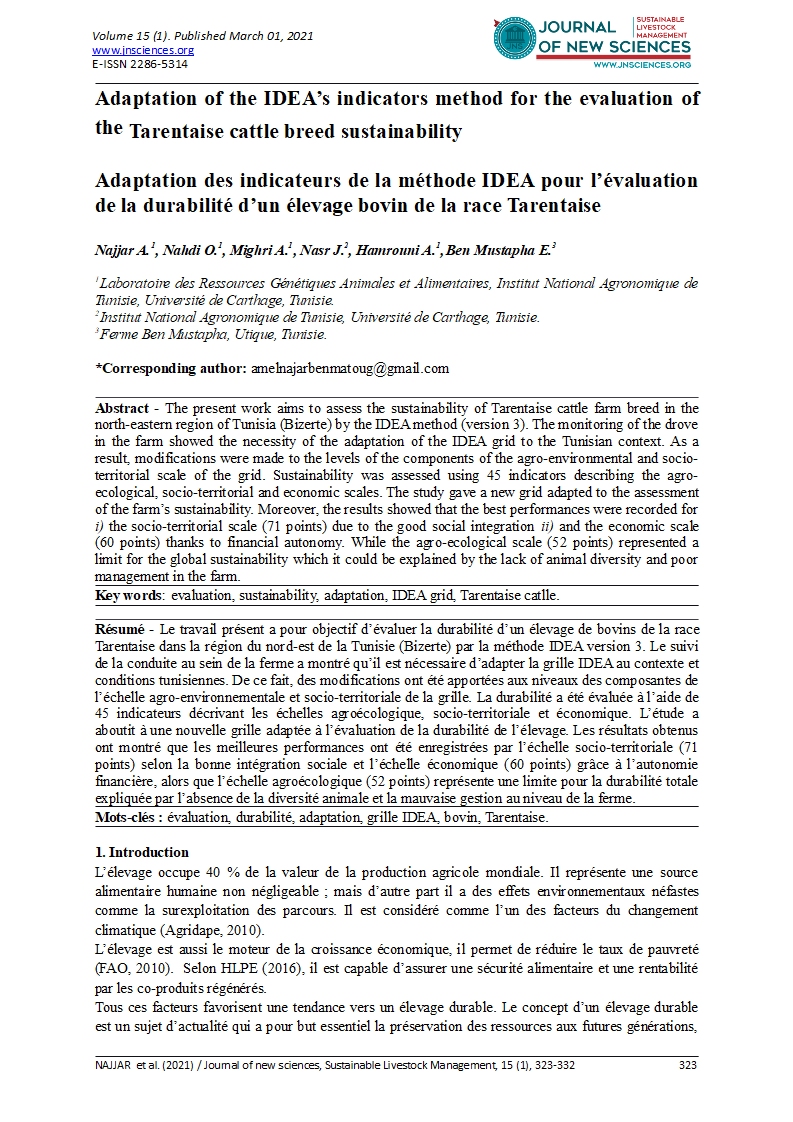 Adaptation of the IDEA's indicators method for the evaluation of the Tarentaise cattle breed sustainability
Adaptation des indicateurs de la méthode IDEA pour l'évaluation de la durabilité d'un élevage bovin de la race Tarentaise
Najjar A.1
Nahdi O.1
Mighri A.1
Nasr J.2
Hamrouni A.1
Ben Mustapha E.3
1Laboratoire des Ressources Génétiques Animales et Alimentaires, Institut National Agronomique de Tunisie, Université de Carthage, Tunisie.
2Institut National Agronomique de Tunisie, Université de Carthage, Tunisie.
3Ferme Ben Mustapha, Utique, Tunisie.
Abstract - The present work aims to assess the sustainability of Tarentaise cattle farm breed in the north-eastern region of Tunisia (Bizerte) by the IDEA method (version 3). The monitoring of the drove in the farm showed the necessity of the adaptation of the IDEA grid to the Tunisian context. As a result, modifications were made to the levels of the components of the agro-environmental and socio-territorial scale of the grid. Sustainability was assessed using 45 indicators describing the agro-ecological, socio-territorial and economic scales. The study gave a new grid adapted to the assessment of the farm's sustainability. Moreover, the results showed that the best performances were recorded for i) the socio-territorial scale (71 points) due to the good social integration ii) and the economic scale (60 points) thanks to financial autonomy. While the agro-ecological scale (52 points) represented a limit for the global sustainability which it could be explained by the lack of animal diversity and poor management in the farm.
Key words: evaluation, sustainability, adaptation, IDEA grid, Tarentaise catlle.
Résumé - Le travail présent a pour objectif d'évaluer la durabilité d'un élevage de bovins de la race Tarentaise dans la région du nord-est de la Tunisie (Bizerte) par la méthode IDEA version 3. Le suivi de la conduite au sein de la ferme a montré qu'il est nécessaire d'adapter la grille IDEA au contexte et conditions tunisiennes. De ce fait, des modifications ont été apportées aux niveaux des composantes de l'échelle agro-environnementale et socio-territoriale de la grille. La durabilité a été évaluée à l'aide de 45 indicateurs décrivant les échelles agroécologique, socio-territoriale et économique. L'étude a aboutit à une nouvelle grille adaptée à l'évaluation de la durabilité de l'élevage. Les résultats obtenus ont montré que les meilleures performances ont été enregistrées par l'échelle socio-territoriale (71 points) selon la bonne intégration sociale et l'échelle économique (60 points) grâce à l'autonomie financière, alors que l'échelle agroécologique (52 points) représente une limite pour la durabilité totale expliquée par l'absence de la diversité animale et la mauvaise gestion au niveau de la ferme.
Mots-clés : évaluation, durabilité, adaptation, grille IDEA, bovin, Tarentaise.