Journal of New Sciences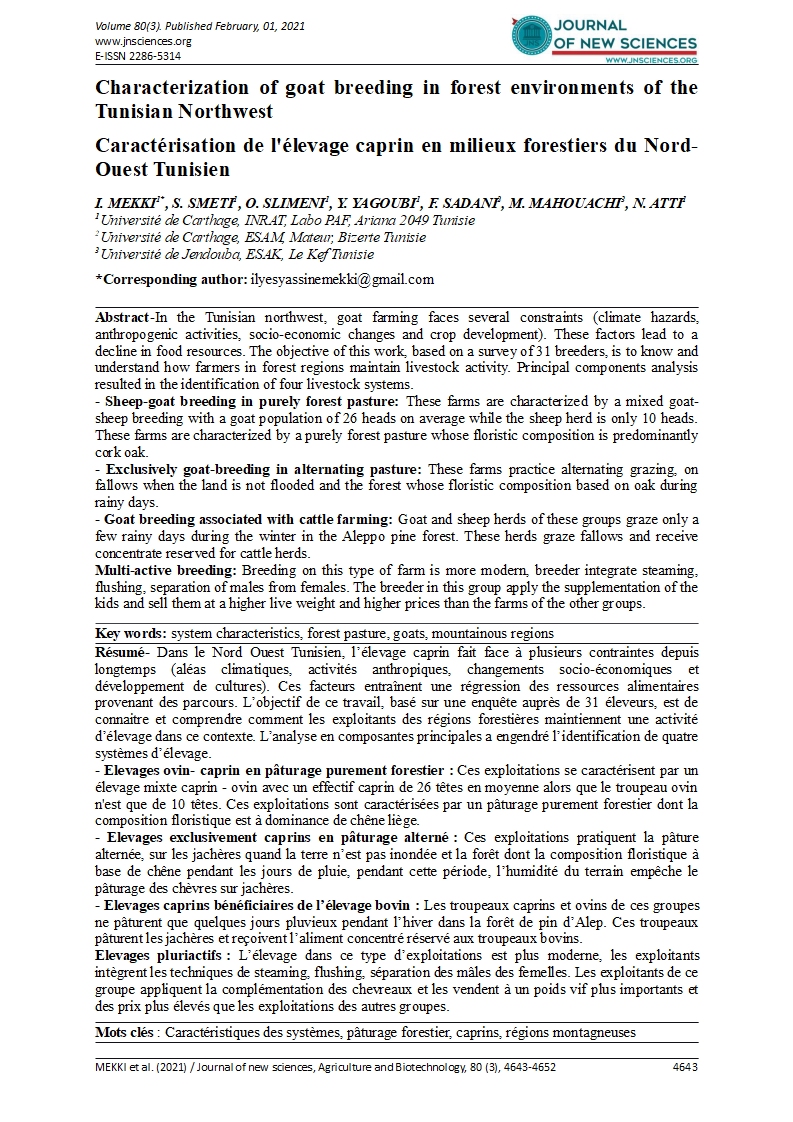 Characterization of goat breeding in forest environments of the Tunisian Northwest
Caractérisation de l'élevage caprin en milieux forestiers du Nord-Ouest Tunisien
I. MEKKI1
S. SMETI1
O. SLIMENI1
Y. YAGOUBI1
F. SADANI2
M. MAHOUACHI3
N. ATTI1
1Université de Carthage, INRAT, Labo PAF, Ariana 2049 Tunisie
2Université de Carthage, ESAM, Mateur, Bizerte Tunisie
3Université de Jendouba, ESAK, Le Kef Tunisie
Abstract-In the Tunisian northwest, goat farming faces several constraints (climate hazards, anthropogenic activities, socio-economic changes and crop development). These factors lead to a decline in food resources. The objective of this work, based on a survey of 31 breeders, is to know and understand how farmers in forest regions maintain livestock activity. Principal components analysis resulted in the identification of four livestock systems.
- Sheep-goat breeding in purely forest pasture: These farms are characterized by a mixed goat-sheep breeding with a goat population of 26 heads on average while the sheep herd is only 10 heads. These farms are characterized by a purely forest pasture whose floristic composition is predominantly cork oak.
- Exclusively goat-breeding in alternating pasture: These farms practice alternating grazing, on fallows when the land is not flooded and the forest whose floristic composition based on oak during rainy days.
- Goat breeding associated with cattle farming: Goat and sheep herds of these groups graze only a few rainy days during the winter in the Aleppo pine forest. These herds graze fallows and receive concentrate reserved for cattle herds.
- Multi-active breeding: Breeding on this type of farm is more modern, breeder integrate steaming, flushing, separation of males from females. The breeder in this group apply the supplementation of the kids and sell them at a higher live weight and higher prices than the farms of the other groups.
Key words: system characteristics, forest pasture, goats, mountainous regions
Résumé- Dans le Nord Ouest Tunisien, l'élevage caprin fait face à plusieurs contraintes depuis longtemps (aléas climatiques, activités anthropiques, changements socio-économiques et développement de cultures). Ces facteurs entraînent une régression des ressources alimentaires provenant des parcours. L'objectif de ce travail, basé sur une enquête auprès de 31 éleveurs, est de connaitre et comprendre comment les exploitants des régions forestières maintiennent une activité d'élevage dans ce contexte. L'analyse en composantes principales a engendré l'identification de quatre systèmes d'élevage.
- Elevages ovin- caprin en pâturage purement forestier : Ces exploitations se caractérisent par un élevage mixte caprin - ovin avec un effectif caprin de 26 têtes en moyenne alors que le troupeau ovin n'est que de 10 têtes. Ces exploitations sont caractérisées par un pâturage purement forestier dont la composition floristique est à dominance de chêne liège.
- Elevages exclusivement caprins en pâturage alterné : Ces exploitations pratiquent la pâture alternée, sur les jachères quand la terre n'est pas inondée et la forêt dont la composition floristique à base de chêne pendant les jours de pluie, pendant cette période, l'humidité du terrain empêche le pâturage des chèvres sur jachères.
- Elevages caprins bénéficiaires de l'élevage bovin : Les troupeaux caprins et ovins de ces groupes ne pâturent que quelques jours pluvieux pendant l'hiver dans la forêt de pin d'Alep. Ces troupeaux pâturent les jachères et reçoivent l'aliment concentré réservé aux troupeaux bovins.
Elevages pluriactifs : L'élevage dans ce type d'exploitations est plus moderne, les exploitants intègrent les techniques de steaming, flushing, séparation des mâles des femelles. Les exploitants de ce groupe appliquent la complémentation des chevreaux et les vendent à un poids vif plus importants et des prix plus élevés que les exploitations des autres groupes.
Mots clés : Caractéristiques des systèmes, pâturage forestier, caprins, régions montagneuses