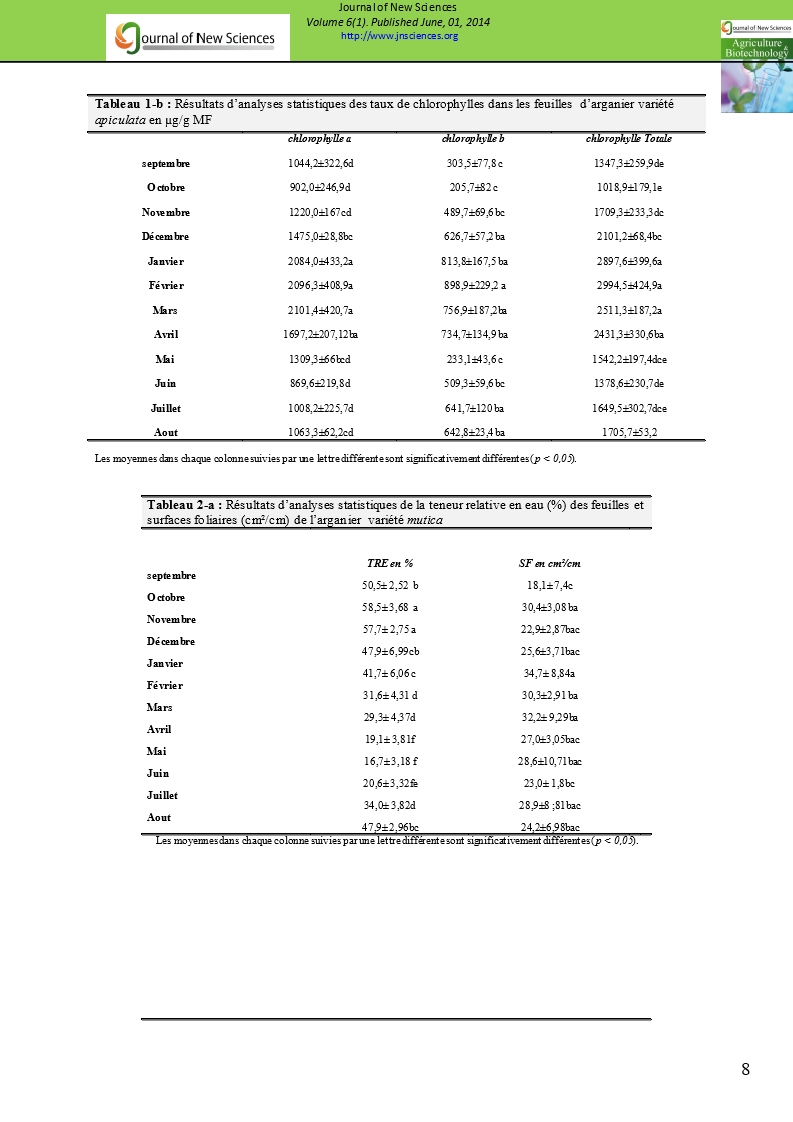 S. El Adib ¹*
S. slim 2
F. Ben Jeddi ¹
1 Université de Carthage. Laboratoire des Sciences Horticoles, INA Tunisie,
2 Université de Carthage. Laboratoire des Sciences Horticoles, ESA Mateur.
Abstract - The Argan tree (Argania spinosa L. Skeels) contains two varieties, mutica (spineless) and apiculata (thorny). The seasonal effect on the chlorophylls concentrations, water relative contents (WRC), and leaf areas (LA) of argan trees in INAT arboretum were analyzed.  During winter and spring seasons, a significant increase of the rates of leaf chlorophylls (a/b) was particularly found at A. apiculata. In january, the chlorophyll a concentrations were 2084.61 and 1605.05 µg/g MF (fresh material) respectively to apiculata and mutica. A. apiculata leaf area was reduced to 23.5 and 14.6 cm²/cm in october and january; compared to A. mutica which maintained a higher and relatively the same leaf area about to 35cm²/cm. In the same environment, leaves water relative content of A. apiculata reach a high level between 51.4 and 68.32% in february and march. Contrary to A. mutica, WRC has varied between 29.3 and 19.07%. During the dry season, A. apiculata is characterized by a photosynthetic activity more important than A. mutica with respectively 869.66 and 655.51µg/g MF of chlorophyll a.
Key words: Argania spinosa / water relative content / Chlorophylls / leaf area
Résumé - L'Arganier (Argania spinosa L. Skeels) comporte deux variétés, mutica (inerme) et apiculata (épineuse). L'effet saisonnier le long d'un cycle phénologique annuel sur la variation des concentrations en chlorophylles, teneurs relatives en eau, et surfaces foliaires de deux variétés d'arganier implantés dans l'arboretum de l'INA Tunisie a été analysé. Durant les saisons hivernale et printanière, une augmentation significative des taux de chlorophylles (a et b) dans les feuilles a été signalée particulièrement chez A. apiculata. Les concentrations en chlorophylle a du mois de janvier ont été de 2084,61 et 1605,05 µg/g MF (matière fraîche) respectivement chez A. apiculata et A. mutica. À la même période, la surface foliaire de A. apiculata a été réduite à 23,5 et 14,6 cm²/cm de rameau aux mois d'octobre et janvier. Contrairement à A. mutica qui a préservée une surface foliaire relativement stable et plus élevée de l'ordre de 35cm²/cm. Dans le même cadre spatio-temporel, la teneur relative en eau des feuilles de A. apiculata a marqué des niveaux élevés de 51,4 et 68,32 % en février et mars. Alors qu'elle a enregistré une chute significative chez A. mutica avec 29,3 et 19,07 %. Pendant la saison sèche, A. apiculata se caractérise par une activité photosynthétique plus importante que A. mutica avec respectivement 869,66 et 655,51 µg/g MF de chlorophylle a.
Mots clés : Argania spinosa / Teneur en eau relative / Chlorophylles / surface foliaire