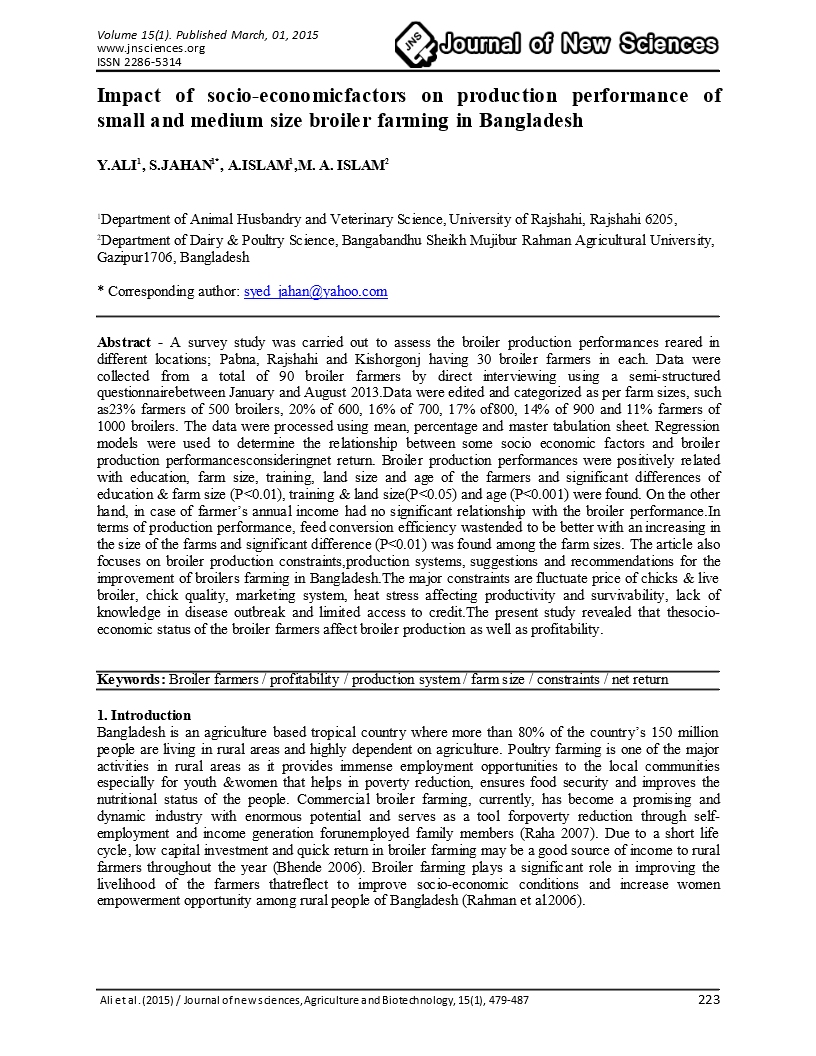 Y.ALI1
S.JAHAN1*
A.ISLAM1
M. A. ISLAM2
1Department of Animal Husbandry and Veterinary Science, University of Rajshahi, Rajshahi 6205,
2Department of Dairy & Poultry Science, Bangabandhu Sheikh Mujibur Rahman Agricultural University, Gazipur1706, Bangladesh


Abstract - A survey study was carried out to assess the broiler production performances reared in different locations; Pabna, Rajshahi and Kishorgonj having 30 broiler farmers in each. Data were collected from a total of 90 broiler farmers by direct interviewing using a semi-structured questionnairebetween January and August 2013.Data were edited and categorized as per farm sizes, such as23% farmers of 500 broilers, 20% of 600, 16% of 700, 17% of800, 14% of 900 and 11% farmers of 1000 broilers. The data were processed using mean, percentage and master tabulation sheet. Regression models were used to determine the relationship between some socio economic factors and broiler production performancesconsideringnet return. Broiler production performances were positively related with education, farm size, training, land size and age of the farmers and significant differences of education & farm size (P<0.01), training & land size(P<0.05) and age (P<0.001) were found. On the other hand, in case of farmer's annual income had no significant relationship with the broiler performance.In terms of production performance, feed conversion efficiency wastended to be better with an increasing in the size of the farms and significant difference (P<0.01) was found among the farm sizes. The article also focuses on broiler production constraints,production systems, suggestions and recommendations for the improvement of broilers farming in Bangladesh.The major constraints are fluctuate price of chicks & live broiler, chick quality, marketing system, heat stress affecting productivity and survivability, lack of knowledge in disease outbreak and limited access to credit.The present study revealed that thesocio-economic status of the broiler farmers affect broiler production as well as profitability.
Keywords: Broiler farmers / profitability / production system / farm size / constraints / net return