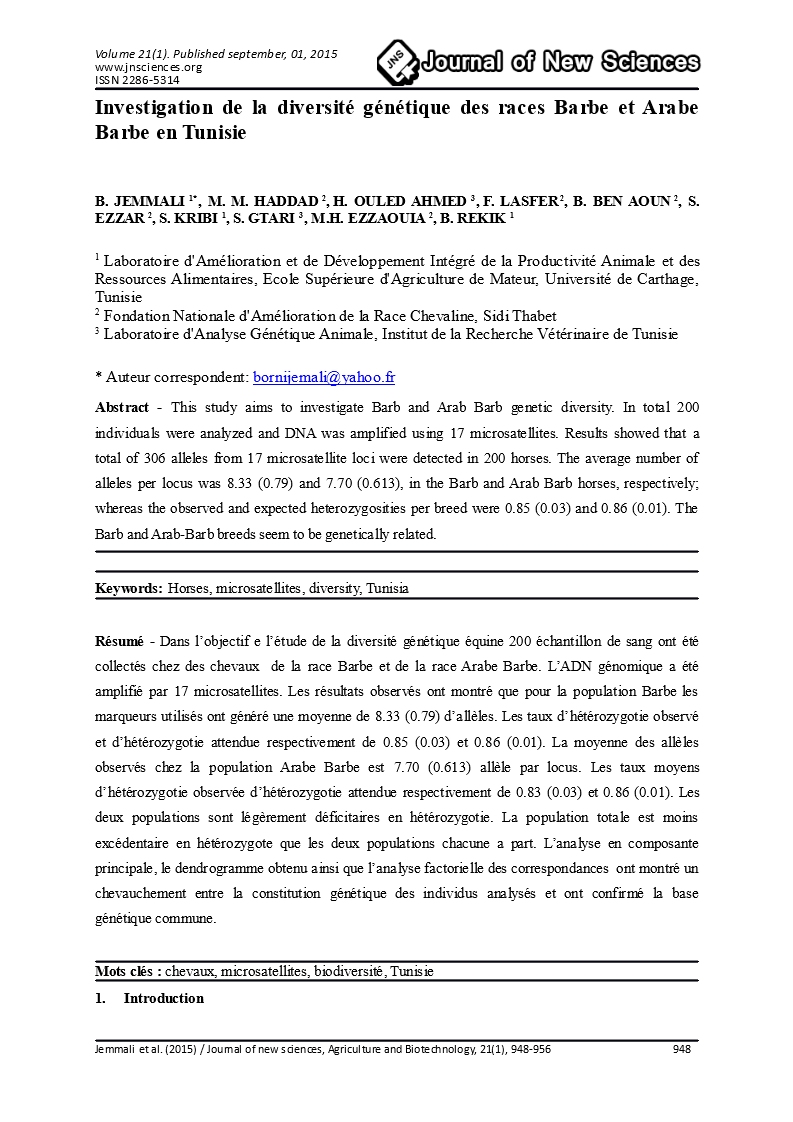 B. JEMMALI 1*,
M. M. HADDAD 2
H. OULED AHMED 3
F. LASFER 2
B. BEN AOUN 2
S. EZZAR 2
S. KRIBI 1
S. GTARI 3
M.H. EZZAOUIA 2
B. REKIK 1
1 Laboratoire d'Amélioration et de Développement Intégré de la Productivité Animale et des Ressources Alimentaires, Ecole Supérieure d'Agriculture de Mateur, Université de Carthage, Tunisie
2 Fondation Nationale d'Amélioration de la Race Chevaline, Sidi Thabet
3 Laboratoire d'Analyse Génétique Animale, Institut de la Recherche Vétérinaire de Tunisie
Abstract - This study aims to investigate Barb and Arab Barb genetic diversity. In total 200 individuals were analyzed and DNA was amplified using 17 microsatellites. Results showed that a total of 306 alleles from 17 microsatellite loci were detected in 200 horses. The average number of alleles per locus was 8.33 (0.79) and 7.70 (0.613), in the Barb and Arab Barb horses, respectively; whereas the observed and expected heterozygosities per breed were 0.85 (0.03) and 0.86 (0.01). The Barb and Arab-Barb breeds seem to be genetically related.
Keywords: Horses, microsatellites, diversity, Tunisia
Résumé - Dans l'objectif e l'étude de la diversité génétique équine 200 échantillon de sang ont été collectés chez des chevaux de la race Barbe et de la race Arabe Barbe. L'ADN génomique a été amplifié par 17 microsatellites. Les résultats observés ont montré que pour la population Barbe les marqueurs utilisés ont généré une moyenne de 8.33 (0.79) d'allèles. Les taux d'hétérozygotie observé et d'hétérozygotie attendue respectivement de 0.85 (0.03) et 0.86 (0.01). La moyenne des allèles observés chez la population Arabe Barbe est 7.70 (0.613) allèle par locus. Les taux moyens d'hétérozygotie observée d'hétérozygotie attendue respectivement de 0.83 (0.03) et 0.86 (0.01). Les deux populations sont légèrement déficitaires en hétérozygotie. La population totale est moins excédentaire en hétérozygote que les deux populations chacune a part. L'analyse en composante principale, le dendrogramme obtenu ainsi que l'analyse factorielle des correspondances ont montré un chevauchement entre la constitution génétique des individus analysés et ont confirmé la base génétique commune.
Mots clés : chevaux, microsatellites, biodiversité, Tunisie