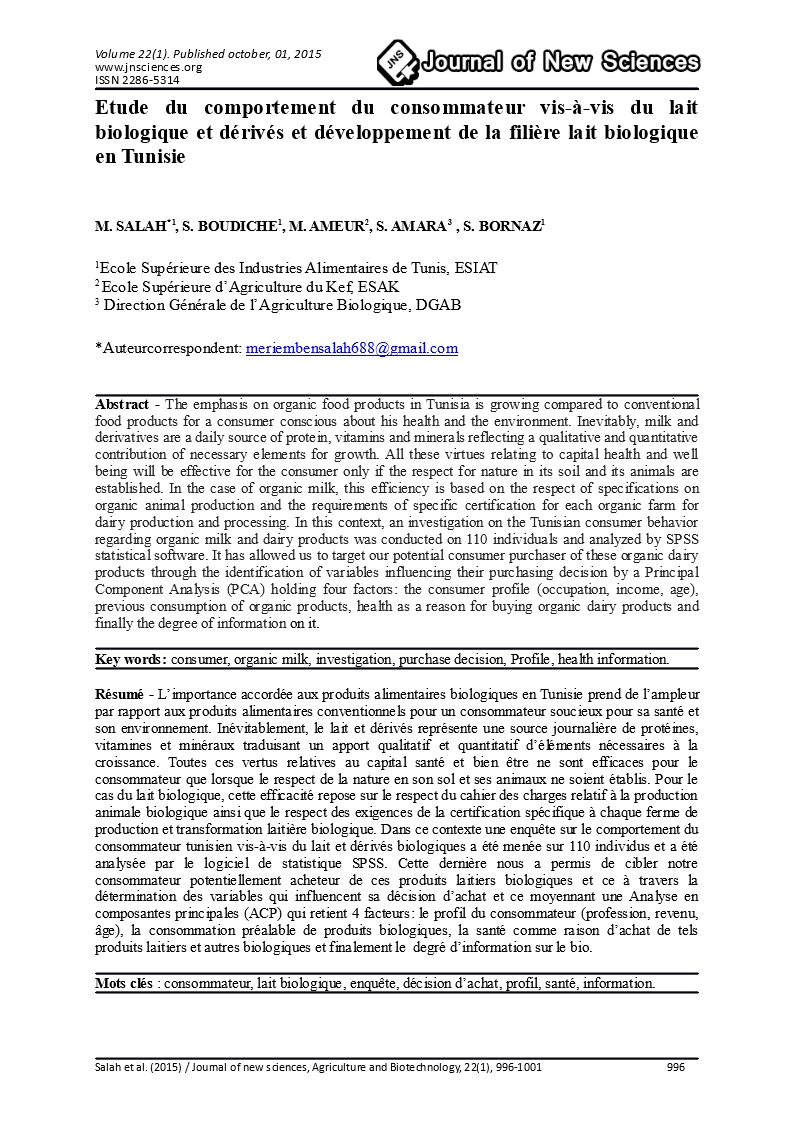 M. SALAH*1
S. BOUDICHE1
M. AMEUR2
S. AMARA3 
S. BORNAZ1
1Ecole Supérieure des Industries Alimentaires de Tunis, ESIAT
2 Ecole Supérieure d'Agriculture du Kef, ESAK
3 Direction Générale de l'Agriculture Biologique, DGAB
Abstract - The emphasis on organic food products in Tunisia is growing compared to conventional food products for a consumer conscious about his health and the environment. Inevitably, milk and derivatives are a daily source of protein, vitamins and minerals reflecting a qualitative and quantitative contribution of necessary elements for growth. All these virtues relating to capital health and well being will be effective for the consumer only if the respect for nature in its soil and its animals are established. In the case of organic milk, this efficiency is based on the respect of specifications on organic animal production and the requirements of specific certification for each organic farm for dairy production and processing. In this context, an investigation on the Tunisian consumer behavior regarding organic milk and dairy products was conducted on 110 individuals and analyzed by SPSS statistical software. It has allowed us to target our potential consumer purchaser of these organic dairy products through the identification of variables influencing their purchasing decision by a Principal Component Analysis (PCA) holding four factors: the consumer profile (occupation, income, age), previous consumption of organic products, health as a reason for buying organic dairy products and finally the degree of information on it.
Key words: consumer, organic milk, investigation, purchase decision, Profile, health information.
Résumé - L'importance accordée aux produits alimentaires biologiques en Tunisie prend de l'ampleur par rapport aux produits alimentaires conventionnels pour un consommateur soucieux pour sa santé et son environnement. Inévitablement, le lait et dérivés représente une source journalière de protéines, vitamines et minéraux traduisant un apport qualitatif et quantitatif d'éléments nécessaires à la croissance. Toutes ces vertus relatives au capital santé et bien être ne sont efficaces pour le consommateur que lorsque le respect de la nature en son sol et ses animaux ne soient établis. Pour le cas du lait biologique, cette efficacité repose sur le respect du cahier des charges relatif à la production animale biologique ainsi que le respect des exigences de la certification spécifique à chaque ferme de production et transformation laitière biologique. Dans ce contexte une enquête sur le comportement du consommateur tunisien vis-à-vis du lait et dérivés biologiques a été menée sur 110 individus et a été analysée par le logiciel de statistique SPSS. Cette dernière nous a permis de cibler notre consommateur potentiellement acheteur de ces produits laitiers biologiques et ce à travers la détermination des variables qui influencent sa décision d'achat et ce moyennant une Analyse en composantes principales (ACP) qui retient 4 facteurs: le profil du consommateur (profession, revenu, âge), la consommation préalable de produits biologiques, la santé comme raison d'achat de tels produits laitiers et autres biologiques et finalement le degré d'information sur le bio.
Mots clés : consommateur, lait biologique, enquête, décision d'achat, profil, santé, information.