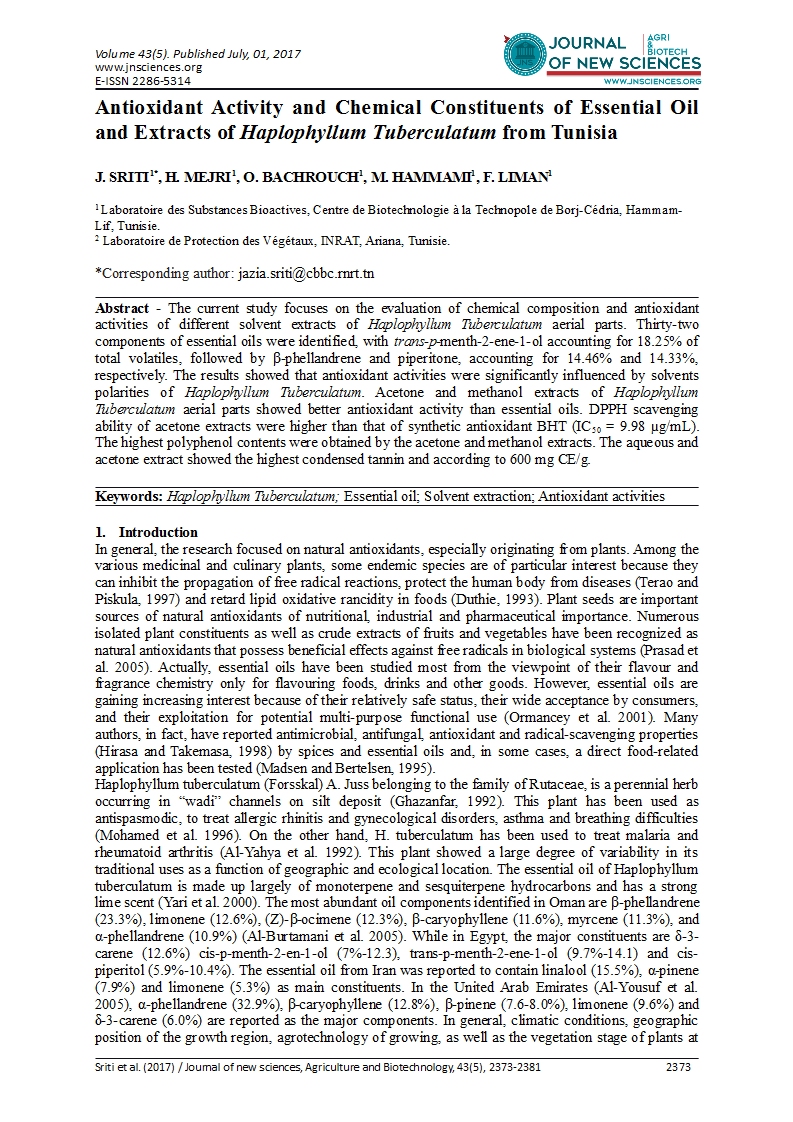 J. SRITI1*,
H. MEJRI1,
O. BACHROUCH1,
M. HAMMAMI1,
F. LIMAN1
1 Laboratory of Bioactive substances Biotechnology Center, Technopole Borj Cedria Hammam-Lif, Tunisia.
2 Laboratoory of vegetables protection, INRAT, Ariana, Tunisia.
Abstract - The current study focuses on the evaluation of chemical composition and antioxidant activities of different solvent extracts of Haplophyllum Tuberculatum aerial parts. Thirty-two components of essential oils were identified, with trans-p-menth-2-ene-1-ol accounting for 18.25% of total volatiles, followed by β-phellandrene and piperitone, accounting for 14.46% and 14.33%, respectively. The results showed that antioxidant activities were significantly influenced by solvents polarities of Haplophyllum Tuberculatum. Acetone and methanol extracts of Haplophyllum Tuberculatum aerial parts showed better antioxidant activity than essential oils. DPPH scavenging ability of acetone extracts were higher than that of synthetic antioxidant BHT (IC50 = 9.98 µg/mL). The highest polyphenol contents were obtained by the acetone and methanol extracts. The aqueous and acetone extract showed the highest condensed tannin and according to 600 mg CE/g.
Keywords: Haplophyllum Tuberculatum; Essential oil; Solvent extraction; Antioxidant activities