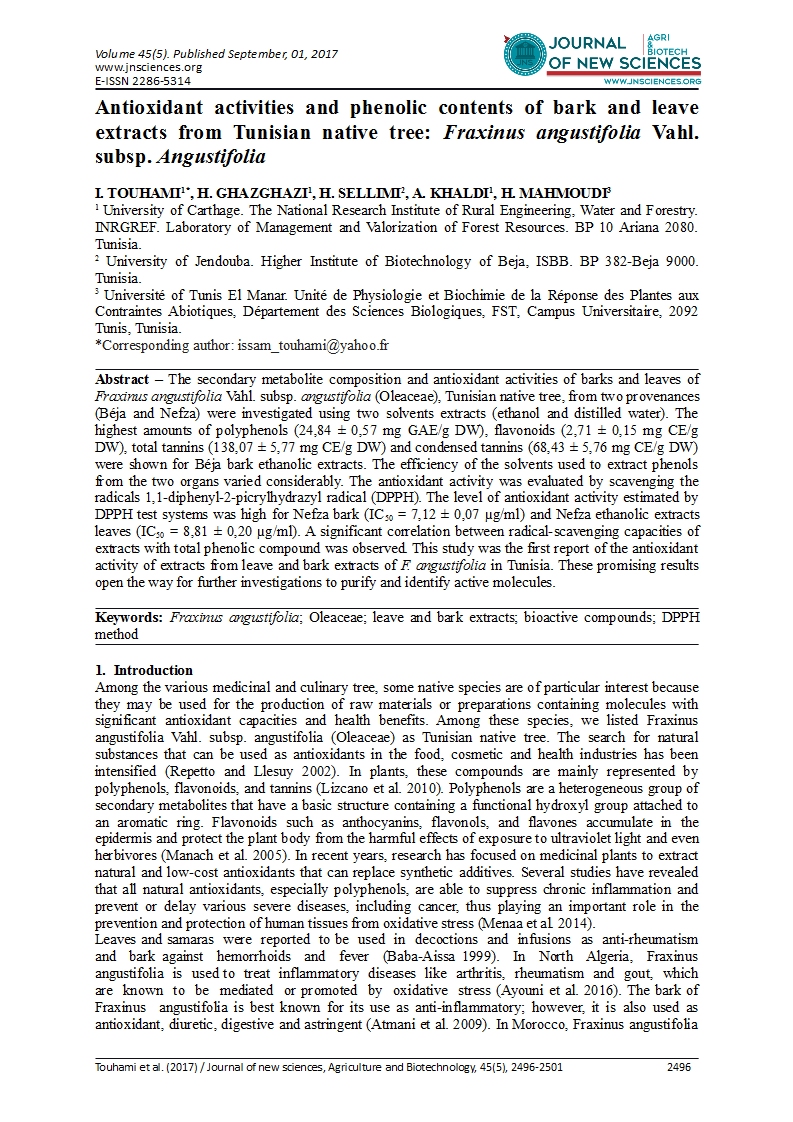 I. TOUHAMI1*,
H. GHAZGHAZI1,
H. SELLIMI2,
A. KHALDI1,
H. MAHMOUDI3
1 University of Carthage. The National Research Institute of Rural Engineering, Water and Forestry. INRGREF. Laboratory of Management and Valorization of Forest Resources. BP 10 Ariana 2080. Tunisia.
2 University of Jendouba. Higher Institute of Biotechnology of Beja, ISBB. BP 382-Beja 9000. Tunisia.
3 University of Tunis El Manar. Unité de Physiologie et Biochimie de la Réponse des Plantes aux Contraintes Abiotiques, Département des Sciences Biologiques, FST, Campus Universitaire, 2092 Tunis, Tunisia.
Abstract – The secondary metabolite composition and antioxidant activities of barks and leaves of Fraxinus angustifolia Vahl. subsp. angustifolia (Oleaceae), Tunisian native tree, from two provenances (Béja and Nefza) were investigated using two solvents extracts (ethanol and distilled water). The highest amounts of polyphenols (24,84 ± 0,57 mg GAE/g DW), flavonoids (2,71 ± 0,15 mg CE/g DW), total tannins (138,07 ± 5,77 mg CE/g DW) and condensed tannins (68,43 ± 5,76 mg CE/g DW) were shown for Béja bark ethanolic extracts. The efficiency of the solvents used to extract phenols from the two organs varied considerably. The antioxidant activity was evaluated by scavenging the radicals 1,1-diphenyl-2-picrylhydrazyl radical (DPPH). The level of antioxidant activity estimated by DPPH test systems was high for Nefza bark (IC50 = 7,12 ± 0,07 µg/ml) and Nefza ethanolic extracts leaves (IC50 = 8,81 ± 0,20 µg/ml). A significant correlation between radical-scavenging capacities of extracts with total phenolic compound was observed. This study was the first report of the antioxidant activity of extracts from leave and bark extracts of F. angustifolia in Tunisia. These promising results open the way for further investigations to purify and identify active molecules.
Keywords: Fraxinus angustifolia; Oleaceae; leave and bark extracts; bioactive compounds; DPPH method