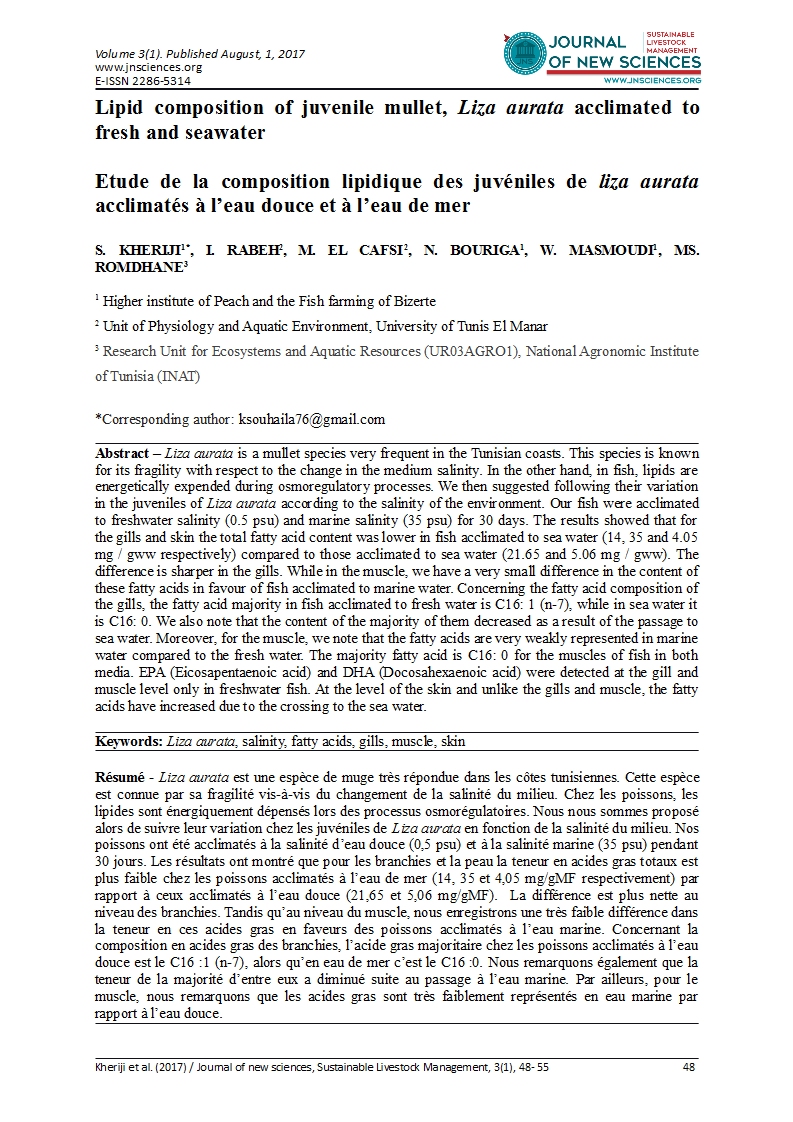 Etude de la composition lipidique des juvéniles de liza aurata acclimatés à l'eau douce et à l'eau de mer
S. KHERIJI1*,
I. RABEH2,
M. EL CAFSI2,
N. BOURIGA1,
W. MASMOUDI1,
MS. ROMDHANE3
1 Higher institute of Peach and the Fish farming of Bizerte
2 Unit of Physiology and Aquatic Environment, University of Tunis El Manar
3 Research Unit for Ecosystems and Aquatic Resources (UR03AGRO1), National Agronomic Institute of Tunisia (INAT)
Abstract – Liza aurata is a mullet species very frequent in the Tunisian coasts. This species is known for its fragility with respect to the change in the medium salinity. In the other hand, in fish, lipids are energetically expended during osmoregulatory processes. We then suggested following their variation in the juveniles of Liza aurata according to the salinity of the environment. Our fish were acclimated to freshwater salinity (0.5 psu) and marine salinity (35 psu) for 30 days. The results showed that for the gills and skin the total fatty acid content was lower in fish acclimated to sea water (14, 35 and 4.05 mg / gww respectively) compared to those acclimated to sea water (21.65 and 5.06 mg / gww). The difference is sharper in the gills. While in the muscle, we have a very small difference in the content of these fatty acids in favour of fish acclimated to marine water. Concerning the fatty acid composition of the gills, the fatty acid majority in fish acclimated to fresh water is C16: 1 (n-7), while in sea water it is C16: 0. We also note that the content of the majority of them decreased as a result of the passage to sea water. Moreover, for the muscle, we note that the fatty acids are very weakly represented in marine water compared to the fresh water. The majority fatty acid is C16: 0 for the muscles of fish in both media. EPA (Eicosapentaenoic acid) and DHA (Docosahexaenoic acid) were detected at the gill and muscle level only in freshwater fish. At the level of the skin and unlike the gills and muscle, the fatty acids have increased due to the crossing to the sea water.
Keywords: Liza aurata, salinity, fatty acids, gills, muscle, skin
Résumé - Liza aurata est une espèce de muge très répondue dans les côtes tunisiennes. Cette espèce est connue par sa fragilité vis-à-vis du changement de la salinité du milieu. Chez les poissons, les lipides sont énergiquement dépensés lors des processus osmorégulatoires. Nous nous sommes proposé alors de suivre leur variation chez les juvéniles de Liza aurata en fonction de la salinité du milieu. Nos poissons ont été acclimatés à la salinité d'eau douce (0,5 psu) et à la salinité marine (35 psu) pendant 30 jours. Les résultats ont montré que pour les branchies et la peau la teneur en acides gras totaux est plus faible chez les poissons acclimatés à l'eau de mer (14, 35 et 4,05 mg/gMF respectivement) par rapport à ceux acclimatés à l'eau douce (21,65 et 5,06 mg/gMF). La différence est plus nette au niveau des branchies. Tandis qu'au niveau du muscle, nous enregistrons une très faible différence dans la teneur en ces acides gras en faveurs des poissons acclimatés à l'eau marine. Concernant la composition en acides gras des branchies, l'acide gras majoritaire chez les poissons acclimatés à l'eau douce est le C16 :1 (n-7), alors qu'en eau de mer c'est le C16 :0. Nous remarquons également que la teneur de la majorité d'entre eux a diminué suite au passage à l'eau marine. Par ailleurs, pour le muscle, nous remarquons que les acides gras sont très faiblement représentés en eau marine par rapport à l'eau douce.
L'acide gras majoritaire est le C16 :0 pour les muscles des poissons des deux milieux. L'EPA et le DHA ont été détectés au niveau branchial et musculaire uniquement chez les poissons d'eau douce. Au niveau de la peau et à la différence des branchies et du muscle, les acides gras ont subi une augmentation suite au passage à l'eau marine
Mots clés : Liza aurata, salinité, acides gras, branchies, muscle, peau.