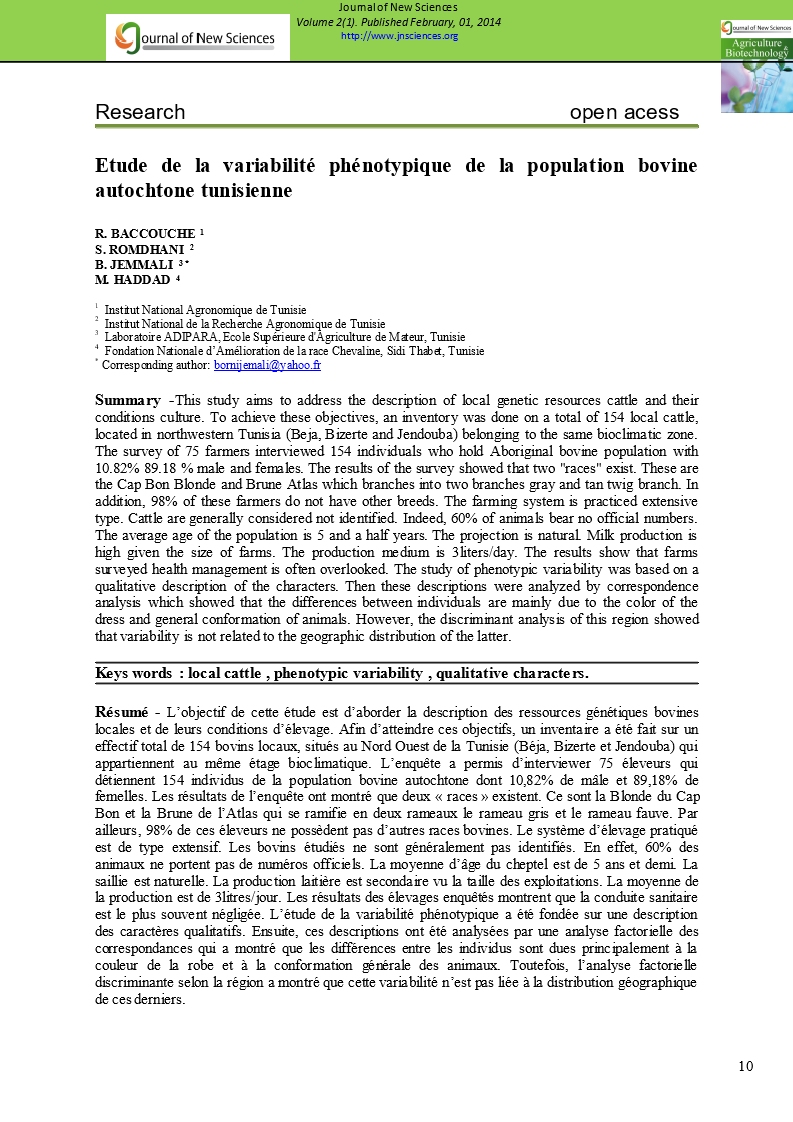 R. BACCOUCHE 1
S. ROMDHANI 2
B. JEMMALI 3 *
M. HADDAD 4
1  Institut National Agronomique de Tunisie
2  Institut National de la Recherche Agronomique de Tunisie
3  Laboratoire ADIPARA, Ecole Supérieure d'Agriculture de Mateur, Tunisie
4  Fondation Nationale d'Amélioration de la race Chevaline, Sidi Thabet, Tunisie
Summary -This study aims to address the description of local genetic resources cattle and their conditions culture. To achieve these objectives, an inventory was done on a total of 154 local cattle, located in northwestern Tunisia (Beja, Bizerte and Jendouba) belonging to the same bioclimatic zone. The survey of 75 farmers interviewed 154 individuals who hold Aboriginal bovine population with 10.82% 89.18 % male and females. The results of the survey showed that two "races" exist. These are the Cap Bon Blonde and Brune Atlas which branches into two branches gray and tan twig branch. In addition, 98% of these farmers do not have other breeds. The farming system is practiced extensive type. Cattle are generally considered not identified. Indeed, 60% of animals bear no official numbers. The average age of the population is 5 and a half years. The projection is natural. Milk production is high given the size of farms. The production medium is 3liters/day. The results show that farms surveyed health management is often overlooked. The study of phenotypic variability was based on a qualitative description of the characters. Then these descriptions were analyzed by correspondence analysis which showed that the differences between individuals are mainly due to the color of the dress and general conformation of animals. However, the discriminant analysis of this region showed that variability is not related to the geographic distribution of the latter.
Keys words : local cattle , phenotypic variability , qualitative characters.
Résumé - L'objectif de cette étude est d'aborder la description des ressources génétiques bovines locales et de leurs conditions d'élevage. Afin d'atteindre ces objectifs, un inventaire a été fait sur un effectif total de 154 bovins locaux, situés au Nord Ouest de la Tunisie (Béja, Bizerte et Jendouba) qui appartiennent au même étage bioclimatique. L'enquête a permis d'interviewer 75 éleveurs qui détiennent 154 individus de la population bovine autochtone dont 10,82% de mâle et 89,18% de femelles. Les résultats de l'enquête ont montré que deux « races » existent. Ce sont la Blonde du Cap Bon et la Brune de l'Atlas qui se ramifie en deux rameaux le rameau gris et le rameau fauve. Par ailleurs, 98% de ces éleveurs ne possèdent pas d'autres races bovines. Le système d'élevage pratiqué est de type extensif. Les bovins étudiés ne sont généralement pas identifiés. En effet, 60% des animaux ne portent pas de numéros officiels. La moyenne d'âge du cheptel est de 5 ans et demi. La saillie est naturelle. La production laitière est secondaire vu la taille des exploitations. La moyenne de la production est de 3litres/jour. Les résultats des élevages enquêtés montrent que la conduite sanitaire est le plus souvent négligée. L'étude de la variabilité phénotypique a été fondée sur une description des caractères qualitatifs. Ensuite, ces descriptions ont été analysées par une analyse factorielle des correspondances qui a montré que les différences entre les individus sont dues principalement à la couleur de la robe et à la conformation générale des animaux. Toutefois, l'analyse factorielle discriminante selon la région a montré que cette variabilité n'est pas liée à la distribution géographique de ces derniers.
Mots clés : bovins locaux, variabilité phénotypique, caractères qualitatifs.