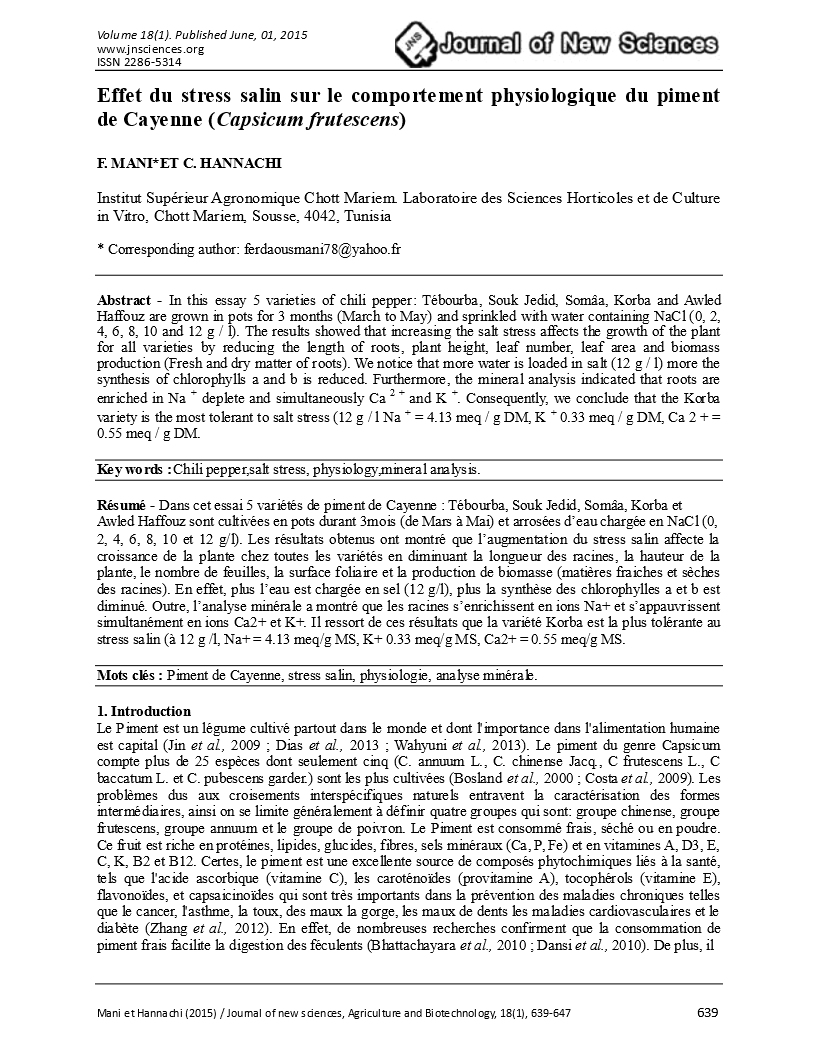 F. Mani
C. Hannachi
Institut Supérieur Agronomique Chott Mariem. Laboratoire des Sciences Horticoles et de Culture in Vitro, Chott Mariem, Sousse, 4042, Tunisia
Abstract - In this essay 5 varieties of chili pepper: Tébourba, Souk Jedid, Somâa, Korba and Awled Haffouz are grown in pots for 3 months (March to May) and sprinkled with water containing NaCl (0, 2, 4, 6, 8, 10 and 12 g / l). The results showed that increasing the salt stress affects the growth of the plant for all varieties by reducing the length of roots, plant height, leaf number, leaf area and biomass production (Fresh and dry matter of roots). We notice that more water is loaded in salt (12 g / l) more the synthesis of chlorophylls a and b is reduced. Furthermore, the mineral analysis indicated that roots are enriched in Na + deplete and simultaneously Ca 2 + and K +. Consequently, we conclude that the Korba variety is the most tolerant to salt stress (12 g / l Na + = 4.13 meq / g DM, K + 0.33 meq / g DM, Ca 2 + = 0.55 meq / g DM.
Key words :Chili pepper,salt stress, physiology,mineral analysis.
Résumé - Dans cet essai 5 variétés de piment de Cayenne : Tébourba, Souk Jedid, Somâa, Korba et Awled Haffouz sont cultivées en pots durant 3mois (de Mars à Mai) et arrosées d'eau chargée en NaCl (0, 2, 4, 6, 8, 10 et 12 g/l). Les résultats obtenus ont montré que l'augmentation du stress salin affecte la croissance de la plante chez toutes les variétés en diminuant la longueur des racines, la hauteur de la plante, le nombre de feuilles, la surface foliaire et la production de biomasse (matières fraiches et sèches des racines). En effet, plus l'eau est chargée en sel (12 g/l), plus la synthèse des chlorophylles a et b est diminué. Outre, l'analyse minérale a montré que les racines s'enrichissent en ions Na+ et s'appauvrissent simultanément en ions Ca2+ et K+. Il ressort de ces résultats que la variété Korba est la plus tolérante au stress salin (à 12 g /l, Na+ = 4.13 meq/g MS, K+ 0.33 meq/g MS, Ca2+ = 0.55 meq/g MS.
Mots clés : Piment de Cayenne, stress salin, physiologie, analyse minérale.